We all have our own tried-and-true hangover remedies, whether its the hair of the dog, greasy diner food, or pickle juice. But the one thing we can all agree on is that not much else eases the pain after a great night out like a steaming bowl of pho. Hydrating, nourishing, and easy on the stomach, pho is the best pick-me-up when you're feeling less than chipper. For those bleak mornings (which, let's face it, come around way more often with age), I've compiled a list of the best pho around the city. Find one closest to you (because there's no way you're getting on Muni with a killer hangover) and slurp down that good stuff.
JASMINE GARDEN (Castro), 708 14th St.
Surprisingly, this Castro restaurant (not an area you'd expect to find the best pho) serves up some of the tastiest in the city. For you vegetarians out there, their veggie pho has all the flavor and comfort of the typical beefy bowl. The beef pho with lemongrass broth is spicy, flavorful, and a nice change from more standard version. Vegetarian, chicken, and beef all pack such a flavor punch that you won't even need to add much to make this the perfect bowl of pho. 
TURTLE TOWER (The Tenderloin/Little Saigon), 631 Larkin St.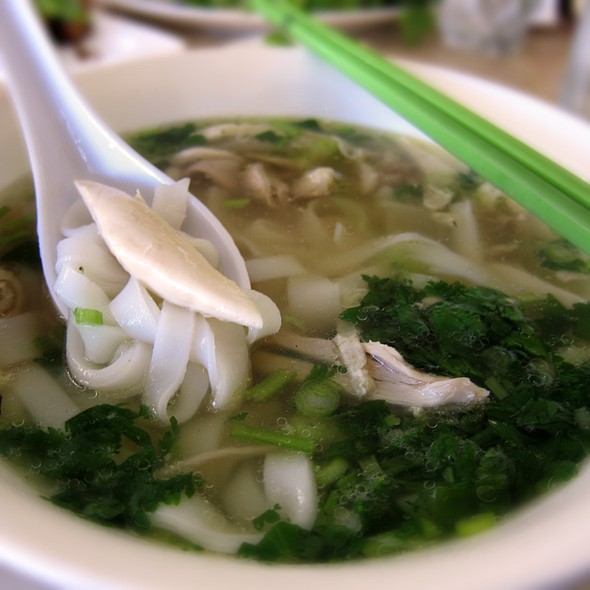 Chicken pho by Foodspotting user pmeikim
For a lighter bowl, head to Little Saigon for Turtle Tower's famous chicken or beef pho. This Northern Vietnamese-style restaurant makes pho a little differently from the more common Southern restaurants. The broth here is light and delicate, the noodles are wider, and the meat is high quality. The Northern tradition uses none of the Southern herbs and spices to doctor your soup with; instead you'll get a plate of jalapeños and lime wedges to brighten things up. Get here early on the weekends… this spot has the masses lining up around the block!
EVERGREEN GARDEN (Mission), 3100 18th St.

With such a high concentration of great bars in the Mission, you're bound to find yourself waking up on someone's couch (or in someone's bed) with an unyielding need for pho. Evergreen Garden has you covered. Their broth is on the lighter side, but comes with a wide variety of meats and condiments to play with. Large portions and low prices will keep you coming back for more.  And bonus, they deliver!
PPQ BEEF NOODLE HOUSE (Outer Sunset), 1816 Irving St.

Photo by Yelp user Karen S.
PPQ arguably boasts the most authentic bowl of pho in the city. The beef comes to your table raw and on a separate plate. Drop it in the bowl so it cooks right in front of you, bathed in hot broth.With extensive choices such as tripe, tendon, rare flank steak, shredded chicken, and beef balls, you can truly have your pho and eat it too.
TIN VIETNAMESE CUISINE (SoMa), 937 Howard St.

Photo by Yelp user Be N.
Tin, a family-owned Vietnamese restaurant in SoMa, makes more than just a great bowl of pho. Try a crisp papaya salad alongside your bowl for an excellent balance of hot and cold. Their flavors are bright and refreshing, and the vegetables are fresh and delicious. And a bonus, everything on their menu is under $10, so you can get a lunch of kings without breaking the bank.
MY CANH (North Beach), 626 Broadway St.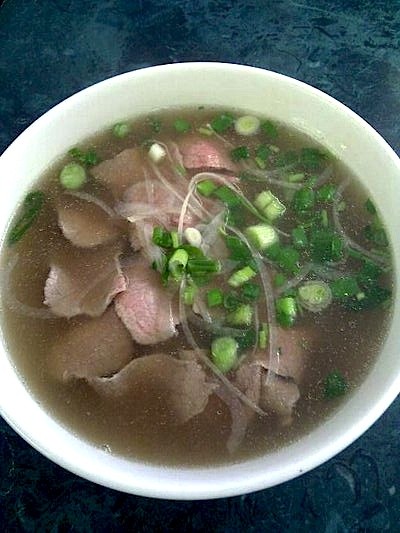 Photo by Yelp user Vicky L.
This hole in the wall serves pho just the way it's supposed to be: Sans frills.  My Canh is open until 2 am and serves up a reliable bowl of pho with rare steak, fresh basil, lime, chile, bean sprouts, and scallions. The recipient of SF Weekly's Best Pho in 2009, this family-owned pho joint is fast, cheap, and certainly hits the spot.
Y & Y VIETNAMESE CUISINE (Inner Richmond), 914 Clement St.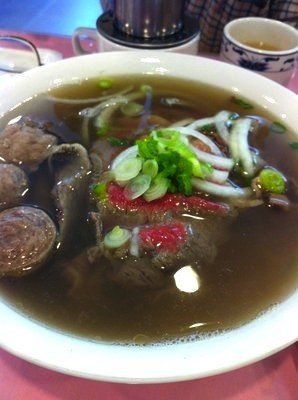 Photo by Yelp user Whoopi L.
Y&Y offers a few surprising meat options on their pho menu, such as their five spice chicken, BBQ pork chop, and beef lemongrass BBQ. The broth is dark and rich, with the flavor of beef permeating every slurp. Cool down a hot mouth with one of their interesting drink options, like their grass jelly with coconut milk or one of their many fresh juice options.
I know you all have your personal favorite pho, so let us know in the comments which ones we should try next!