Just before lunch, we quizzed you on whether or not it's safe to park in the space above at 4 pm on a Friday. Think you know the answer? Click through to see if you got it right.
At 4PM on Friday, the answer is no, it is not legal for this car to park here.  It will be towed shortly after parking here and the driver of the car will be shelling out over $400 to get it back.

Why? The sign says that it is a tow-away zone only from 5AM to 11AM.
Well, that's true, but when you read the sign posted on a meter, that is only doing part of the job to be sure that it is a safe place to park.  One good practice is to also read the "Hours of Operation" behind the glass of the meter if you can.  I think SFMTA gets custom smoke gray frosted glass for SF's meters. But if you look closely, with your right eye squinted, it says that the hours of operation (when you need to feed the meter) are: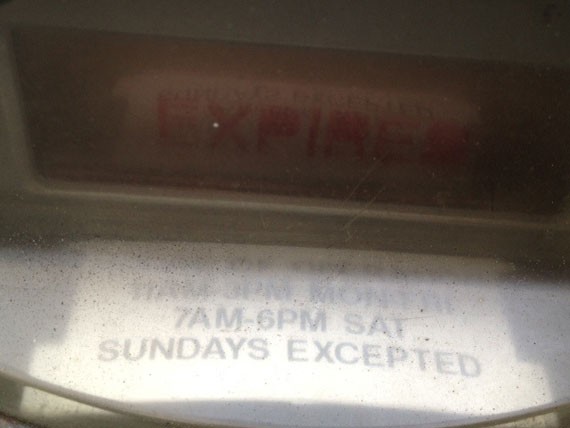 11AM-3PM MON-FRI
7AM-6PM SAT
SUNDAYS EXCEPTED


But the white sign says that it's a tow-away zone only until 11AM on a Friday, so if inside the meter it states that the hours of operation are only until 3PM, doesn't that mean that it is free after 3PM?
No, it means that after 4PM the price goes from $4/hour to $400/hour.

How in the world is one to know this?
Because of the third step that one must take in order to perform their due diligence when parking.  And that is to remember the 100 foot rule.  The 100 foot rule states that all restrictive parking signs are enforceable for 100 feet or to the end of the block, whichever comes first. And, about 40 feet behind this particular meter is this sign: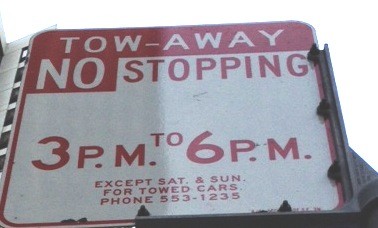 And, that's will get you. This lane is a commuter lane from 3PM to 6PM, and commuter lanes are the first cars to get swept up by the towing brigade at 3:05PM each weekday.

And how are you supposed to know about the 100 foot rule?
You're not. There is nothing posted anywhere in the City telling us of this. So, spread the word to your friends and family with cars.

But there is a silver lining to this. During the hours of operation, these 4 meters at this location are typically vacant as people just cruise right past them because most people see a bus zone, and a tow away sign with several time and day parameters, and just say "forget it, it's too confusing, I'm not going to risk getting towed."

In order to avoid getting towed, and to become a savvy parker and grab these seldomly used spots hidden in plain sight, just remember these 3 rules to avoid donating your day's wages to DPT:

1) Read the signs on the meter and curb
2) Read the hours of operation behind the glass of the meter
3) Look up and down the block for 100 feet (about 8 or 9 car lengths) or to the next cross-street, whichever is closest, for any restrictive parking signs.

To learn more tips, tricks, and secrets about parking that nobody ever taught you, please click here.