Man Ray | Lee Miller: Partners in Surrealism begins with two sepia-tone photographs – one of Miller, beautiful though sullen, the other of Ray, positioned to look in her direction with cocked eyebrow and fervent gaze. The photographs are not compositionally interesting; their purpose seems more documentary, like yearbook or wallet photos. Right away it becomes clear that this exhibition is only nominally about surrealist art. At heart, it is a love story, one of confinement and release, simultaneous explosion and stasis – perfectly surrealist.
Rarely does a museum exhibition organize itself so explicitly around such a personal theme. Man Ray | Lee Miller progresses through the stages of the artists' passionate, three year relationship: before, during, and post-break up. Between 1929 and 1932, Ray was Miller's mentor as well as her lover, the show suggests. She was his muse. They criticized and pushed one another artistically. They fought often. Finally, Miller walked away.
Man Ray is the name you will predominantly find in art history books, rather than Miller, and in this exhibition one begins to see why. Beyond the advantage of his close association with heavyweights like Pablo Picasso and Marcel Duchamp, Ray was seminally innovative in his photography, frequently experimenting with novel forms of film development in his exuberant surrealist quest to make ordinary objects and human bodies appear strange – to trouble the usual formal logic and renew perception through dreamlike channels. Miller's photographs in this exhibition from the time of her relationship with Ray are less focused (she was, after all, 17 years his junior). They are largely shots of 1920s Paris street life, captured at oblique angles. There are moments of brilliance, such as her image of a woman's head in a bell jar, but they are occasional, whereas Ray offers a more continuous stream.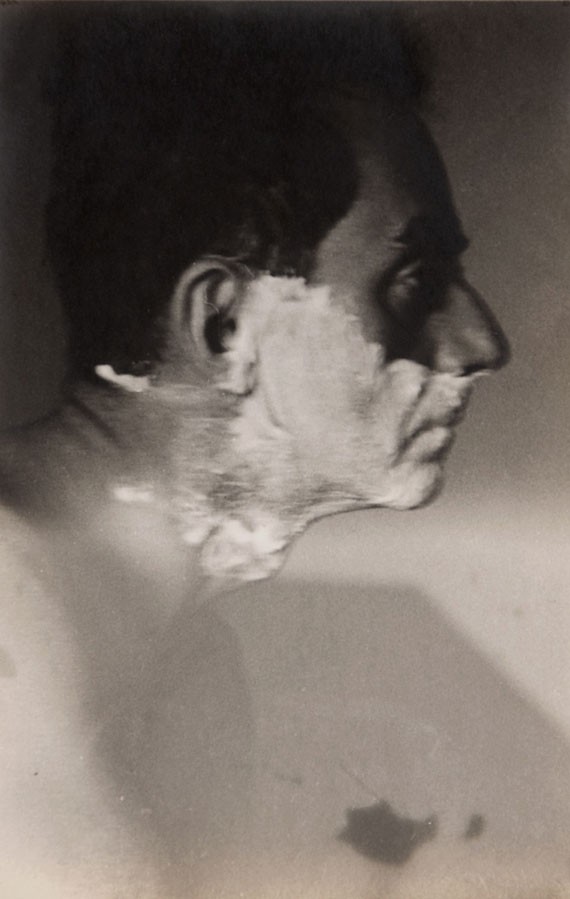 Lee Miller (1907–1977)Man Ray Shaving, c.1929 Gelatin silver print4 ¾ x 3 1/8 in. (12.3 x 7.7 cm) Lee Miller Archives, Sussex, England
But Miller was not necessarily any less gifted than Ray. Perhaps, the exhibition suggests, she was as much caged by her relationship with him as she was stimulated by it. Miller always considered herself a strong woman. This shines through her nude self-portraits, in which she holds her back straight, bringing her arm behind her head in an athletic pose that accentuates muscle and de-accentuates her breasts. However, she began as a fashion model and continually felt trapped into being merely that – an object of sex appeal. Sure enough, Ray's portraits of her, in stark contrast with her own, render her soft, supple, desirable.
Her frustration at times erupted. In 1930, she smuggled an amputated breast out of a local hospital, marched into the offices of French Vogue and served it on a plate, managing to photograph the grisly scene before being thrown out (yes, the indelible image is on display at the Legion of Honor). In this bold and slightly crazy act, the exhibition suggests, one may glimpse the true extent of Miller's potential.
After the breakup, Ray descended into lovelorn despair, for a time seemingly able only to produce art that embodied his obsessive longing: sculptures of Miller's lips, a page with her name scrawled over and over, a metronome with a cut-out of her eye pasted to it, that he vowed to smash but never could.
Miller's career, meanwhile, soared to new heights. With the arrival of World War II, she apparently decided the most surreal thing to do would be to document reality, so she became a war correspondent – the only female photographer granted the privilege of moving independently in the European war zones. This penultimate gallery contains some of the exhibition's most poignant works, including images of drowned SS officers found immediately after the liberation of concentration camp Dachau, photographs of the freshly dead mayor of Leipzig and his family, who carried out a suicide pact in the face of imminent defeat, and a snapshot of French collaborator girls being marched through the streets in public humiliation, their heads shaved. There is even a tender photo of Miller, in her military fatigues, locked in embrace with an old friend from the Man Ray days, Pablo Picasso.
In this exhibition, a heroine emerges.