What is your weekend looking like? Is it as exciting as it could be? Are you having as much fun as you should be? We've selected five parties across the next two weeks at which we guarantee you will have a smashing good time. So read on, pay attention, go out, and have a blast.

LAGOS ROOTS Afrobeat Ensemble, Elbo Room, Friday, February 1
Fela Kuti. The Godfather of Afrobeat. Few men in musical history have so completely lived, breathed, and embodied a musical genre as Fela did with Afrobeat–the fusion of funk, jazz, rock, and psychedelia with West African sounds and rhythms that Kuti and his band brought to the rest of the world. Lagos Roots is a 14-piece ensemble from Oakland in which Fela's spirit still burns brightly, and they are bringing their jams to the Elbo Room on the first of February. Expect lots of Fela classics, of course, along with original Lagos Roots compositions, and an all-vinyl Afrobeat selection for the in-between. Clap your hands, feel the beat, and groove on. Check out Lagos Roots performing a Fela classic here and find out more and RSVP on Facebook here.


TWITCH feat. Uncanny Valley, Max & Mara, Vice Device, DNA Loft, Friday, February 1
Twitch is a new party in San Francisco, and it's quickly establishing itself as one of the city's best. This is one for the black-clad set, but it's much more than just a "goth night": The resident DJs spin a fantastic selection of old-school minimal wave and synthpop mixed in with newer EDM and techno, and it works fantastically well in the DNA Lounge's new cozy loft space. Headlining this night are three bands: Oakland's Uncanny Valley, San Francisco's excellent Max & Mara, and Vice Device, a SF-Portland collaboration. This one will go late, foggy, and hard, so come and dance the night away. Watch this video from Vice Device and find out more and RSVP on Facebook.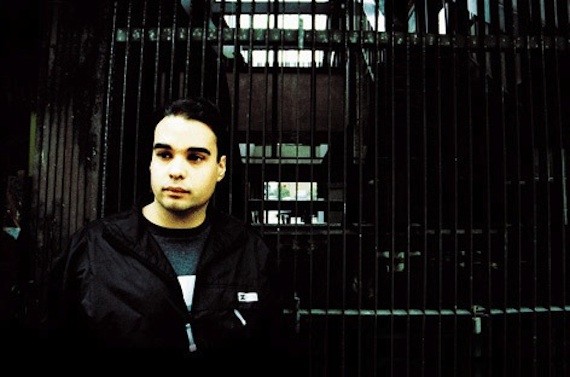 John Tejada, photo via residentadvisor.net

John Tejada, Pezzner, Adnan Sharif, Public Works, February 2
John Tejada seems to be a perennially underrated name in electronic music. Not that his productions are ignored or dismissed–they're most certainly not–but this LA-based producer has consistently created some of the best techno out there, with releases on seminal labels (Kompakt, Pokerflat, and his own label Palette, among others). He'll bring his deep, melodic sound that bridges the gap between house and techno to Public Works on February 2, with support from Pezzner, a Seattle-based newcomer who has been making waves with the deep house crowd. SF's own Adnan Sharif and Robbie & Gavin Hardkiss are rounding out the bill. Listen to one of Tejada's tunes here and find out more and RSVP on Facebook.

Haçeteria feat. Mr. Saturday, Slate Bar, February 1
Haçeteria has become something of a San Francisco institution, starting from its meager beginnings at the Deco Lounge in the Tenderloin, and eventually growing into one of the premier spots to see Bay Area house and techno producers. Haç has found a new home at Slate Bar, a smallish club in the Mission that is perfectly suited to the party's vibe and atmosphere. This next party features Mr. Saturday, an acid-techno producer from Half Moon Bay. If the last Haçeteria at Slate was any indication, this will be an extremely good time–lasers, fog, squelching synthesizers, a raucous dance floor, and lots of techno and house classics. Get ready to sweat. Check out Mr. Saturday's Soundcloud here and find out more and RSVP on Facebook.
HOUSEPITALITY feat. Akufen, F8, February 6
What? Akufen? Where you been? This elusive Montreal-based producer, responsible for a series of sublimely glitched-out tech-house cuts around the turn of the millennium, has been staging a return as of late, playing DJ/live sets alongside releasing the, er, curiously-titled Battlestar Galacticlown last year. Yes, going out on Wednesday is difficult, especially if the spectre of work looms large on Thursday morning. Regardless, the quality of Housepitality's bookings has been on a steady, upward tick, and its home at the newly-revamped F8 (formerly Icon Ultra Lounge) boasts an excellent sound system and a nicely compact dance floor. This one is absolutely worth the extra caffeine you'll be consuming the following morning. Check out Akufen here and find out more and RSVP on Facebook.