It's Valentine season, folks. Love, or something that approximates it, is in the air. No matter whether you've managed to trick someone into becoming your significant other or you're as lonely as a German techno freak at a Swedish House Mafia concert (I think there's about five or six of those this week if you're into that kind of thing), this edition of the Party Blotter brings you five parties across the next two weeks that you absolutely must attend, and this time around, it's stacked with debuts, locals, and triumphant returns. Read on, party on.

Future Perfect feat. Holly Herndon and NGUZUNGUZU, Public Works Loft, Thursday, Feb. 14
What are YOU doing for Valentine's Day? A romantic dinner for two? Crying alone at a dive bar? Forget all of that and come out to Public Works for one of San Francisco's newest and weirdest parties, Future Perfect. Each previous edition has featured artists and DJs that you would never think to pair up but, when put together, work brilliantly. Holly Herndon is a San Francisco-by-way-of-Berlin transplant who has been blowing up digital airwaves since the release of her debut album Movement on Brooklyn's RVNG Intl. label. This gig will mark her first solo performance in town since the release of her album. Expect techno for the mind just as much for the body: Holly's music is academic, and rooted in modern composition and vocal experimentation just as much as it is danceable. Los Angeles-based headliners NGUZUNGUZU are a two-person, bass-cum-dubstep-slash-R&B-tropicalia-psychedelic-freakout mess–something that totally defies description, something else altogether. This pairing might not seem to make sense at first glance, but your body will understand. Listen to Holly Herndon and NGUZUNGUZU, and RSVP on Facebook here.

Hidden Measure feat. Psyk, F8, Friday, Feb. 15
Here's something special: Not only is Friday's Hidden Measure party the San Francisco debut of Psyk, a Madrid-based producer of deep, dark, throbbing techno, it's also his debut in the United States altogether. San Francisco doesn't often manage to snag US debut performances, especially ones of this caliber. Psyk is techno for the purest strain of techno lovers–it's minimal, hypnotic, mesmerizing, captivating. Rounding out the night is support from Hidden Measure's own Daniel Yanov and Tracer, Michael Perry, Jonboy, and Nayive from Mexico City. Listen to Psyk and RSVP on Facebook.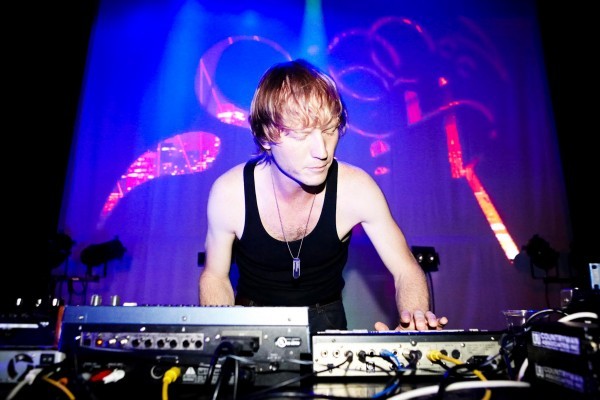 Magic Touch
No Way Back feat. Mutant Beat Dance and Magic Touch, Monarch, Friday, Feb. 22
Mutant Beat Dance are progenitors of the newest breed of American electronic music, a strain of twisted, analog hardware abuse that owes as much to classic Chicago house music as it does to Belgian new beat and EBM. This kind of sound–raw, messy, acidic–is currently gripping the dance music underground, serving as a refreshing revolt against the overproduced, overpolished Black-Eyed-Pea flavors of dance music you hear all over the radio. It's simple, back-to-basics stuff, but it possesses an elemental immediacy that's guaranteed to make you sweat. This performance will be Mutant Beat Dance's first all-hardware live set, and will feature numerous tracks written just for this show. Supporting is one-time local Magic Touch, who'll perform another all-hardware live set of gorgeous retro-tinged house music, like the sound of 1988 transported magically (pun not intended) into the present. DJing in between are some of San Francisco's best locals: Conor and Solar of No Way Back, along with Tyrell Williams of Acid Test. Take Monarch's brilliantly clear Void sound system, add it to their tightly-packed dance floor, mix in the psychedelic visuals provided by Donovan's Lightsout! Lightshow!, and you have the recipe for a seriously top-notch party. Listen to Mutant Beat Dance and Magic Touch and RSVP on Facebook.

Face feat. DJ Harvey + Icee Hot feat. FALTYDL and Anthony Naples, Public Works, Saturday, Feb. 23
Buy-one-get-one-free deals seem to be a mainstay of cheap shoe stores, discount supermarkets, and late-night infomercials. In this case, however, it is also a feature of the weekend's biggest party: Montreal-based legend DJ Harvey will be performing an extended set of everything under the sun (and then some) in Public Works' main room, while San Francisco bass music freaks Icee Hot take over the Public Works Loft. But that's not all; they're bringing in two of Brooklyn's most talented electronic music producers–FaltyDL, whose jazzy, soulful sound blends downtempo, outsider dubstep, and UK house into something all his own, and NYC's Anthony Naples, whose debut release is a beautiful slab of shimmering, melodic house music with gorgeous vocal samples. This will be one of those nights where Public Works is packed to the gills, and going all night long. If you like your tempos a little slower and your selections a little more eclectic, stay downstairs for Harvey, and if you want to experience something a little more futuristic and experimental, head upstairs and check out the Icee crew. Listen to FaltyDL and Anthony Naples and RSVP on Facebook.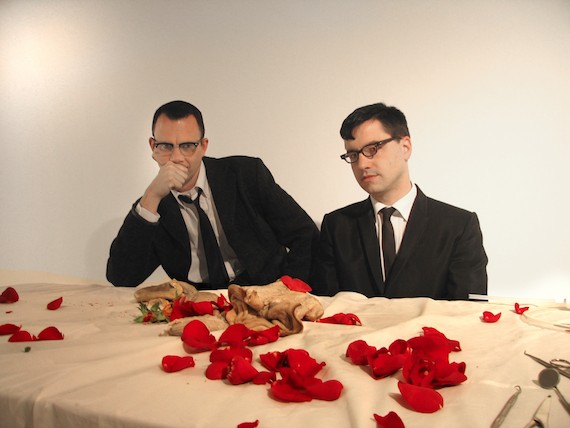 Matmos

Matmos live at Public Works, Sunday, Feb. 24
Going out on Sunday isn't easy. Monday morning is just around the corner, with the doldrums of the workweek beginning their dull throb, drowning out the hedonistic rhythm of the weekend. But sometimes, something special comes around, and going out is all but a necessity. This is one of those times. Although currently based out of Baltimore, Matmos were once mainstays of the San Francisco experimental electronic music scene, collaborating with a slew of SF-based musicians and artists and also performing live on tour with Bjork. Their music defies categorization–it's electronica, sort of, in the loosest sense, but it's also much more than that. It's heady, smart, creative, and it sounds unlike anything else out there. Their previous work was heavily sample-based, featuring the sounds of pretty much everything you can imagine: Machines, people, nature, foods, animals, computers, objects (one recording was supposedly created from the sampled sounds of the ribcage of their deceased pet rat). After laying low for several years, Matmos have released a new album, The Marriage of True Minds, on Thrill Jockey. Sunday's performance at Public Works marks their return to SF, and although it is difficult to predict what it's going to sound like, it is guaranteed that it'll be something truly out of the ordinary. Support is provided by two local techno wizards, Kit Clayton and C.L.A.W.S., along with "Baltimore's own Just Intonation boy band" (hmm, okay!) Horse Lords. Listen to Matmos and RSVP on Facebook.