Global Fund for Women is bringing its 25th anniversary celebration home to San Francisco with multiple events scheduled on Wednesday, October 30 at Fort Mason.
Started in Palo Alto and now headquartered in San Francisco, SFGlobal Fund provides money and other resources to empower women's organizations and movements (for a timeline of the organization's accomplishments, click here). Over 25 years, Global Fund has awarded over $100 million to more than 4,200 women's groups in 171 countries and remains one of the world's largest and most consistent funders of women's and girls' rights and is a respected women's rights leader in the Bay Area. 
During the main program, three young women leaders, Global Fund grantees will be honored: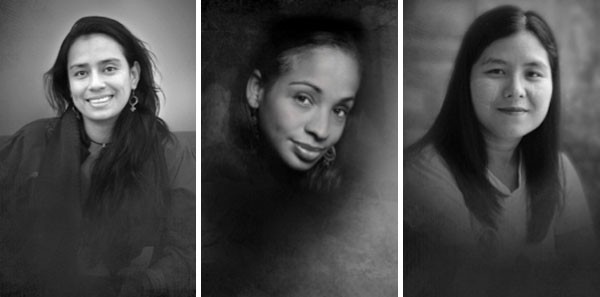 Karmen Ramírez Boscán (above, L) is an international Indigenous Peoples' rights activist and author with a lifetime of experience working with Wayúu communities in Colombia. Karmen raises awareness about the tragic 20-year history of guerrillas and other armed actors perpetrating Wayúu communities, especially in Media Guajira, where more than 250 assassinations and disappearances have been documented – of which 27 victims were members of her family.
Ndidi Nwuneli (M) is a serial social entrepreneur with 18 years of experience in international development and has supported a range of initiatives in Ghana, Liberia, Mali, Nigeria, Rwanda, and Senegal. Ndidi is the founder of NIA - which stands for Ndu (life), Ike (strength) and Akunuba (wealth) - a nonprofit organization that empowers female university students in Southeastern Nigeria to achieve their highest potential. She also founded LEAP Africa, one of Nigeria's most impactful leadership development organizations, and co-founded AACE Food Processing & Distribution, an indigenous agro-processing company. She is also a partner at Sahel Capital. Ndidi was recognized as a Young Global Leader by the World Economic Forum and was honored as a member of the Federal Republic from the Nigerian Government. She was listed as one of the 20 Youngest Power African Women by Forbes in 2011. 
Tin Tin Nyo (R) is the General Secretary of the Women's League of Burma and has had a lengthy and distinguished career advocating for the rights of women and sustainable peace and stability in Burma. After decades of civil war in Burma, women and children fled the country traumatized, homeless, and without family support. Recognizing that women knew little about their own rights, the political agenda and principles of democracy, Tin Tin and her colleagues worked to promote the role of women as decision makers in rebuilding Burma. She worked in various capacities at the Burmese Women's Union from 2005-2011, until she was elected General Secretary of Women's League of Burma later that year. Tin Tin is a feminist who firmly stands with the strong commitment, motivation and spirit to fight for justice and democracy Burma. 
Acclaimed author Isabel Allende and Former US Ambassador for Global Women's Issues, Melanne Verveer will be featured speakers at the VIP reception. Other VIPs will also be on hand for the celebration including Abigail Disney (award winning documentary filmmaker and producer), Amina Doherty (Feminist blogger and activist), Leymah Gbowee (2011 Nobel Peace Laureate), and Phumzile Mlambo-Ngcuka (Executive Director, UN Women).
Find more info on the party here and buy your tickets here. The after party starts at 9:30 p.m., find more info here. Wednesday, 10/30, Fort Mason.