Fall is here, and that means turkey, pumpkin pie, and hot apple cider. With the falling of leaves comes the sprouting of new fruits: persimmons, pomegranates, pears, and apples. Now usually, when we think fall fruits, we inevitably think pies. But these fruits can do so much more than rest beneath a flaky pie crust (though we're not complaining about that). Chefs are utilizing fruits in dishes from savory to sweet, paired with meats, cheeses, even lettuce. We've collected a list of the best places to get a taste of sweet fall.
Hopscotch (pictured above)
This Oakland gem serving American food with a Japanese flair has lately been making a buzz in the San Francisco dining scene. We San Franciscan's are used to our pseudo seasons, and Chef Kyle Itani is celebrating this transition with his Indian Summer Salad. The flavors of late summer and early fall are combined into a thoughtful gem salad with sugar snap peas, chrysanthemum, squash and pomegranate seeds. 1915 San Pablo Ave. Oakland.
Locanda's Italian menu may be traditional, but Chef Anthony Strong sneaks in seasonal treats, like in a simple salad of arugula, persimmons, burrata, and grilled bread. The creamy burrata, spicy arugula, and sweet persimmons are the perfect blend of flavors to welcome fall. 557 Valencia St.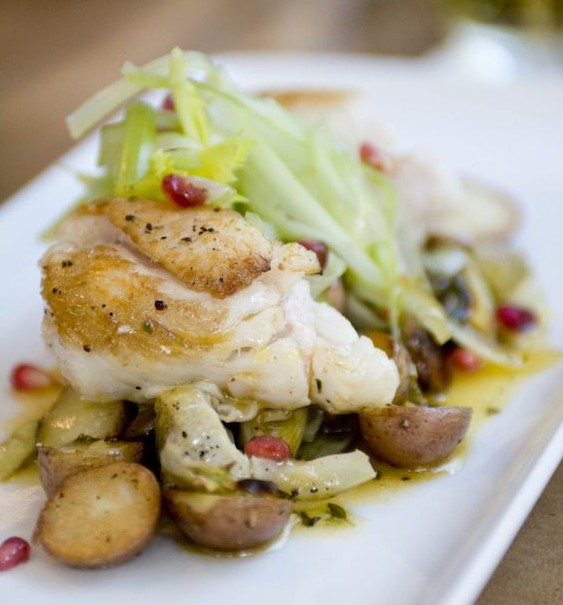 Bluestem Brasserie (pictured above)
Bluestem's seasonal, sustainable menu has switched gears to highlight the warmth of fall with two comforting dishes featuring pomegranate. A shaved brussels sprouts salad is served with pork belly "croutons," almonds, spiced pumpkin, pomegranates, squash frizzles, and mustard vinaigrette. For a main course, Chef Francis Hogan serves a pancetta and shrimp stuffed petrale sole with artichoke, potato hash, preserved orange vinaigrette, celery salad, orange oil, and pomegranate. 1 Yerba Buena Lane.
Nopa's menu is comprised of old favorites (like the infamous burger and pork chop) and rotating seasonal dishes. Their warm goat cheese appetizer has been a cornerstone of the menu for as long as we can remember. But Chef Laurence Jossel is throwing in some seasonal flair with persimmon and crimson grapes. Enjoy the creamy goat cheese with seasonal fruits on slices of crisp crostini. 560 Divisadero St.
The casual yet sophisticated Maven offers a small paired menu, which couples creative cocktails with innovative small plates. This means that their seasonal dishes are complemented by equally seasonal cocktails. For a taste of fall, opt for their Fireside Cocktail, made with rye, lemon, egg white, and winter spice. To eat, try the comforting potato gnocchi served with truffled apple, kabocha squash, and maitake. All that's missing is the fireplace! 598 Haight St.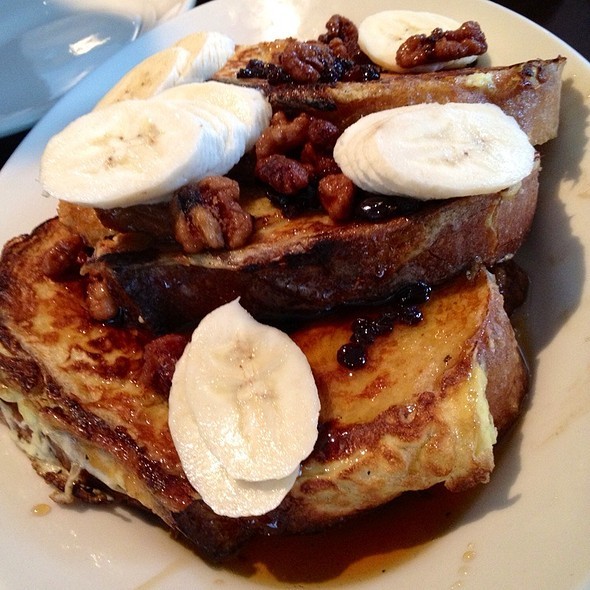 photo by Foodspotting user Ada

Slow Club (pictured above)
Feeling like a taste of fall for breakfast? Slow Club's brunch features a sinfully delicious bourbon French toast with bananas, spiced roasted pears, walnuts, and bourbon maple syrup. It's as close as you can get to eating pie for breakfast, minus the guilt. 2501 Mariposa St.