This week we've been calling for nominations for burrito experts to participate on a judging panel, along with some of the city's top chefs, for our February Food Issue's burrito-off. The nominations have been amazing and the cases made, most convincing. (Not to mention, highly entertaining—we're talking burrito senior thesis, a burrito costume, a burrito rap and more.) Read on and let us know who you think should be able to be on this esteemed judging panel (the nominees are listed in no particular order). Nominations are still being accepted until Monday, November 22, midnight. Follow the directions and send them to iheartburritos@7x7.com.
---
1. NOMINEE: Prisca Asada Chen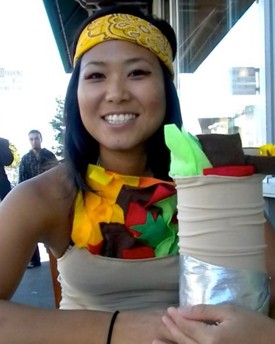 Occupation: burrito lover, student, frolicker
Age: 23
Neighborhood: Haight-Ashbury

I hereby nominate Miss Prisca "Asada/Dank" Chen as the BIGGEST BURRITO LOVER in the great SF Bay Area!! Her love of burritos goes far beyond any I have ever seen. From the trips to Vallarta at 2 am, to writing her senior thesis at UCSC on burrito culture (click here to see the documentary she did) to her most recent Halloween costume (a super burrito de carne asada, complete with cape and warrior hat), P-dizzle is by FAR the epitome of an exemplary burritophile. She has made several pilgrimages to SoCal to visit all the burrito hot spots down there. Her birthday cards were collages of her on top of massive burritos. You should see her room—the walls are covered in photos of her friends eating burritos!!! I am proud to say, I'm on that wall. One of my favorite memories of Prisca is when she gave me a tutorial on the best way to eat a burrito. I believe it began with "first, hold it. Caress it. Feel its warmth and girthiness in your hands. Next, unwrap the foil slowly. Savor its throbbing juiciness. The anticipation is key. " And continued, likewise.
Picasso painted, Prince squealed on the guitar, the Dankstress spreads her love and knowledge of the finest food in existence—burritos.
 
Top Three Burritos
1. Super burrito de carne asada y carnitas with re-fried beans at Taqueria Vallarta on 24th st and Balmy Alley
2. Super burrito de carnitas from El Tonayense taco truck parked on Harrison St.
3. Super burrito de carne asada from Taqueria Apatzingan in Santa Cruz
2. NOMINEE: The Fiesty Fiesta Club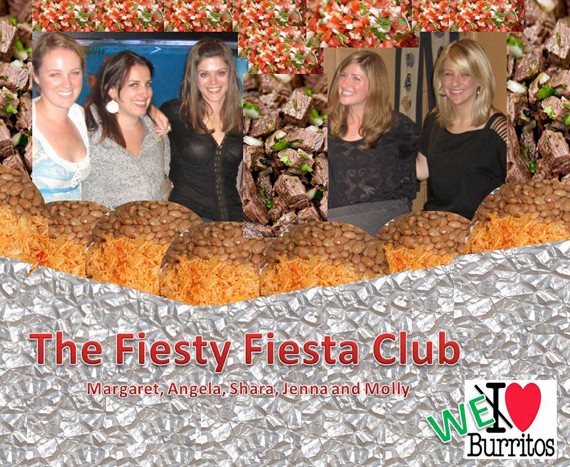 1. Name: Molly "Nacho Average Girl" Murphy
Occupation: Assistant Merchant
Age: 27 
Neighborhood: Russian Hill (and moving to the Lower Haight)
2. Name: Angela "No Fancy Nickname, I'd Just Rather Be Eating a Burrito" Stuebing
Occupation: Hotel Sales Manager
Age: 27
Neighborhood: Pacific Heights
3. Name: Margaret "Don't Ask Me Where to Eat Nachos, I am in a F&%*ing Burrito Eating Club" Coblentz
Occupation: Ecommerce Asst. Merchant
Age: 27
Neighborhood: Lower Haight
4. Name: Jpo (Jenna)
Occupation: Weekend Skier
Age: High 20's
Neighborhood: The burrito-barren MARINA (don't worry, I outsource)
5. Name: Shara "I Occupation: HR Manager
Age: 27
Neighborhood: Cow Hollow
I am not writing to nominate a person, but a club. And I am not talking about your average book club, drinking club, or sports club. I am talking about an all-girls burrito-eating club that was founded in San Francisco circa 2006 ….. The FIESTY FIESTA CLUB!!!
 
The Fiesty Fiesta Club began when a group of friends (all Bay Area natives) wanted a regular way to meet up and catch up on life. But what are the options for fabulous ladies in their mid-20s in San Francisco? There is your average book club, girly wine-and-cheese nights with reality TV, or your standard dinner club. None of these options really were a "fit" for this group of friends. So in taking inspiration from a quote by one of the club members— "I only want a five-course meal if all courses come wrapped in a tortilla"— the Fiesty Fiesta Club was born. The main goal of this club is simple: Find the city's best burrito. No taqueria (or truck) left behind!
 
The awesomeness of this burrito-eating club was only further validated when the ladies dined with Charles, the author of popular blog: www.burritoeater.com at Gordo Taqueria in the Inner Sunset. Charles was a "guest" to one of the club gatherings and when we all parted ways, Charles said that the Fiesty Fiesta Club was (and I quote) "the coolest club in San Francisco". I strongly recommend (with my whole heart) the Fiesty Fiesta Club to be the 7x7 burrito judge(s). There is no "I" in judge.
 
Our Top Three Top Burritos
1. El Farolito (the 24th and Mission location. Yes…. There is a difference) can really do no wrong. But the Super Bronco Carne Asada is at the top of the list. (Short anecdote: one member of the club once ate this burrito in 3 minutes flat when we were heckled by hipsters who were also dining at the same time. Apparently—they don't think girls can take down burritos, but they had obviously never met the Fiesty Fiesta Club.)
2. Al Pastor Burrito from El Castillito on Church
3. Carne Asada Burrito at El Papalote
3. NOMINEE: Navid Sarrafzadeh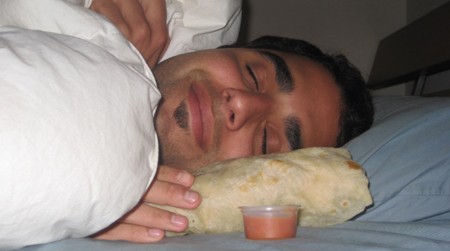 Occupation: Construction Management
Age: 28
Neighborhood: Japantown
 
It is with great confidence and pleasure that I nominate Navid Sarrafzadeh to be a judge for the 7x7 burrito-off. Navid is highly qualified for this position, as he is a veteran burrito consumer. First trained in burrito intake in the small town of Alameda, Navid quickly worked his way through the Mexican food sites of the Bay Area, ultimately landing in San Francisco. During my two-day visit to SF with him, we ate at El Farolito three times. His memorization of the menu and familiarity with the staff made it clear that he was no stranger to this venue. Navid is a person that navigates places of the world by their taquerias, who utters phrases like "extra guacamole por favor" in his sleep, and who will crave a super carne asada quesadilla suiza at the end of any night (even if a five course dinner was involved). His knowledge of burritos is immense, and his desire for them is a love that is unparalleled. Just as Ralph Waldo Emerson described his love object as a "delicious torment," Navid's devotion to Mexican food often yields suffering. But he never gives up on his loyal dedication to this wondrous food; his love is constant and plentiful.

Navid's Top Three Burritos:
Anything with the word super before it, carne asada, and carnitas
4. NOMINEE: Mari Tzikas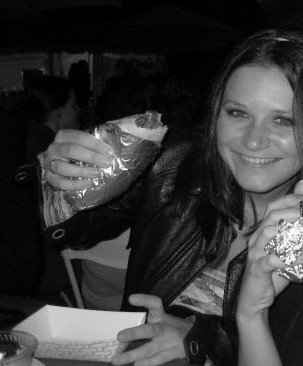 Age: 28
Occupation: Editorial Manager
Neighborhood: Russian Hill

To be completely honest, I would nominate myself before anyone else for anything regarding burrito eating, but I am a vegetarian and therefore not an appropriate candidate. But my next choice for this burrito-tastic adventure would have to my boss, Mari Tzikas. We've spent countless hours talking to each other—over our little cubicle walls—about our love of burritos and where we are planning to have our burrito dinners and burrito breakfasts over the weekend (mine is always accompanied by a hangover). Not only does Mari have a love and understanding for the well-balanced deliciousness that a burrito provides, she's well versed in restaurants around SF and always knows where to go for different burrito moods (i.e. hangovers need El Faro, while a nice afternoon picnic should be supplied by the Mason Street San Jose Taqueria, not the Mission outpost). She prefers a carne asada to any other, but never looks down on the veggie-ritos. She's open-minded, creative, and appreciates good food. So please consider Ms. Tzikas. She would make for an ideal addition to your burrito panel and will eat the hell out of any burrito she's given (two-pounders welcome).
Top Three Burritos:
La Burrita, Berkeley
La Canasta
Little Chihuahua
5. NOMINEE: Cathie Cho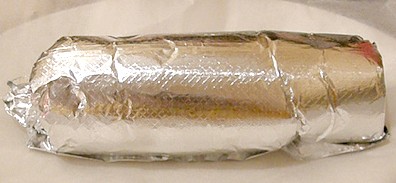 Age: 24
Occupation: Legal assistant
Neighborhood: Financial District
Yo yo yo
This girl eats burritos like whack
More addicted than a homeless guy loves crack
Super burrito at tlaloc with black beans
MORE INFERNO salsa! she screams
El farolita's fo sho
and to Chipotle she'll go
thrice a day would be her supreme dream

Cathie Cho is nutzo for her burritos.  Whether it's carne asade with fries wrapped in a spinach tort, or purple rice with Korean bbq smothered with mozz cheese, if the thing starts with a "bor" and ends in "eeto" she'll eat the whole damn thing!  Unlike other burrito lovin females, this is a pretty girl who consistently risks losing her girlish figure for these high carb delicacies.  Unlike other burrito fanatic fembots, burritos are the ONLY thing this girl be wrappin her mouth around.  How to obtain world peace?  Give Cathie Cho a burrito, STAT.
Top Three Burritos:
1. El Farolito
2. Tlaloc
3. Chipotle

6. NOMINEE: Andres Tobar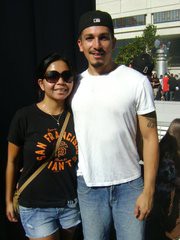 Age: 24
Occupation: student
Neighborhood: Mission

My boyfriend loves burritos more than he loves me. (Seriously, we got into a fight last weekend because I went out for a burrito while he was taking a nap and didn't bring him back one). He is proudly Mexican and was rightfully conceived, born and raised in the heart of the Mission on 20th and San Carlos alley. Stories of missing class to eat a burrito at the Mission Market for lunch have evolved into our habitual pilgrimage to El Farolito (24th and Mission please, not Alabama) on weekend nights and for weekday snacks. An Anthropology major at UC Berkeley, he makes scathing observations of epic fails at what he describes as "burrito prime". Meaning, he applies Plato's writing to deduct what is wrong with El Torro and Pancho Villa, Cancun, Los Altos, and Balazo in comparison to the perfect and unachievable burrito in choices of salsa, condiments, choice of avocado rather than guacamole, even down to the technique of warming the flour tortilla (which any qualifying burrito-phile should know is thrown on the flat top to get nice and crispy, NOT steamed and soggy and won't tear away correctly).

When I read him the comment about the supreme lameness of the SoCal burrito, he merely raised an eyebrow as if to say "Well, duuuhhh", but when I asked him if he would want to be a judge for the contest, he raised his eyebrow again and simply replied "Well duuuhhh." Please, choose him to be a judge, he is deeply passionate about all things burrito, always pays cash and I wouldn't have to get him a Christmas present.
7. NOMINEE: Lina Abascal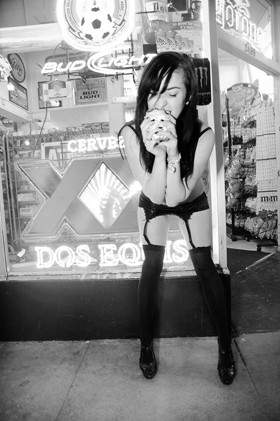 Age: 20
Occupation: Blogger/Stylist/Student
Neighborhood: Castro

Everybody knows how much I love burritos. I tweet, text, facebook, and talk about them entirely too much. Ever since I've lived in San Francisco I've been on the constant hunt to keep finding better and better burritos. I need a spot in every district so I can feel content knowing there's always a burrito a few blocks away. The Norcal burrito at EL Burrito Express in the Sunset, Carnitas burrito at Il Castillo in the Castro, and the chicken burrito at Gordos in the Inner Sunset are probably my favorites. I always get super burritos, no reason to mess with anything less. I prefer black beans generally, always ask for both hot and mild salsa, extra cheese and sour cream, and I love when the burritos are grilled after being put together to make the tortillas crunchy. I always tell myself I'll save the second half for later, but who am I kidding. I love burritos so much I chose to do a mocking sexy photoshoot of me in lingerie while eating a burrito, the best of both worlds? I've attached it. Seriously this sounds like my calling.

Top Three Burritos:
 1.  El Burrito Express (Sunset)
 2.  El Castillo (Castro)
 3.  Gordos (Inner Sunset)

8. NOMINEE: David Johnson-Igra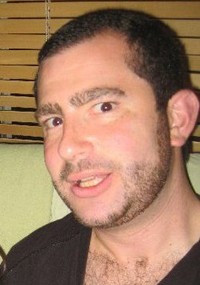 Occupation: SFCritic
Age: 25
Neighborhood: The Castro
David was born and raised in San Francisco, a pure-bred who passed-GO on Taco Bell as a child and went right for the good stuff. Rumor has it, when David's mom picked him up at the airport during college breaks, he'd refuse to get in the car unless she handed him an El Farlito burrito with her hug. These days, David continues begging friends to make early morning stops for breakfast, sit-downs for brunch and lunch, take out for dinner, late night cravings on weekends, you name it.  Anything for a burrito. When friends or family visit, the Mission is the first place he takes them, making a stop at 3 of his favorite spots: El Farlito, Taqueria Cancun, and El Toyanese. As a music critic and expertise on all things San Francisco, the kid's even written a rap about burritos. You can find it here. Perhaps the biggest reason why David should be a judge? His love of burritos may top that of his family, friends, and even girlfriend. I would know—I'm her.
Top Three Burritos:
1.  El Farolito
2.  Taqueria Cancun
3.  El Tonayense

9. NOMINEE: Greg Haley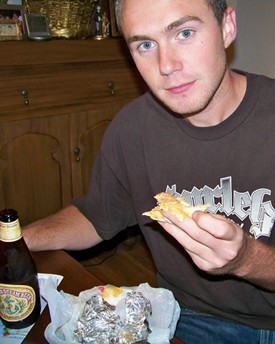 Occupation: Electrician, Local 6
Age: 24
Neighborhood: The Richmond

Mom says to Greg, age 10, what do you want for dinner?
Greg, Gordo's.
Mom to Greg, but we had burritos last night.
Greg, 'itsoright, I'll go get em,
Mom to Greg, ok but be careful crossing the street.
Mom says to Greg, age 16, what do you want for dinner?
Greg, La Taqueria
Mom to Greg, but we had burritos last night.
Greg, I'm going to the Mission, see ya.
Mom to Greg, ok but be careful driving.
Mom to Greg, age 24, what are you doing for dinner?
Greg, La Corneta
Mom to Greg, where's that?
Greg, Glen Park, see ya...
Mom to 7x7, that is why Greg would make a great judge, he's been eating burritos all his life..
 
Top Three Burritos:
1. Gordo's (24th/Clement)
2. La Taqueria
3. La Corneta
10. NOMINEE: Daleen Saah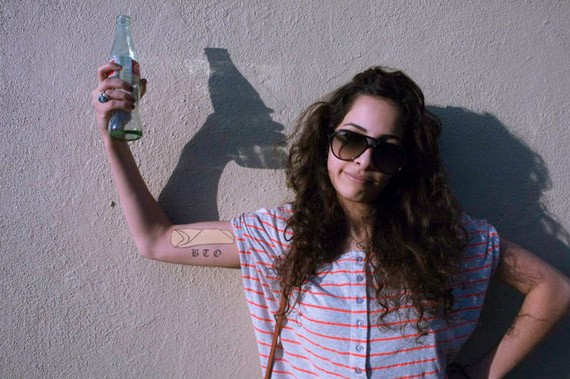 Occupation: Marketing Admin.
Age: 22
Neighborhood: Western Addition
Daleen ordered a breakfast burrito yester-morning from a new café. Got the 'rito, two bites and 85 seconds later, she walked out stone-faced, tight-lipped; leaving behind an almost-complete wrap of mediocrity. Pissed. I'm not talking about pretentiousness here, not dramatics or even hunger. With her, it really comes down to emotion. For Daleen, eating burritos is an intimate experience, requiring concentration and solid decision-making. How can we trust her expertise? Since high school, Daleen and her friends had a weekly tradition coined "Burrito Fridays." Each Friday after-school, her clan would go to a different Mexican restaurant/taco-stand/grocery-store-with-kitchen-in-the-back to eat the treat. As you can imagine, that's a lot of Fridays. She's had at least one B-To from every outlet in San Francisco and knows her way around the Asada.
She knows burritos like salsa knows verde, and can detect Armando from El Faro's at 24th/Mission's tortilla folding technique from its outer aluminum wrapping. Her favorite three are: Carne Asada from Vallartas, Carnitas from Tonayense taco truck, and Pollo Asado or Carne from Papalote (their salsa so good too); but she's interested to see what you got.