An influx of new shops and restaurants, plus the opening of Bi-Rite, is putting NoPa front and center.

San Franpsycho
When Andy Olive and Christian Routzen met more than 10 years ago, they were catching waves at Ocean Beach. Today, they are catching attention with the opening of San Franpsycho, their new shop stocked with clothing and designs by Bay Area artists inspired by the city and surf culture. Before going brick-and-mortar, Olive and Routzen sold their emblazoned hoodies and T-shirts from the back of a van. Now you can pull up a stool at the viewing bar to watch the staff create custom silk-screened garments by hand. Also shop BRYNA bags, 
vintage jewelry, and skateboards from Danny Hess. 505 Divisadero St.
Rare Device
Rare Device is the kind of store that's de rigueur for a trendy hood: It's chock full of contemporary housewares, tasty snacks, and hipster paper goods. Since the shop's move to Divisadero Street this March, it could be said that NoPa has officially arrived. Owners Giselle and Phurba Gyalzen take care to keep a strong local offering, with kid toys from Apple Park, jewelry from Yellow Owl Workshop, and caramels from Hooker's Sweet Treats. A gallery wall at the back features a different artist each month. 600 Divisadero St.

Bread & Butter Café
Even though Divisadero Street is the undisputed main drag of NoPa, it's not the only game in town. A leafy section of Hayes Street is starting to draw a regular crowd where Bread & Butter Café, housed in a former turn-of-the-century pharmacy, opened earlier this year. While an apothecary counter still frames the back wall, the cafe is now lined with coffee mugs instead of tinctures. Owner James Lener can usually be found manning the counter, where he serves a single-drip brew of Equator coffee, bread and pastries by Bakers of Paris, New York-style bagels, and his own special-recipe breakfast burritos. 1901 Hayes St.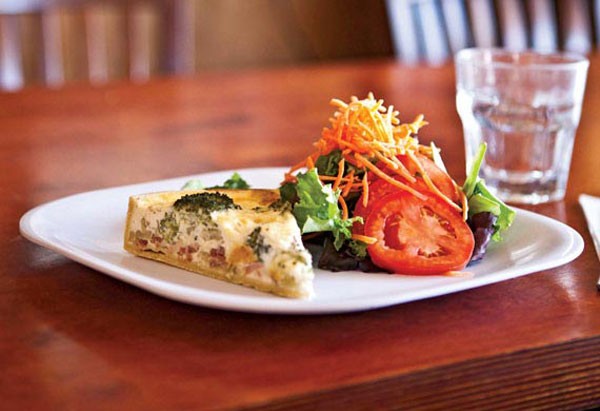 Warby Parker Showroom
Since The Perish Trust opened its doors more than four years ago, co-owners Kelly Ishikawa and Rod Hipskind have earned a reputation for their top-notch curation of vintage furniture and accessories. But while their reliquary of bygone Americana has a loyal following, it's the selection of vintage-inspired $95 eyeglasses and shades (prescription lenses included) that has customers lining up outside the door. An alcove in the back was recently transformed into one of just 10 Warby Parker showrooms in the U.S. and offers more than 100 styles ready in just 10 days. 728 Divisadero St.
COMING SOON
The Mill
When Jeremy Tooker and Jodi Geren, owners of Four Barrel Coffee, decided to open a second cafe, their search began and ended in NoPa. "There's a great neighborhood spirit here," says Tooker, who also saw a need for a top-notch bakery. The duo reached out to their friend Josey Baker, owner of the eponymous bakery, and cooked up a plan for a collaborative venture. Look for open doors in late July. 736 Divisadero St.
Bi-Rite
The rumors are true. Bi-Rite Market and Bi-Rite Creamery & Bakeshop hope to open their NoPa location this fall. That should leave you just enough time to grab a cooling scoop of balsamic strawberry or salted caramel ice cream before the end of Indian summer. 550 Divisadero St.