By
What happens when the man who makes the wine drinks with the man who buys (and sells) the wine? Problems are solved. Pollution is reduced. The world becomes a better and a greener place. Okay, maybe not every time, but earlier this year, just such a thing occurred. The problem was that Ian Becker, the Wine Director for the Absinthe Group (Boxing Room, Absinthe Brasserie and Bar, Arlequin Café and it's retail sister, Arlequin Wine Merchant) had been pouring Natural Process Alliance Wine by the glass from Klean Kanteens at the Café since 2008, but was not able to offer the reusable containers of wine to his customers because they weren't sealed adequately enough to satisfy the TTB. But Kevin Kelley, the winemaker for NPA, was adamant about not creating waste and refused to have the Klean lids sealed in plastic. "But people want to buy your wine and they can't," cried an exasperated Becker.

While unable to come up with a solution that night, Becker called a lawyer friend the following day who advised him that any tamper-proof seal would do. "Even duct tape?" he asked. Even duct tape.

Kevin was willing to compromise with electrical tape (and why not white tape for Sauvignon Blanc, orange for the whole-cluster-fermented Pinot Gris and red for a field blend of Rhone varietals).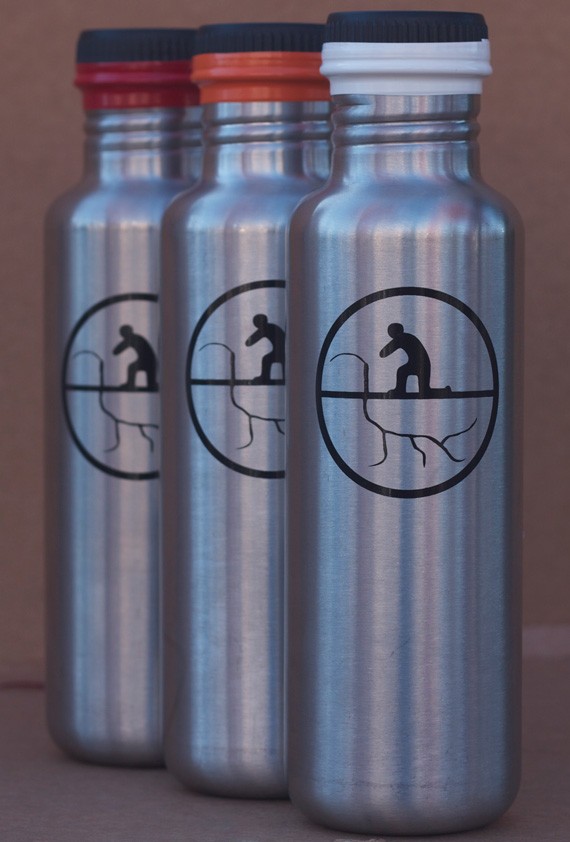 So it came to be that alongside the Chassagne-Montrachet and the grower Champagne in the Arlequin Wine Merchant cooler, stainless steel canteens sealed with electrical tape and hand-labeled with the bottling date (most likely the previous week) rest easy.

And just because the wine isn't presented in a ten pound bottle with a two-inch cork and a gold-leaf capsule doesn't mean you are sacrificing quality for Mother Earth: All the NPA wines are made from organically or biodynamically farmed single-vineyard grapes, and are made as naturally as possible (sulfur, a naturally occurring preservative, is the only additive). Kelley hand selects which barrels will go into the Kanteens each week, which means there may be some variation from one week to the next.

"In other winemaking regions around the world, you can go to the winery and get fresh wine," says Kelley. In California, where forests-worth of new French oak spend years aging what will be $200 bottles of Cabernet Sauvignon, making fresh young table wine has not been a priority. But for Kelley, and thankfully, for all of us, it is.

How it works: Your first purchase includes the price of the Kanteen ($15) and thereafter, only the price of the wine inside (Sauvignon Blanc is $15; Pinot Gris is $18 and the red blend is $24). Bring the Kanteen (or Kanteens if you are wise) back to the store; a week later they will return freshly filled from the Sonoma winery.

Where to get it:

Arlequin Wine Merchant
384 Hayes Street
San Francisco
415.863.1104

The Punchdown
Franklin square
2212 broadway
Oakland
510.251.0100

The Natural Process Alliance
3350 Coffey Lane
Santa Rosa
707.527.7063
DON'T MISS A BAY AREA BEAT! SUBSCRIBE TO OUR NEWSLETTER.