Originally published on CaliforniaHomeDesign.com
An automotive wrecking yard isn't the first place you would think of looking for a designer bag, but rePACK founder David Miller-Hershon is literally banking on recycling discarded car interior bits into fashion accessories. With just six days left on his fledgling business' Kickstarter, he has a couple grand to raise to take his idea from the wrecker to the streets of San Francisco.
A year ago, Miller-Hershon made a few backpacks from the seat upholstery of a junked VW Beetle as presents for a couple friends that helped get him a much-needed plane ticket. At the time, the Outer Sunset-born artisan wasn't really thinking about turning the seats of derelict Cadillacs into wallets and handbags for a living. However, the bags he made for his crew of fellow cyclists were a big hit, and rePACK was born.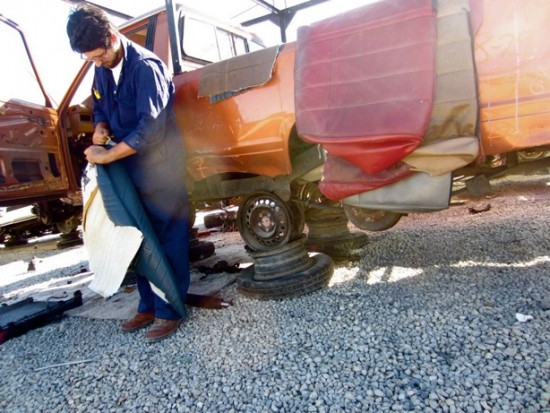 Miller-Hershon selecting materials for bags.
Click here for more about the awesome rePACK!