There is a winery in the heart of downtown Manhattan that imports 200 tons of premium California grapes every year: Cabernet Sauvignon from Napa Valley, Pinot Noir from Russian River, Syrah from Paso Robles. But the barrels full of wine that line the Tribeca space is just a backdrop for the main attraction: music. Now, the founder of that winery/music venu/restaurant/wine bar is importing a bit of New York City to Napa Valley. Michael Dorf's Napa outpost of The City Winery is scheduled to open in the historic Napa Valley Opera House in downtown in the spring of 2014 following a $2 million renovation.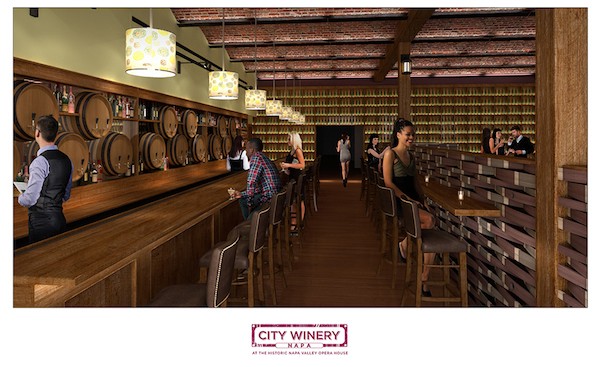 A rendering of upcoming City Winery in Napa
Last week, as part of the opening gala of the Napa Valley Film Festival, Dorf was drumming up interest and garnering support for what has, oddly, been a controversial project. In an open letter to the Napa Valley Register in August, when the long-term lease was finalized, Dorf wrote, "We are not, as some have said, 'like the Wal-Mart's that have ruined downtowns all over the country,' but rather a humble bunch of music and wine fans that would like to create our third location in a community we think will love our involvement."
Nor are they, he continued, "about the 'destruction of the Opera House,' as some have speculated, but rather about helping the venue do more of what it was designed to do." Which is show live music.
As in New York City and Chicago, Dorf, whose background is in music production (he owned The Knitting Factory), will showcase internationally recognized musicians in an intimate environment. Accompanied by food and, of course, plenty of wine. The 100-seat restaurant on the ground floor will serve 35 wines on tap purchased by the 60-gallon barrel directly from local wineries and a 400+ bottle selection. The extensive renovation will convert the fixed tiered seating into a 300-seat ballroom in which food and wine will be served during the concert. Unlike at the NYC flagship, there will not be any winery in this City Winery. Dorf assumed, correctly, there are enough of those in Napa.