We've partnered with Russian Standard Vodka and asked some of the city's top mixological talent to concoct delicious drinks with Russian Standard Vodka as its star ingredient, and base the name of the cocktail and its ingredients on a deeply-held ambition: maybe a frozen drink inspired by climbing the tallest peak, or salted rim to evoke sailing the open sea...
Want to win a $100 bar tab? Try all the cocktails over the next seven weeks and "toast" (i.e. vote for) your favorites by selecting one here.
Meet our third featured bartender, Allison Webber from Jasper's Corner Tap & Kitchen. She mixed up the Ruby Summer. Visit Alison at the bar at Jasper's, or try her recipe at home.
Ingredients:
• 1 1/2 oz. Russian Standard Vodka
• 1/2 oz. Liqueur 43
• 1/2 oz. lime
• 3/4 oz. Lillet Rose
• 2 oz. raspberry water
• 6 drops Bitter Cube Bolivar Bitters
• carbonate with a Perlini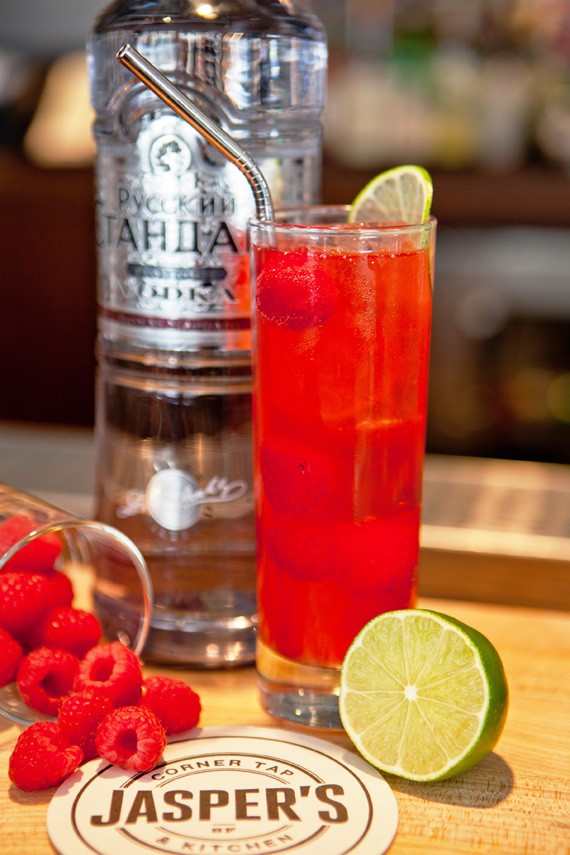 Bartender's notes: Like my grandmother and great grandmother I was born with a love of seeing new places. Every few years I'll throw caution to the wind and take off for a few months. It's gotten harder as I've grown up and gotten jobs that I don't plan on leaving any time soon. When immersing myself in a country where I don't speak the language, I remind myself that the excitement of exploring can happen simply by taking the wrong bus or hopping in a car and detouring down a road I've never noticed before. One day, I'll have seen the sun set on every continent and maybe a few of those amazing little islands in between.
See all the participating bartenders here and vote for your favorite!
PLEASE DRINK RESPONSIBLY. Russian Standard® Vodka. Product of Russia. 100% Grain. 40% Alc/Vol. ©2012 Imported by Russian Standard Vodka, NY, NY.