Locals know the story of the shooting of Oscar Grant well, but outside of the Bay Area, the tale was (and still is) merely a blip on everyone's news radar. With the new film Fruitvale Station opening Friday, July 12, director, writer, and Bay Area native Ryan Coogler widens the reach of Oscar's story. He created a gripping, yet somber motion picture of Oscar, his mother Wanda, his girlfriend Sophina, his daughter Tatiana, and everyone else he interacted with in his last 24 hours. 
Coogler's movie was the most talked about film at Sundance, winning the Grand Jury Prize and the Audience Award. It also snagged prestigious honors at Cannes. The film has even garnered early Academy Award buzz. Even so, Coogler, remains humbled about his highly-praised work. 
At what point did you realize that you wanted to make Fruitvale Station?
Almost immediately following the incident. I realized that the film could possibly offer insight into why these types of things are tragic. Maybe that insight could trigger a thought process or a discussion that can help to make these types of things happen less frequently. 
What was your thought process in telling the story and what made you decide to portray Oscar's life in just one day
Days kind of have a scripted feel to them. They have a  beginning, a middle and an end. It's a type of cinematic structure that has existed for a long time and  one that I found effective. You feel like you're kind of hanging out with characters and you get to know them in the intimate, meaningless moments. You go on a journey in that day. It was New Year's Eve, the most optimistic holiday in the planet. 
You shot all of this here around San Francisco Bay Area?
Yeah, in the East Bay.
There are only a handful of films set in San Francisco, and we barely see any of them set in Oakland or even the East Bay. Do you plan on making more movies based here?
Absolutely. I live in Richmond and I don't plan to move. I feel extremely inspired by home, it's a place of a lot of stories. I think it's the best place in the world. Obviously, looking at the film, racial tensions exist here the same as anywhere else, but it is different.
What kind of research did you do to create the story for film?
I had a friend who was a lawyer on a civil case who I met when I was in film school. I asked him for everything they can legally share with me. I had the testimonies of the police officers, Oscar's friends, his mom, his family, and from that, I built out the scope of that day. Once I got access to his family, that's when his character got that three dimensional quality. Things really became interesting because I could tell his relationships were most important to him.
What was your casting process like and how did you finally decide on the cast that you had? 
It's an amazing cast. A lot of it was good fortune. (For Oscar), I had Michael B. Jordan in mind very early on as not just the best person for this job but in many ways, the only person for the job. For Sophina, Melonie's (Diaz) name kept coming up. Thanks to the San Francisco Film Society, we brought Mike and Melonie out to give them a feel of the Bay Area, the slang and how we talk in the East Bay. We took them to go spend time with Sophina and Tatiana, which was really effective.
Getting Octavia Spencer was kind of like like playing the lottery, you know what I mean? My agent said, "What about Octavia?" It was February at that time and she just won her Oscar.  I was like, "Man you're crazy. No way. We got no money and she's not not coming to Oakland to make a movie at my grandma's house." He said she's a great woman and we should let her read the script and see what she says. She ended up signing on. That's how we got those three.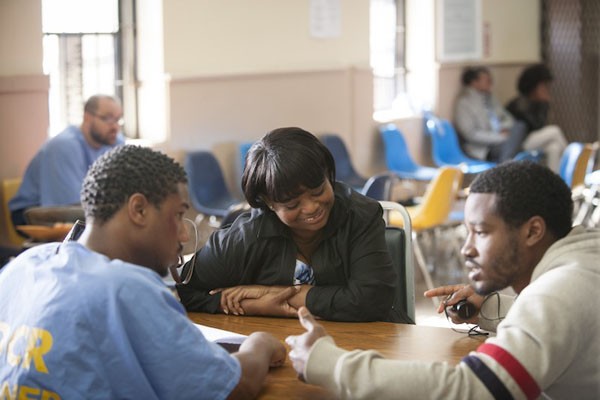 Ryan Coogler with Octavia Spencer and Michael B. Jordan. Photo courtesy of the Weinstein Company.
What was it like meeting Oscar's family and friends for the first time? 
Oscar's mom is young, and that was heart breaking. I realized how many moms buried a son in this community regardless of whether it's police fatality or black on black crime. That was where my mind went and that's when I realized I had to capture it. And when I met Sophina and Tatiana, it was more of the same. When you put a human face to the news and footage you've been researching, you realize that it's real. 
I'm going to take a wild guess and say that you were really happy when you won the Audience and the Grand Jury Award at Sundance.
It was a very surreal experience. It was nothing that I expected at all. I was really, really, really humbled by the fact that people thought enough of everyone's work to honor it. Films are made by hundreds of people and I was so proud and happy for the work that everybody else put in for it to be acknowledged like that.
The movie also did so well at Cannes. Did you expect such a specific story about the Bay Area to click with the French and be so universal? 
It was my goal that this film could be shared with people who would never come in contact with somebody like Oscar Grant. We focused on the human relationships. Everybody knows what it's like to have mom, everybody knows how it is to have somebody they love, a lot of people know what it's like to have a daughter and a lot people know what it's like to be 22 years old. We hope that in making it specific to Bay Area culture that people could see a bit of their own culture in it, you know what I mean? 
Fruitvale Station opens in theaters on Friday July 12.