7x7 asks the Bay Area's chefs for the recipes to their most loved cocktails, bar snacks, starters, mains, and desserts.
Author and food activist Bryant Terry is aiming to make vegan food a little more fun, and he does so with his latest cookbook, Afro-Vegan: Farm-Fresh African, Caribbean, and Southern Flavors Remixed, due out on Tuesday. In it, he accompanies globally inspired recipes with cultural pairings, including books, movies, and music, as well as festive menu suggestions (where else can you get tips on how to celebrate Saint Bob Marley's Birthday with tamarind sweet tea and creole-spice plantain chips?). Celebrate the verdancy of the market with this seasonal slaw—and don't forget to queue up the video below and get chopping.
All-Green Spring Slaw
Serves 4 to 6
Chef's notes: This dish is my modern take on classic coleslaw. The delicate flavor of the green peas and sugar snap peas make this an exceptional dish, and the crunch from the celery and pumpkin seeds is extremely satisfying. The tangy dressing is top-notch too, so reserve any extra to use on another salad. All my recipes have music, book, or film recommendations to accompany them. The soundtrack for this dish is "Mobius Streak" by Hiatus Kaiyote (Dufrane Remix) from TAWK TAKEOUT (Tawk Tomahawk Remixed).
Dressing
1⁄4 cup silken tofu
1 tablespoon freshly-squeezed lemon juice
1 tablespoon Dijon mustard
2 tablespoons apple cider vinegar
1 clove garlic, minced
1⁄2 teaspoon coarse sea salt
2 tablespoons extra virgin olive oil
Slaw
3 cups very thinly sliced green cabbage
2 teaspoons coarse sea salt
1⁄2 cup shelled green peas (about 8 ounces peas in the pod)
8 ounces sugar snap peas, trimmed and thinly sliced lengthwise
2 stalks celery, strings removed and thinly sliced diagonally (see below)
1⁄4 cup husked raw pumpkin seeds, toasted (see below)
1⁄2 cup packed chopped flat-leaf parsley
2 tablespoons chopped fresh chives
1 tablespoon finely grated lime zest
1.     To make the dressing, put the tofu, lemon juice, mustard, vinegar, garlic, and salt in a blender and process until somewhat mixed.
2.     With the motor running, slowly pour in the oil and process until creamy.
3.     Taste and season with more salt if desired.
4.     To make the slaw, put the cabbage in a large bowl and sprinkle with the salt.
5.     With clean hands, massage the cabbage until soft and wilted, about 3 minutes.
6.     Transfer to a colander and rinse the bowl.
7.     Put the colander in the sink, put a plate atop the cabbage, and weight it (a 28-ounce can of tomatoes works well). Let sit for 1 hour.
8.     Rinse the cabbage under cold water, then squeeze with clean hands to extract as much liquid as possible.
9.     Return the cabbage to the large bowl and add the shelled peas, sugar snap peas, celery, and pumpkin seeds.
10.  Pour in enough dressing to lightly coat the vegetables (start with 3 tablespoons).
11.  Toss with clean hands, then taste and add more dressing as desired (reserve any extra for another use).
12.  To serve, with clean hands, transfer the slaw to a serving bowl, leaving any juices behind.
13.  Garnish with the parsley, chives, and lime zest.
How to remove tough strings from celery
I find that the strings in celery stalks make the celery hard to chew, so I usually take them off. I typically use a vegetable peeler to lightly remove the top layer, getting rid of all the strings.
Toasting Nuts and Seeds
Toasted nuts and seeds add texture, unique flavors, and protein to salads, stir-fries, and other dishes. To bring out their natural oil and enhance their taste, toast them in a dry skillet over medium heat, shaking often, until fragrant, about 4 minutes; or toast on a baking sheet in an oven at 325°F for 5 to 7 minutes, shaking the pan a few times for even cooking. Nuts and seeds contain oils that will go rancid, so store them in a freezer.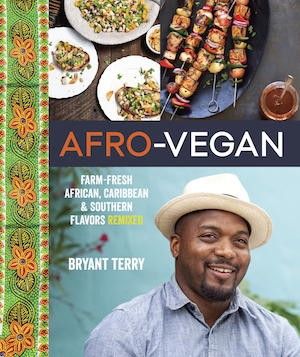 Reprinted with permission from Afro-Vegan by Bryan Terry, copyright (c) 2014. Published by Ten Speed Press, a division of Random House, Inc.
See all our Secret Recipes here!