The falafel is a near perfect food: Fried, filling, yet fairly healthy based on its harmless ingredients. Made up primarily of chickpeas, garlic, parsley, onion, and sesame seeds, it's vegan-friendly, and rich in protein, fiber, and vitamins. For a town so enthusiastic about its food trucks and street fare, you'd think it would be easier to come across these gems of fried perfection. But a closer look proves that's not the case. We went on a hunt for San Francisco's best falafel, and these made the cut:

1.  King of Falafel, 1801 Divisadero St., 415-931-5455
Nawal Kharsa, chef and owner of this small corner-store falafel joint, claims to have introduced falafel to San Francisco over 40 years ago. She cranks out arguably the best falafel in the city—perfectly spiced and coated in a layer of sesame seeds, and the ideal ratio of crispy exterior to tender interior.  She is so proud of her falafel that, no matter what you order, you will be gifted a few of these crunchy fritters of joy. I recommend enjoying your falafel with a plate of their homemade hummus, tabbouleh, tahini, and warm pita bread.
 
2.  Sunrise Deli, 2115 Irving St., 415-664-8210
This Outer Sunset spot is not to be missed for their creamy, homemade hummus is a perfect accompaniment to the crispy, made-to-order falafels. You can try their falafel for 50 cents apiece, or get their renowned avocado falafel sandwich: Pita stuffed with hummus, tomato, lettuce, and tahini sauce. Top it with their housemade hot sauce for a little extra kick.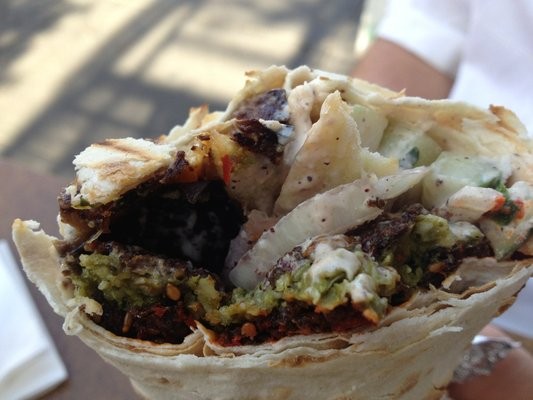 The falafel deluxe sanwich from Truly Mediterranean, from Yelp user Tracey A.

3.  Truly Mediterranean, 3109 16th St., 415-252-7482
Vegetarians and carnivores alike agree that Truly Mediterranean makes a killer sandwich, no matter what's inside it. Their epic Falafel Deluxe will certainly not leave you wanting more. It's made with falafel patties combined with salad, tahini sauce, eggplant, and potatoes that are seasoned with onions and wrapped inside of a large, thin sheet of lavash bread. If you are hungry and in a hurry, this Mission spot has you covered. Although meatless, this sandwich packs a hefty punch.

4.  Oasis Grill, 91 Drumm St., 415-781-0313
Business people flock to this Financial District Mediterranean spot during lunchtime, so pick a weekend or off-time to try their eats. If you have to go during a rush, the service is fast and friendly, despite the long lines. Luckily, their falafel is top notch. To add an extra meaty layer to your falafel, try their signature beef and lamb gyros with falafel, wrapped in a lavash bread.

5.  Old Jerusalem, 2976 Mission St., 415-642-5958
Located in a neighborhood with such high demand for both fast, cheap street food (Mission Dogs, anyone?) and expensive, cutting-edge cuisine, Old Jerusalem strikes an enjoyable balance. Reasonable prices, friendly service, and a cozy environment make this an ideal spot for enjoying your falafel while sitting down. Their falafel is heavily spiced, and balanced out by their mellow hummus and cooling tahini. Enjoy their tapas-style vegetarian plate with warm pita, pickled beets, marinated olives, hummus, baba ganoush, and Arabic salad.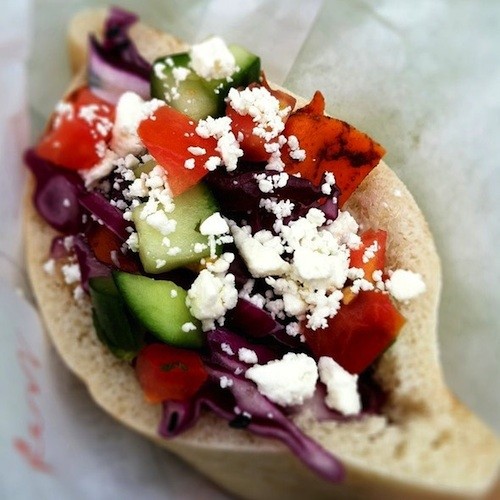 Photo of Liba's falafel sandwich via Foodspotting
6.  Liba Falafel Truck, 415-806-5422
Eat falafel the way it was meant to be eaten: Standing on a street corner out of a greasy sheet of parchment paper. Liba's mobile falafel bar offers a simple menu of falafel salad, falafel sandwich, soup, sweet potato fries and baked goods sourced locally and organically and made in their cooperative kitchen. You can decorate your choice with the endless options at the bar, such as braised eggplant, red cabbage with black sesame seed, spiced carrots, pickled onions, rosemary peanuts, harissa, hummus, and more. The customizable options allow this falafel sandwich to be tailored to each persons individual tastes.

7.  Haig's Delicatessen
From the outside, this shop may appear more an ethnic market than fresh deli. Haig's stocks exotic imports from the Middle East, India, and Europe, such as spices, dried nuts and fruits, coffee, teas, sweets, and pickles. They make and package their own hummus, dolmas, baba ganoush, and tzatziki, which you can find at your local market. But for a truly fresh and authentic taste, head to the original Inner Richmond spot, which has been there since 1956, and order a fresh falafel sandwich. At their deli counter you can find homemade hummus, falafel and baklavah, as well as imported feta and olives.
Where's your favorite falafel in SF?