By
Originally published on CaliforniaHomeDesign.com
When Steve and Lois Chess moved to San Francisco's Duboce Triangle from the Marina District, it was a strategic play. 
The couple was downsizing, opting for a centrally located, landlocked two-story flat in lieu of their large waterfront house. They had worked with Vernon Applegate, principal at Applegate Tran Interiors, on other projects and loved his use of color. "I knew these clients, and I knew them to be fearless. I could push the envelope a bit," he says.
Stretching the design boundaries transformed a house originally inspired by a Martha Stewart aesthetic into a home where some rooms take their cues from, in Applegate's words, "a sexy nightclub from the 1970s."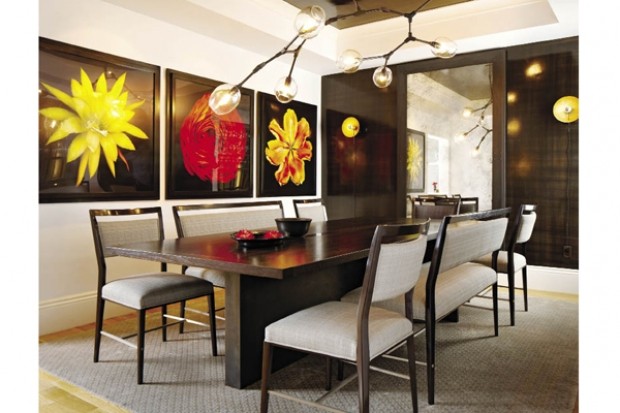 The idea of an old-school men's club drove the dining room's design. "The table was in their last home," says Applegate. "We made the space feel intimate by painting the back wall and the ceiling a deep chocolate color with streaks of gold." Applegate designed round sconces on the back wall and an oversize light fixture with branchlike arms above the table to give the room architectural appeal. "We used to have a sculpture on this table," says Lois. "Now, a sculptural form hangs above it."
DON'T MISS A BAY AREA BEAT! SUBSCRIBE TO OUR NEWSLETTER.