We spotted ex-7x7 editorial assistant, Lauren Jones, with her adorable pup, Killer, out for a stroll on Divisadero.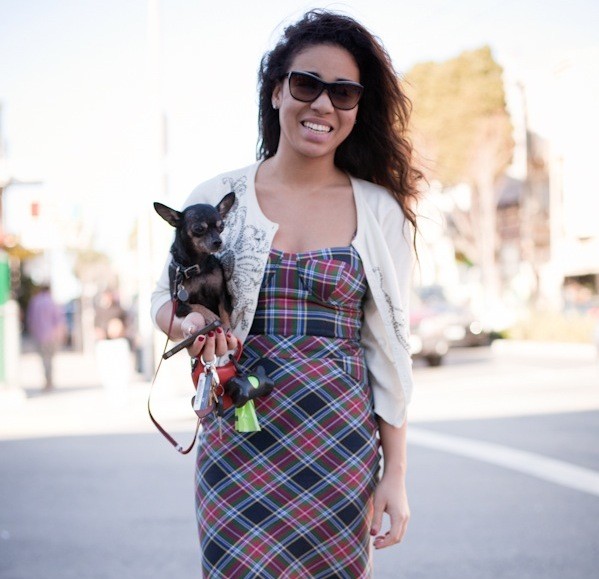 What she's wearing:  Plaid bustier dress by L.A.M.B.; Beaded cardigan by Forever 21; Chanel sunglasses; Killer's spiked collar purchased at Bow Wow Meow. 
Fit is always important, but it's especially crucial with snug, bustier top dress like this one.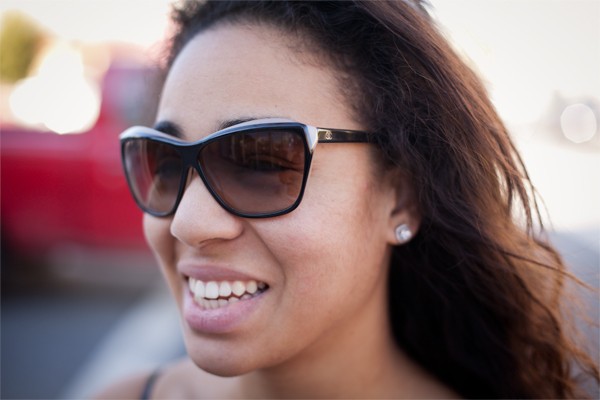 The subtle color contrast creates such a great line and shape for these modern Chanel sunglasses.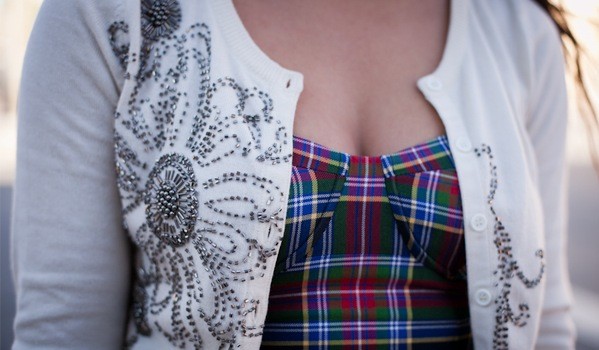 I like how the the cardigan and dress both have a retro 1950's feel to them, yet they're also contrasted nicely with the delicate beading and bold plaid.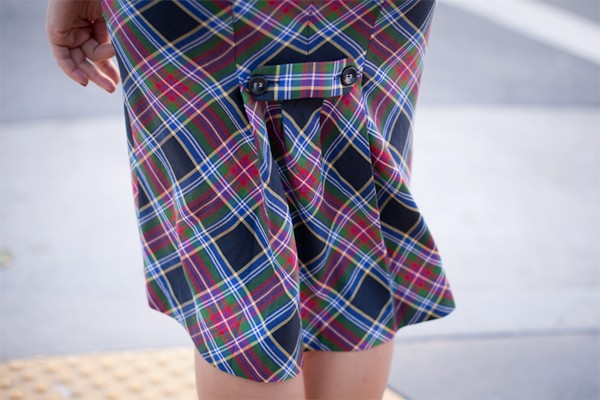 7 Style Questions for Lauren:
1. What's a stylish girl like yourself to do in a city like this?
I love going to the Ferry Building, Nopa, The Lion's Den in Pac Heights, Vinyl Wine Bar in Lower Haight, Jasmine Garden in the Castro, Alamo Square Park and The House in North Beach. 
2. What's your most prized possession?
Just one? There are so many. I think my over-sized suede Valentino bag -- it's the essential city carry-all and it's also from the last fall collection before the company was sold. 
3. Where do you love to shop in SF? 
Held Over Vintage, Monument on Valencia, Heart of the City Farmers Market around 3pm and The Other Shop on Divisadero. 
4. What's Killer's favorite thing to do in SF?
Have awkward standoffs with other dogs and growl when they get too close!
5. What's your skincare secret?
Clinique Moisture Surge, a Clarisonic brush and one boozy night a week. Even though the research suggests otherwise I swear it's cleansing, they say alcohol is an anti-oxidant too. In moderation of course!
6. Who are your ultimate style icons?
Gwen Stefani in her No Doubt days, Audrey Hepburn, Pam Grier a la Foxy Brown and Karl Lagerfeld -- he's just so damn cool. 
7. What's your fashion pet peeve?
An ill-fitted suit on a man. Gentlemen, please, take note of your European peers.
Lily Ko (lily.7x7 @ gmail.com) studied fashion design and merchandising at Central Saint Martins and the Academy of Art University. In addition to writing for 7x7, Lily is an editor at SF Station, works as a freelance stylist and covers food, fashion and fun on her blog, Curated SF.