SFMOMA's collection of Francesca Woodman prints is on its way out (if you missed them, go this weekend), but the museum's jet stream of excellent photography will not be abating any time soon. Two new exhibitions, one a retrospective of L.A. artist Mark Bradford's colossal painting/collages, the other a modest but rich slice of conceptual art, flank a major retrospective of Dutch artist Rineke Dijkstra's photographic and video portraiture. Monumental, yet intensely compassionate, Dijkstra's work alone requires a visit – maybe a few.
Mark Bradford: a Retrospective, 2/18/12 – 6/17/12

"The 90s was about activism," says Bradford; "the 80s was about death." Seemingly all at once, AIDS, gang violence and crack cocaine came on the scene in the teenage Bradford's neighborhood of South Central Los Angeles. So, he promptly removed himself from the fray, relocating to Europe for ten years, and came back intermittently.

This biographical anecdote is a good metaphor for Bradford's artistic practice, which involves a constant zooming in and out from the immediate to the abstract, the micro to the macro. Looking at his enormous collages, it's easy to imagine him with his nose to the canvas, plastering and painting fragments of billboard paper, posters, newsprint, and other urban detritus, then stepping back to take in the blossoming abstraction, before jumping in again. In this way, Bradford's works are as much about the vibrant, sometimes violent texture of his community as the importance of a layered, movable sense of perspective.
---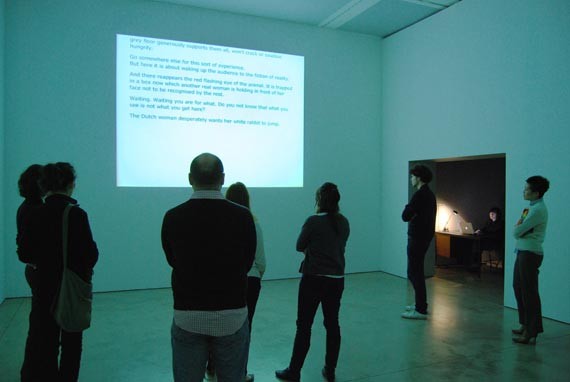 Dora García, Instant Narrative, 2006-8 (installation view); performance, video projection; dimensions variable; collection of the San Francisco Museum of Modern Art; photo by James Royall; © Dora García
Descriptive Acts, 2/18/12 – 6/17/12

Walking into the first room of Descriptive Acts, one encounters a large screen, upon which typed sentences emerge in real time – the product of a writer, stationed at a desk in the opposite corner. "The tall gentleman in the glasses is texting his sweetheart." The projected observations are about – can you guess? – the people entering and milling about the room, in effect inserting each visitor into a narrative of which he or she did not expect to be a part (for the record, this reviewer was jotting notes, not texting).

Along with this "Instant Narrative" by Dora García, a handful of other works (which comprise Act I of the exhibition; Act II begins April 21 and includes a new roster of artists) raise questions about narrative, language, performativity and time in art. If you were looking for a crash course in Major Issues of Contemporary Conceptual Art, look no further.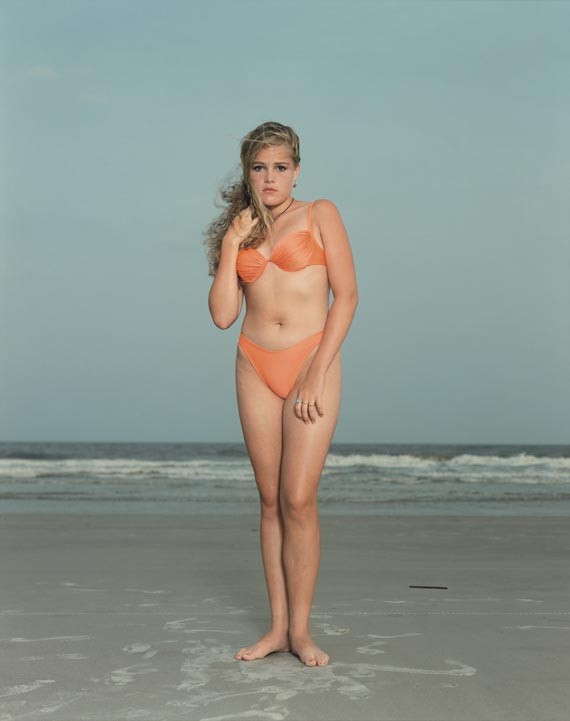 Rineke Dijkstra, Hilton Head Island, S.C., USA, June 24, 1992; 1992; chromogenic print; 66 1/8 in. x 55 11/16 in.; Courtesy the artist and Marian Goodman Gallery, New York & Paris; © Rineke Dijkstra
Rineke Dijkstra: A Retrospective, 2/18/12 – 5/28/12

Rineke Dijkstra's large, color photographs offer an opportunity almost never afforded by everyday life (except, perhaps, when you are behind the lens): to look both at and into a person with uncluttered focus and clarity. Her subjects, posed monumentally before a low-positioned camera, gaze intently into the lens. Quiet, almost abstract backgrounds (the beach, most famously) allow the ultra high quality, 4 x 5-view camera to draw the subjects seemingly out and into the viewer's space. The interaction is ghostly, thrilling.

Dijkstra is interested in people who are in states of significant transition – adolescence, new motherhood, the moment immediately after bullfighting, to name a few – and many of her later works "follow" her subjects over the course of these personal arcs.

She is also interested simply in, as she put it, "what makes one person different from another" – the little differences in body, posture and expression that render each subject unique. Unsurprisingly, prepubescent beachgoers in 1992 Poland present themselves to the camera quite unlike their American, media-inundated counterparts. Truly arresting, however, is the prowess with which Dijkstra brings out the individualizing characteristics – a slouching contrapposto, a pleading stare – that set the subjects within a group apart from one another and raise them to the psychological plane of the viewer.

"Photography allows you to connect with things that you otherwise wouldn't have been able to," Dijkstra mused. "Looking at that frame, you can somehow see things better. You can really focus on somebody." The deep focus and quiet of the show lingers after leaving; people on Mission Street trigger a heightened sense of curiosity and compassion. In this sense, the exhibition proves not only captivating but uncommonly instructive. Dijkstra's works stand to renew the very way we look at other people.