Modern-day Mexico is troubled, to speak mildly. Riddled with inequality and corruption, awash in drug violence and poverty, our southern neighbor's urban centers at times seem to border on dystopian. One has to ask, just how did such a state of affairs come to be? SFMOMA's Photography in Mexico addresses an intimately related question. In showing where generations of Mexican photographers aimed their lenses, the exhibition traces not so much how Mexico got here, but what it has been like along the way.
Consisting of over 100 photographs mined from SFMOMA's Latin American-heavy permanent collection and the collections of Daniel Greenberg and Susan Steinhauser, Photography in Mexico unfolds as a chronological narrative of sorts, beginning with the post-revolutionary 1920s and ending at a not so revolutionary-looking present.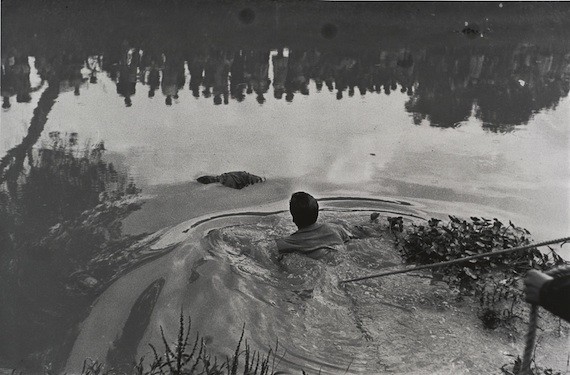 Enrique Metinides; Rescate de un ahogado en Xochimilco con público reflejado en el agua (Retrieval of a drowned body from Lake Xochimilco with the public reflected in the water), 1960; gelatin silver print; 13 3/4 in. x 20 3/4 in.; San Francisco Museum of Modern Art, Anonymous Fund purchase
The earlier works, all in black and white, embrace a documentarian imperative to capture their subjects with unflinching directness. Often gravitating toward the intense polarities of Mexican life, they shuffle between scenes of cultural vibrancy and abject violence, leisure and destitution, the esoteric plurality of indigenous cultures and the binary fact of social class division.
Manuel Álvarez Bravo provides two iconic examples: one photo of Diego Rivera at work on a mural, another of an assassinated striking worker lying bloody on the pavement. The opposites seem to eventually collapse into one strange figure: the masked lucha libre wrestler – Loures Grobet's recurring subject.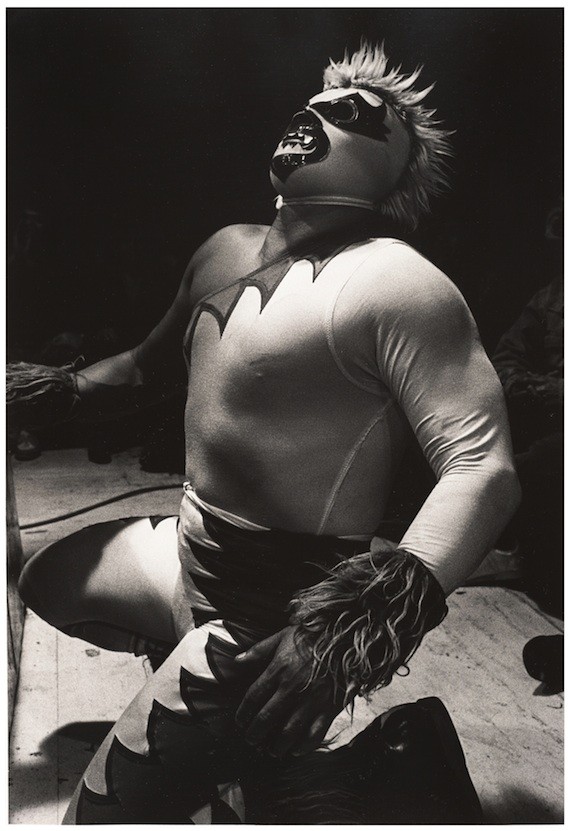 Lourdes Grobet; Ponzoña, Arena Coliseo, 1983; gelatin silver print; 14 in. x 11 in.; Gift of Jane and Larry Reed
The contemporary work, in color, meanders away from such street-level encounters into positions of some remove. Yvonne Venegas and Daniela Rossell infiltrate the homes of Mexico's exceptionally rich, who languish in hermetic isolation from the country at large. Katya Brailovsky depicts nighttime urban interiors in eerie, oblique compositions.
Meanwhile, Pablo López Luz portrays the jaw-droppingly jam-packed sprawl of Mexico City from aerial views, Alejandro Cartagena captures the seemingly endless expanses of low-income suburban housing from rooftop vantage points, and Oscar Fernando Gómez documents the street life of Monterrey from within a taxi cab. The 20th century spirit of journalistic confrontation remains, but an attitude of detached apprehension seems to have settled over it.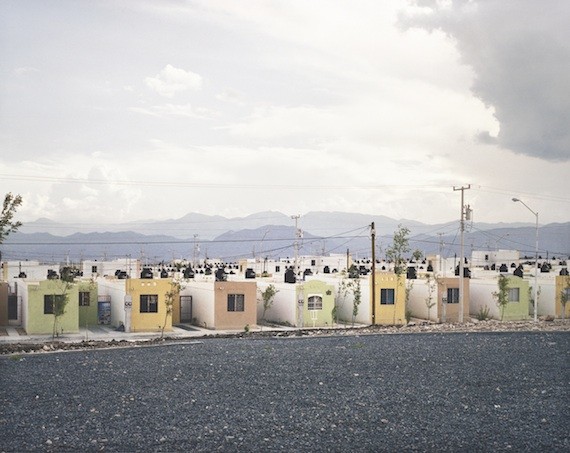 Alejandro Cartagena; Fragmented Cities, Juarez #2, from the series Suburbia Mexicana, 2007; inkjet print; 15 7/8 in. x 20 in. (40.32 cm x 50.8 cm) Accessions Committee Fund purchase
The exhibition culminates with shots of an eerie no-man's land: the U.S./Mexico border. In effect re-framing the exhibition from an international perspective, this poignant conclusion prompts the viewer to reconsider the vivid parade of images as not just an art-viewer, but as a San Franciscan, a U.S. resident, an immediate neighbor.
Photography in Mexico runs through July 8, 2012 at SFMOMA, 151 3rd Street