Spring has finally graced us with its presence, and for once, the weather in San Francisco actually matches its season. Now, restaurants are moving away from heavy, wintery fare towards dishes showcasing lighter, seasonal produce. To exemplify these elegant dishes, we picked out the freshest canapés and small bites on menus throughout the city. Check out our favorite picks for a taste of springtime in San Francisco:
MAVEN (pictured above)
This Lower Haight bar and restaurant pairs seasonal dishes with complementary cocktails. Their Salmon Crudo, served with deviled potato and mustard cream, is rich and salty, almost like a gourmet bagel and lox made bite-size. Fresh, creamy, and light, this dish makes you feel as though you're at the water, ocean breeze and sun in your face, enjoying a light meal.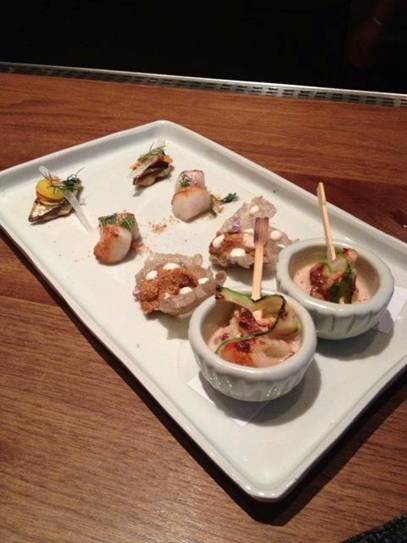 Michael Mina is possibly San Francisco's most established chef, operating several of our top restaurants. At his namesake restaurant, he serves up a four-bite spring canapé of Fort Bragg sea urchin, lobster brochette, grilled sardine, tuna sashimi, and soy salt. This dish exemplifies the taste of the bay: Fresh, tangy, and salty.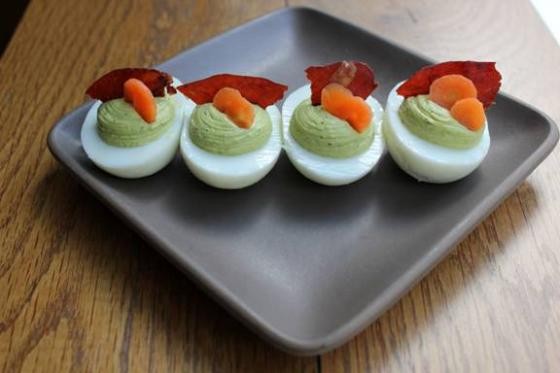 Chef Pam Mazzola prides herself on American cuisine influenced by top-quality seasonal ingredients sourced from local farmers and purveyors.  The menu changes daily, but their newest addition is a "Green Eggs and Ham" Deviled Eggs canapé. The yolks of the egg are mixed with a fresh, springtime arugula pesto, and topped with pickled carrots and dried La Quercia Proscuitto. 
AMERICANO RESTAURANT AND BAR at Hotel Vitale
Located across from the Ferry Building on the Embarcadero, it's no wonder that Americano is inspired by the bounty of San Francisco farmers market produce. Chef Kory Stewart's current menu features two spring-oriented canapés using the flavors of the ocean. One features oven-roasted asparagus served with gremolata, bottarga (the pressed dried eggs of tuna or gray mullet), and lemon oil. The second is a tuna crudo served with cucumber, lime-pickled onions, fried quinoa, and house-fermented fish sauce.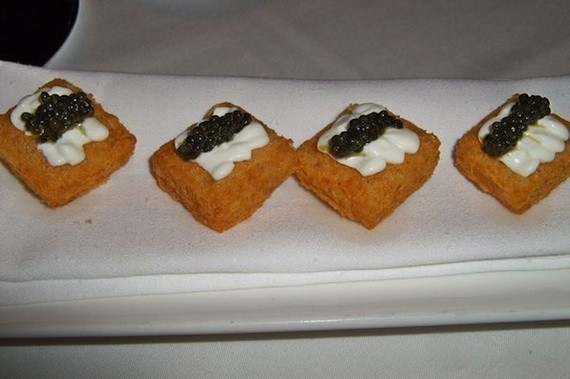 Photo via Yelp user Jinqun L.
Part jazz club, part San Francisco fine dining destination, this Jackson Square speakeasy serves up fresh, local food along with some of the Bay Area's best jazz musicians. Canapés flood their seasonal menu, featuring bites such as gin-cured trout served on a potato blini with yuzu marmalade, Dungeness crab rolls in a brioche bite with Meyer lemon aioli, and potato pillows with crème fraiche and caviar.