While you were busy either rejiggering your budget to afford the iPhone X or shopping for a new Droid, you may have missed some of these fascinating Bay Area stories.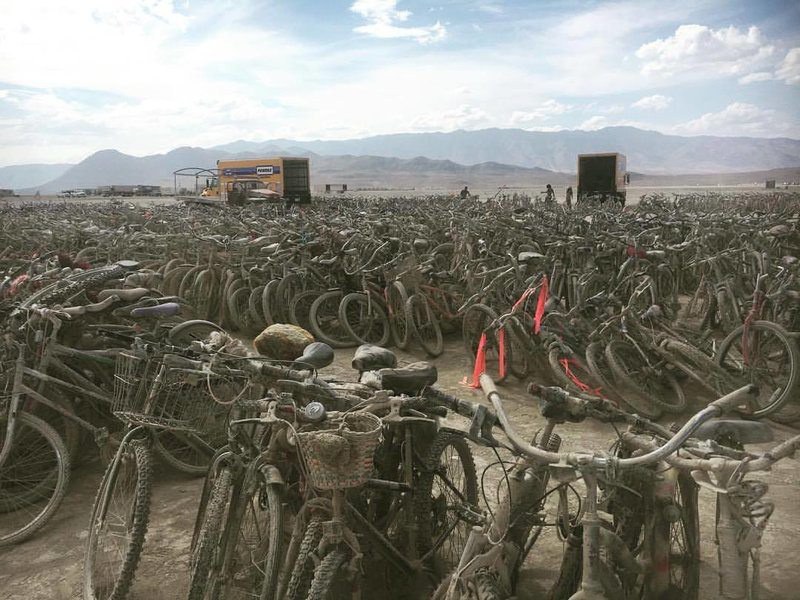 (Courtesy of Logan Mirto, via SF Weekly)
---
Thousands of Abandoned Burning Man Bikes Saved From Dump, SF Weekly

Burning Man is said to be a one-month city, with "residents" often cycling around — until they leave their possessions for others to deal with. This year, between 3,000-4,000 wobbly-looking bikes were left at the playa, Burning Man spokesperson Jim Graham says. The organization often finds 1,000-2,000 bicycles each year, despite telling participants that it's their responsibility, but this year set a new record. Read more.
Puff, Puff, Pause: Supervisors Pass Moratorium On New Dispensaries, Hoodline
San Francisco supervisors today put the approval of most new medical cannabis dispensaries (MCDs) on hold while the city rushes to develop new policies for medical and recreational cannabis sales before full legalization kicks in next year. Read more.

Inside the corporate exodus to cannabis country, Green State

Marijuana remains a federally illegal "schedule 1" drug deemed as dangerous as heroin. Yet legal cannabis in eight states and medical legalization in 29 states generates $7.2 billion in annual revenue, and is projected to create 282,422 jobs by 2020, according to a Washington, D.C.-based, politically neutral research firm New Frontier Data, which aggregates and refines public and private market research. As social stigma falls and profits rise, legal pot is tempting some of the most risk-averse employees in America — well-employed corporate executives who are safely on a career track. Read more.
Turnaround at San Francisco Chronicle shows way for legacy newspapers, Colombia Journalism Review
The paper lost money for 12 years, before, during, and after the recession, hemorrhaging $50 million or more per year in 2008 and 2009, according to its parent company, Hearst Communications. In early 2009, Hearst, which is privately held, made those losses public for the first time, and announced that it would sell or shut down the Chronicle if it couldn't cut costs quickly and deeply. San Francisco was close to becoming the biggest city in the nation to lose its primary newspaper. Hearst did make cuts, and it didn't sell or shutter the Chronicle. Instead, its team engineered a complete turnaround, restoring the Chronicle to business health. Read more.
San Francisco to rename Golden Gate Park meadow in honor of Robin Williams, Curbed
In honor of late comedian and San Francisco resident Robin Williams, the city of San Francisco will officially rename Sharon Meadow after the Academy Award-winning comedian. The city selected this patch of Golden Gate Park due to its association with the annual Comedy Day, a free event that began in 1981, promoted and championed by of Williams. Read more.