For all you meat-loving locals, we've got a must-try steakhouse recommendation located at the corner of Van Ness and Pacific. No judgment if you haven't frequented the well-known Harris' just yet, but we can't make any promises moving forward now that we're providing you with all the juicy (literally) info you could possibly need to make a visit.
Founded in 1984 by television actress Anne Lee Harris, the restaurant is a testament to her vision of a unique, one of a kind, steakhouse that seamlessly blends down-home hospitality with urban sophistication. Harris' prides itself on steak quality, so much so that there is a display window that showcases the 21-day dry-aging process in progress. An in-house butcher cuts and trims each cut of Mid-Western Corn-Fed Prime Angus beef daily.
If you're not in the mood for beef, try the delicious pan roasted chicken, grilled salmon, or (and) a succulent 2¼ lb Maine lobster, fresh from the onsite lobster tank. If you're looking for a special meaty treat, try one of the American or Australian Wagyu cuts, or an authentic Japanese Kobe. Sweet tooth? All of Harris' desserts are made in-house and range from the traditional cheesecake and crème brûlée, to baked Alaska. Top any of those off with a frothy cappuccino, cognac, or vintage port.
And unlike the chain restaurants, Harris' is the only major steakhouse in the city that doesn't charge extra for sides of potato and vegetable. Amen to that! There's even live dinner jazz seven nights a week. For all these reasons and more (below), this place is beloved by locals, business people, and tourists alike, representative of the perfect romantic evening, business tête-a-tête, or night out with your buds.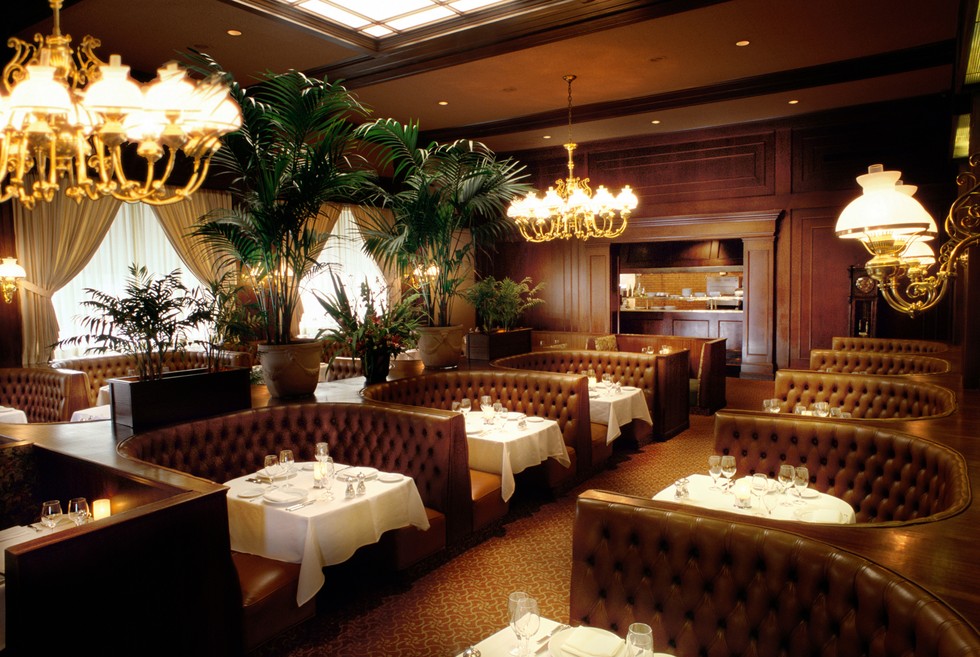 The decor and ambience of Harris' is old world San Francisco at its best; think rich mahogany walls, dark leather booths, palm trees, and elegant chandeliers hanging from a vaulted ceiling, recalling the grandeur of San Francisco's colorful past. The main room is adorned with an original mural painted by famous SF man-about-town, Barnaby Conrad. A portrait of Mrs. Harris' beloved husband, Jack Harris, hangs over the fireplace in the Library, one of the three private dining rooms available for reservation (largest holds 70 people). The Pacific Lounge features a hand carved Brunswick back bar, made in 1898. Love. Seasoned bartenders shake their famous martinis and manhattans to perfection, each one kept chilled in its own little bucket of ice. It's as if you're stepping into SF days passed!
The extensive and award-winning wine list, featured in Wine Spectator Magazine, offers an eclectic mix of old and new world wines. With over 750 selections from every growing region imaginable, the list provides something for everyone. Of course, a strong presence of California selections showcases not only the big names, but also the boutique family vineyards that are hard to find at other restaurants.
Harris' has been a local favorite for 30+ years with good reason–it has a rich atmosphere, the city's best dry-aged steaks, generous drinks, an extensive wine selection, live jazz, and professional yet personable service. All of these components make Harris' the San Francisco Steakhouse. Now go see for yourself.