Jelly doughnuts have been a family tradition since I can remember. We were never much of a junk food family, but doughnuts were always the exception.  My dad would return from the farmers market with a box filled with an assortment of doughnuts, and I would go straight for jelly. I'd take a bite out of the plump dough, not knowing whether the jelly would squeeze into my mouth or out the other end.  
Jelly doughnuts (called Sufganiyah in Hebrew) are a traditional Hanukkah dessert. The hot oil they are fried in is meant to symbolize the oil that miraculously burnt for the eight days of Hanukkah. The holiday kicks off today, so I scoured SF for the sweetest, fluffiest, and most jelly-filled doughnuts in the city.
1.  Happy Donuts, 3801 24th St. (photo above)
Happy Donuts will satisfy your cravings 24 hours a day and offers one of the nicest venues to sit and relax over your donut and cup of coffee. But beware; Happy Donuts sits dauntingly close to several gyms, so for all you weak-willed gym rats out there, save yourself and leave your dollar bills at home.

Squish factor: The first bite will likely just pierce the edge of the jelly, so you may not even get a taste the jelly until bite two.
Jelly quality: Not too sweet and with a depth of flavor that's worthy of a croissant. It's injected perfectly into the center, with a safe barrier of donut around the edges.
Donut quality: Fluffy and yet just dense enough to be filling. Its crunchy glaze lends just the right amount of sweetness.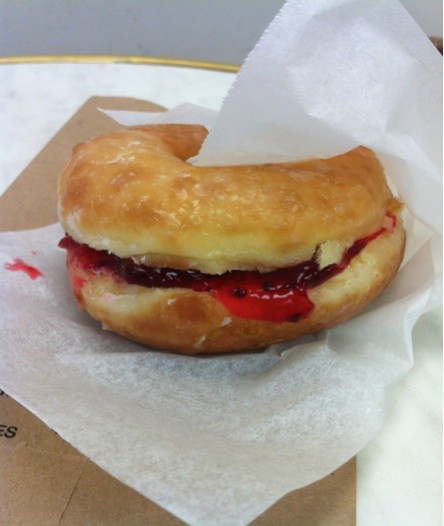 2.  Eagle Donuts, 3303 Mission St.
At 3:30 on a Tuesday afternoon, after trekking through the Mission eating donut after donut, I arrived at Eagle Donut to the tragic news that they had run out of jelly donuts. I took this as a testament to the quality of their donut, but was disappointed to have traveled in vain. Luckily, the extremely accommodating clerk insisted that I try her modified jelly donut—a plain glaze donut, cut in half, and filled with jelly.
Squish factor: A delightfully squishy mess.
Jelly quality: One of the fresher and more natural jellies, with real pieces of seeds inside, to add a nice texture. This may not be the style of their regular jelly donut, but my custom-made one was filled to the brim.
Donut quality: By far my favorite consistency, this donut was light, fluffy and just the right size, with air bubbles to add depth.
3. The Jelly Donut, 3198 24th St.
In keeping with its namesake, The Jelly Donut offers a quality jelly donut, ranking as one of my favorites on my donut tour. As an added bonus, the clerk slipped me an extra donut (old fashioned), which I hear is common at this shop.

Squish factor: Jelly Donut is the kind of donut that could be eaten on a date.  A moderate amount of explosion may occur, but nothing laundry-threatening.
Jelly quality: Deep in color and rich in flavor, this is the jelly I expect to be hidden inside of a quality jelly donut. It was distributed perfectly, so that your first bite includes jelly but doesn't burst the whole donut.
Donut quality: Their dough is dense, rich, but not too greasy, with flaky layers and a perfect sheen to the glaze. Some may find this particular one too small, but for me it was the ideal size. It felt entirely conquerable.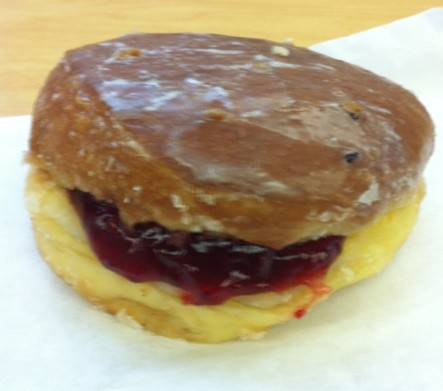 4. Bob's Donuts, 1621 Polk St.

Bob's is known throughout San Francisco as hands-down the best donut shop. Open 24 hours a day, they constantly frying fresh batches, so there's no worry that they'll run out of your favorite flavor.

Squish factor: This donut will definitely leave you with a jelly moustache, so make sure a handful of napkins is nearby. Instead of being injected like the typical jelly donut, this one is cut in half and filled with jelly, sandwich style.
Jelly quality: It was slightly tart with a perfect consistency that's not too liquidy or gelatinous.
Donut quality: The yellow color of the dough gives this donut a depth of flavor lacking in many plain donuts. It was perfectly sized.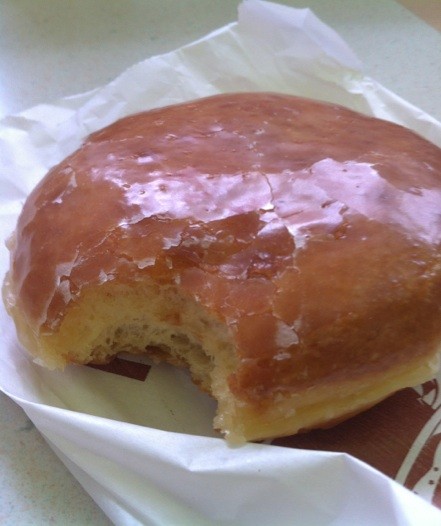 5. Donuts & Things, 1549 Polk St.

With Bob's around the corner, Donuts & Things is often glazed over (pun intended). But don't let Bob's reputation distract you; Donuts & Things is the unsung hero of Polk Street. Fresh donuts are brought out constantly and you may even snag a good deal after 8 pm. Donuts are injected when ordered, so you can be sure that the dough won't be soggy.

Squish factor: Your first bite will be jelly-free, but once you reach the center, this donut will ooze everywhere.
Jelly quality: More gelatinous than most, but still light with seed flecks dispersed throughout.
Donut quality: Very light and thin, with a crackly glaze on top, and perfect for those who like a sweeter donut. It was large in circumference, but flatter than most.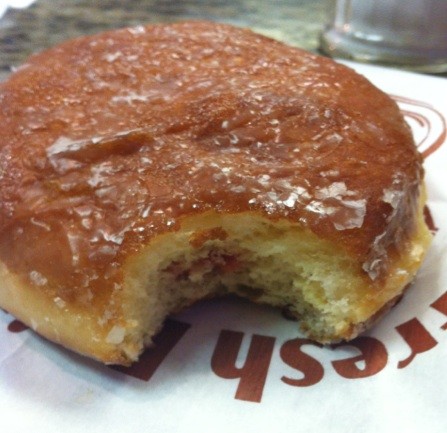 6. Allstar Donuts, 2095 Chestnut St.
If you find yourself in the Marina late at night and craving something sweet, Allstar Donuts is your place. Open 24 hours and constantly churning out freshly baked donuts and hot coffee, it's the perfect place for breakfast or fourth meal.

Squish factor: This is a messy one—be prepared for a jelly explosion. However, the jelly is centered in the middle of the donut, so your first bite will be safely jelly-free.
Jelly quality: A thinner and brighter color than most, this jelly screams quintessential jelly donut. The lack of seeds and vibrant color make it seem artificial, but it's what's expected of a jelly donut.
Donut quality: A perfect balance to the sweet jelly, the dough is light and fluffy, with a glossy, shiny glaze. Overall, it was bigger than most.