I think we've all had enough of Sober January, don't you? I mean, there's nothing wrong with starting a new year fresh, and setting some goals for a healthier, happier 2014. But why not combine those New Year's Resolutions with delicious cocktails? Fortunately, the fine barkeeps of San Francisco have your back in making this dream come true. Here are six cocktails, fresh off new January menus, sure to help keep your year on track. 
The Resolution: Explore Your Musical Side
Your Drink: Put Me In A Rap Song at Rye
We all know that a stiff drink can spur the shyest of wallflowers into a bonafide karaoke superstar. Make it happen with Rye's Put Me In A Rap Song ($9, pictured above). Jen Ackrill's bright blend of Cynar, vodka, apple cider, and bubbly, laced with a dash of 5 spice bitters, will have you spitting verses like the lyrical genius you are. 
The Resolution: Partake in Literary Classics
Your Drink: The Huck Finn at Range
Classic novels and classic cocktails have at least one thing in common — their timelessness. We see a long-lasting future for the Huck Finn ($11) at Range. Tayler Buffington's creation features Rittenhouse rye whiskey, Cocchi Americano, and fresh, in-season huckleberries — the sweet-tart fruit adds "pop" to the drink, amplified by cardamom and sunshine bitters.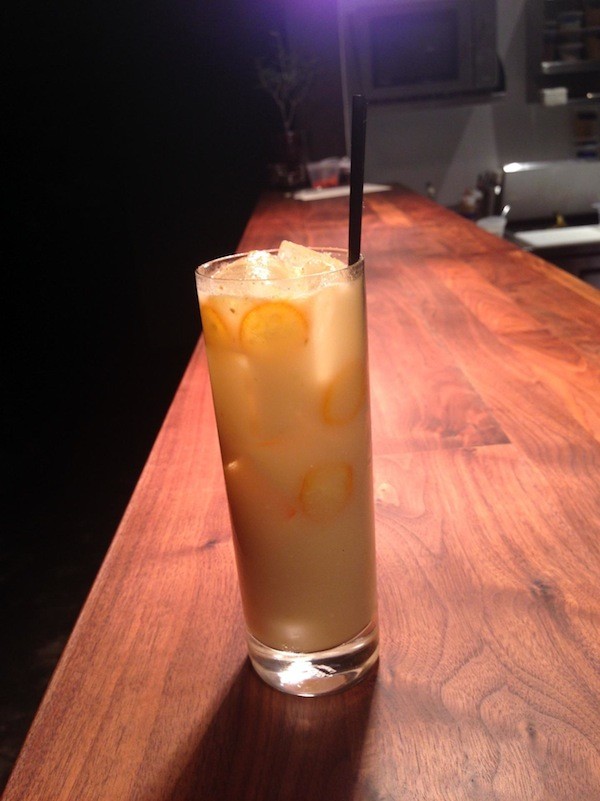 Photo: Christopher Longoria
The Resolution: Go Somewhere Tropical 
Your Drink: The Kumquat-Coconut at 1760 
Just because it feels like summer in San Francisco doesn't mean you shouldn't start planning an exotic tropical getaway. Get inspiration from the Kumquat Coconut ($13) at 1760. Created by bar manager Christopher Longoria, the drink is a heady blend of Disaronno, Añejo tequila, and coconut puree. The drink maintains a creamy richness, but is far from an overly-sweet pina colada. Toasted cinnamon adds depth, and sliced kumquats are served atop. We're thinking… Bali.
Resolution: Be More Self-Aware
Your Drink: The Scorpio at Trick Dog (or, whatever your sign is, baby)
Say what you will about astrology, we all know what our signs are. Trick Dog's new cocktail menu creates a delicious drink for each, allowing you to read up on your astrological traits while enjoying a drinkable representation. Being a Scorpio, I'm pleased to report that Morgan Schick's combination of Michter's Rye, Benedictine, rooibos, vanilla, cardamom, and ginger beer is an excellent embodiment of my personality.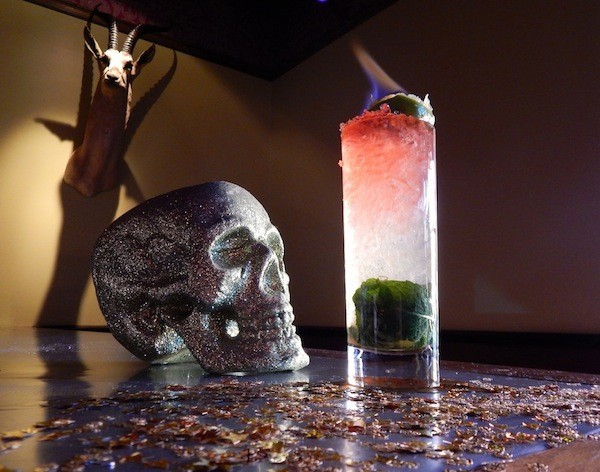 Photo: Ryan Robles
The Resolution: Dance With Fire 
Your Drink: The Gudaitis Swizzle at Bergerac
After that formative experience with a Burning Man fire dancer in 2013, you're reading to go pyro this year. Get warmed up with the Gudaitis Swizzle ($12) at Bergerac. Similar to a mojito in composition, Bowmore 12-Year scotch forms the base of Yael Vengroff's drink. It's freshened up with lime and mint before being set on fire. We consider this excellent training for most pyrotechnic activities.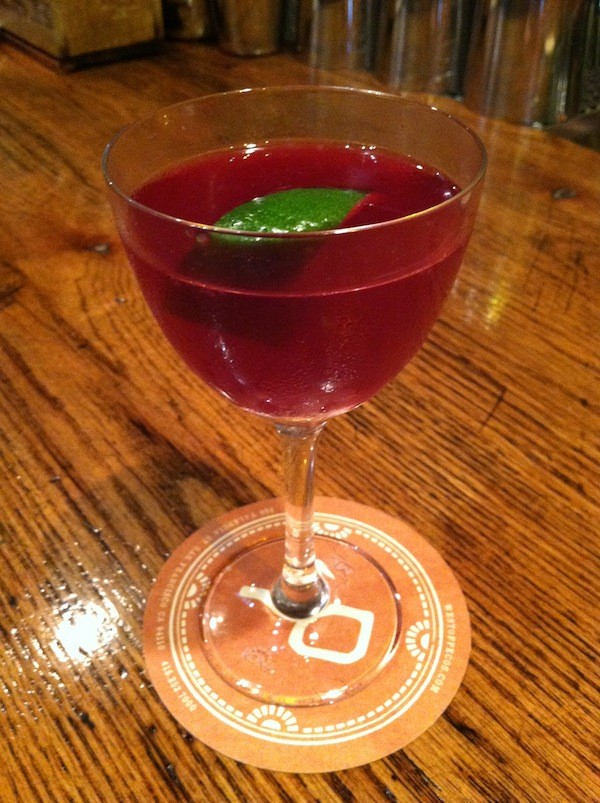 Photo: Brent Butler
The Resolution: Start Juicing
Your Drink: The Beetnik at West of Pecos
Who says you can't add a little something to your fruit and veggie juices? Taste a master example at West of Pecos. Brent Butler's Beetnik ($10) blends  Del Maguey Vida mezcal and  Gran Classico with a housemade beet and green apple shrub. The shrub, made of freshly juiced beets and apples and champagne vinegar and agave, renders the cocktail vibrant, fresh, and yeah, a little boozy. Butler deems the drink, "an earthy and slightly smoky number."