To celebrate her book tour stop in San Francisco this week, Alyssa Harad, author of the riveting memoir Coming to My Senses, takes 7x7 on a perfumed tour by the Bay. Inhale deeply and you too can smell hints of salty sea air and the rich perfume of jasmine down your street, almost as intoxicating as her book. You can catch Alyssa in conversation with Anne Zimmerman this Thursday (find details here). Et voilà, Alyssa's fragrant San Francisco…
Sea Air and Bay Light
There is always a moment, just after I arrive in San Francisco, when all my perfume stops making sense and it seems possible that I'll never wear any of it again. It has to do with the salt-scrubbed clarity of the air here, a scent that's almost shocking coming from the humid funk of summer in Austin. It's not the smell of the ocean, exactly, though it is definitely sea air. I think of it, impossibly, as the smell of San Francisco light, which seems permanently set at the late afternoon moment photographers call "magic hour."
Mushrooms and Honey in the Ferry Building
Anyone who's read Coming to My Senses knows I'm a little crazy about the thick, golden, fur-and-flowers scent of honey. It was a revelation to discover a place where I could smell, and taste, which is really just another way of smelling something--nearly 80% of flavor is scent--dozens of different varieties. My favorites so far are a sage-infused honey--the combination of sharp mustiness and floral sweetness is gorgeous--and a dark, earthy honey that comes from chestnut blossoms that could be a perfume by itself.
Not far from the Beekind honey shop in the Ferry Building is Far West Fungi a stand devoted solely to mushrooms, which I love almost as much as honey. The variations in scent are wonderful--peppery, woody, briny, floral--but I also like to take deep breaths of the overall scent of forest floor. I bought my very first fresh truffle at that shop couple of years ago and when I brought it home to my hosts it perfumed their whole kitchen.
The Smell of French Perfume
San Francisco has many great places to smell perfume. I'm especially fond of Barney's, which has a terrific selection of modern niche perfumes and friendly, knowledgeable staff. But if you want the true French experience you must go to Jacqueline (pronounced in the French manner, s'il vous plaît) and submit without struggle to the authority of Monsieur André (Union Square). The shop is small, but full of treasures. On my last visit, while Monsieur spoke to a customer overseas (I think it was Brazil) who wanted eight bottles of a long discontinued perfume, I spotted a bottle I'd been trawling on auction sites for years. I held my breath while he rang it up, afraid he might decide I wasn't worthy.
The Perfumer's Atelier
Across the Bay in Berkeley, I've been lucky enough to visit the Aftelier Perfumes studio, which is a kind of paradise for anyone interested in smells. Mandy Aftel uses only natural raw materials in her perfumes, and she has been collecting rare and special essences for decades. The first time I came to see her we sat in front of Aftel's perfumer's organ--a semi-circular desk with narrow shelves holding hundreds of tiny bottles--and sniffed our way through too many wonders to list. I particularly remember the scent of aged civet. No longer produced (the civet weasel prefers to keep its glandular secretions) civet was once used in small amounts to give perfumes, a growl down in the base, a depth that fused the rest of the materials and made them glow. Aftel's civet was very, very old and it had mellowed into a haunting scent, smooth and supple but still dangerous. It was like smelling the soul of my most precious vintage perfumes. 
Jasmine Everywhere
I will never get over the way jasmine grows like a weed here--the way I can be walking down an unremarkable street and step into a narcotic cloud of scent drifting half a block down from a vacant lot. I love it in all its forms, but my favorite is the pale pink variety with its ripe banana heart and bitter chocolate undertones. I could get drunk on it.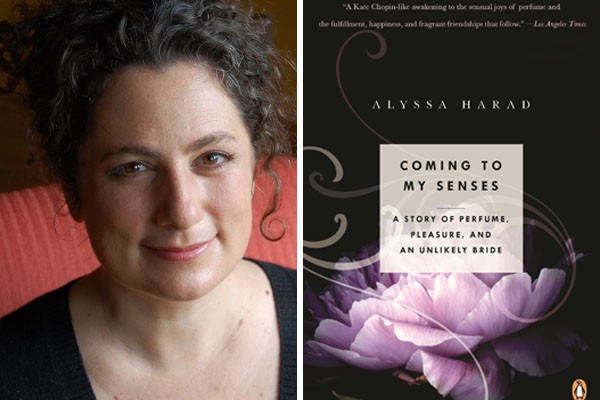 Alyssa Harad's writing has appeared in O: The Oprah Magazine, Marie Claire, The Chronicle Review, and the perfume blogs Now Smell This and Perfume Smellin' Things. She lives in Austin, Texas with her husband, three cats, one dog and a closet full of perfume. 
Nicki Richesin is a freelance writer and editor based in Marin. She writes personal essays and pieces on lifestyle and pop culture for Sunset, DuJour, Daily Candy, The Huffington Post, and 7x7. She is also the author/editor of The May Queen, Because I Love Her, What I Would Tell Her, and Crush.