When Sonic Youth announced last Monday they'd be playing a show at the Independent last night, tickets sold out in about 30 seconds. It wasn't their only show in the Bay Area this tour—they played the Fox Theater Sunday night—but it was a rare opportunity to see them play somewhere as small as the Indy. The intimacy of the packed venue felt like we were seeing the band at a New York club in the 80s, except it's San Francisco, 2009 and the fans are all grown up.
San Francisco's Sic Alps had the difficult task of opening for Sonic Youth, and did a pretty good job. They're a little like a Cream/Sonic Youth hybrid without the polish of the former and the grit of the latter. All three band members took a turn at the drums though, which was interesting but not interesting enough to stop hoping they'd hurry along with their set so Sonic Youth could come on.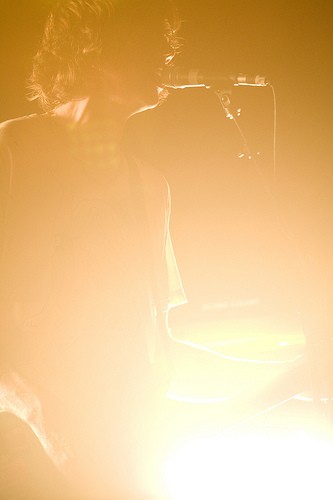 Photo by Jonathan Koshi
Pavement's bassist Mark Ibold is now a full-fledged member of Sonic Youth, rounding out the powerhouse lineup of Thurston Moore, Kim Gordon, Steve Shelley, and Lee Ranaldo. All of the band members still shred like it's 1987, including Kim Gordon, whose body remains amazing after 25+ years of rockstardom. I've also never seen a band switch out guitars more often than these guys.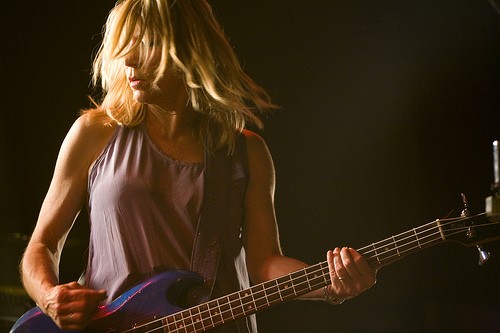 Photo by Jonathan Koshi
Most tracks they played came from their latest album, The Eternal, but they also threw in some bits from across their career. The highlight was "Silver Rocket" from Daydream Nation, smack in the middle of the set. I would've loved to hear more old stuff but I am just nostalgic. Regardless, the show was awesome. Cheers to whoever made this one happen.