We've partnered with Russian Standard Vodka and asked some of the city's top mixological talent to concoct delicious drinks with Russian Standard Vodka as its star ingredient, and base the name of the cocktail and its ingredients on a deeply-held ambition: maybe a frozen drink inspired by climbing the tallest peak, or salted rim to evoke sailing the open sea...
Want to win a $100 bar tab? Try all the cocktails over the next seven weeks and "toast" (i.e. vote for) your favorites by selecting one here.
Meet our sixth featured bartender, Jackee Princeau from Reed & Greenough. She mixed up the Southern Gentleman. Visit Jackee at the bar at Reed & Greenough, or try her recipe at home.
Ingredients:
• 2 oz Russian Standard Vodka
• .5 oz agave
• .5 oz lemon juice
• 3 dashes of rhubarb bitters
• 3 chunks of fresh watermelon muddled w a pinch of salt
• Served up in a cocktail glass rinsed w 2 drops of liquid smoke.
• Garnish with watermelon rind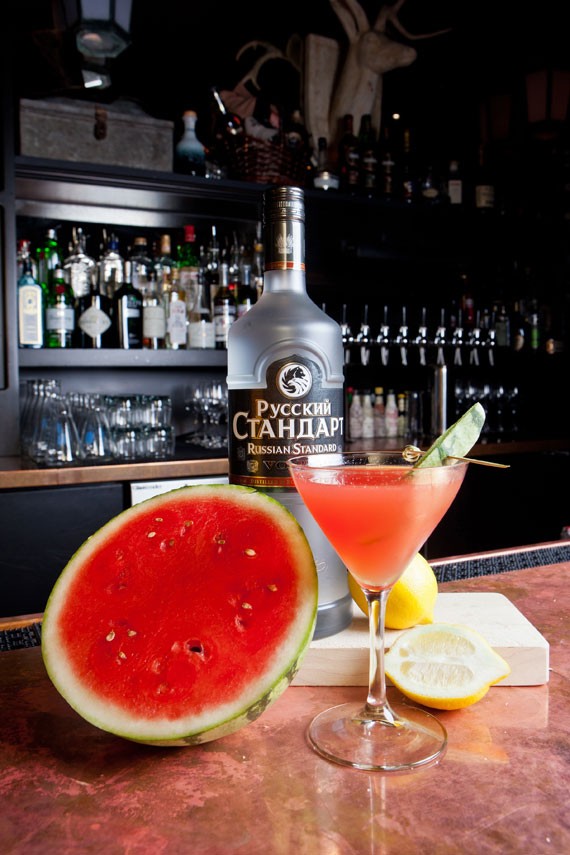 Bartender's notes: I've always wanted to drive coast to coast to explore the inner workings of America. I think someday I would like to travel the southern route of the United States; Arizona to Texas, New Mexico to Louisiana, and then back through all the northern states to get home. I would go to all the best BBQ restaurants, local farms, and festivals, and indulge in all the American culture that we don't necessarily get to experience in California. Has anyone ever been to the Cracker Barrel? I heard it's the best comfort food west of the Mississippi.
See all the participating bartenders here and vote for your favorite!
PLEASE DRINK RESPONSIBLY. Russian Standard® Vodka. Product of Russia. 100% Grain. 40% Alc/Vol. ©2012 Imported by Russian Standard Vodka, NY, NY.