The kids may be back in school, but don't buy into the 'summer's over' frame of mind. Along with being prime festival season, September and October are two of the best months to get outside and soak up some sun. Sonoma County's Johnson's Beach, along the Russian River, is a great place to start, especially if you're a fan of good music.
---
The 36th Annual Russian River Jazz and Blues Festival takes place at Johnson's Beach on Saturday and Sunday, September 22nd & 23rd. There are worse ways to spend a weekend. Folks bring chairs, blankets, sunscreen and a picnic and park themselves on the beach.
The festival's broken up into two days. Jazz takes the stage on Saturday. Blues is performed on Sunday. The 2012 music lineup contains some heavyweights that should get your attention. On Saturday, September 22nd George Benson, Brian Culbertson, David Sanborn and Tower of Power will perform.
On Sunday the 23rd, Blues take over with music from George Thorogood, Robert Randolph & The Family Band, Taj Mahal, Eric Lindell and The Blues Broads. Floating in the Russian River never sounded so good. In between sets, there's a wine garden and vendors selling an assortment of food and drinks.
If you want to get off the beach for a spell, it's just a block or so to Guerneville's Main Street. Look for canine queen Grace lounging in the sun on the sidewalk in front of River Jewelers. Grab a sandwich or salad at big bottom market and wander into the old school Guerneville 5 & 10. It's the real deal dashboard dancing hula girls, water shoes and an assortment of river-ready floaties all inflated for free.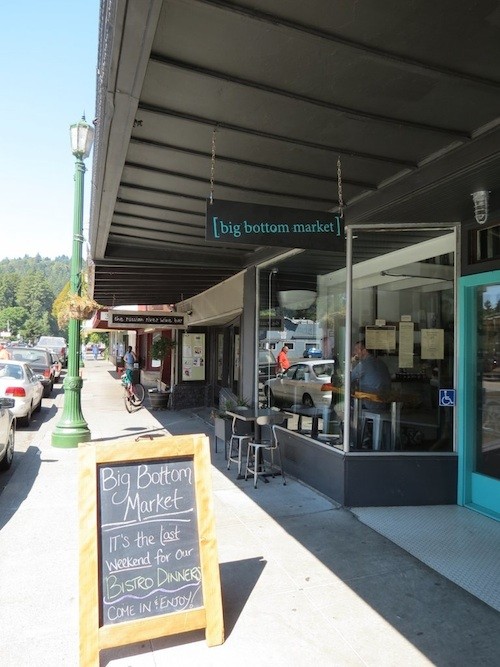 If you need some shade, the giants of Armstrong Redwoods State Natural Reserve are just a couple miles away.
A one day general admission ticket costs $50. Kids are a bargain, aged 6-12 $10 and under 5 are free. An adult 2-day pass is $80. Tickets can be bought online or for $10 more (and while supplies last) at the gate the day of the festival.  Doors open at 10am both days and the music goes until 6pm.
There's no parking at Johnson's Beach during the festival so plan accordingly and pay attention to no parking signs in Guerneville so your weekend doesn't end with a ticket.
If you looking to stay the weekend, Johnson's Beach has 30 campsites and 10 rustic cabin-style rooms that were built in the 1920s. This is an old-school type of vacation getaway. The cabins are typically booked years in advance by families who've been coming since before you were born.
The campsites and a few RV sites are first come first served and tend to fill days before the festival. You must have a 2-day festival pass to camp at Johnson's. Cash is king, credit cards are not accepted. There's a Bank of America on Main Street just in case hitting the ATM slips your mind.