Last weekend, we spotted Trinh Nguyen, exiting Nopa after a delectable brunch. (She says the Custard French Toast is a must-order.) Trinh works as a structural engineer and says her style is "super corporate," but we beg to differ. We loved her bright, patterned dress, flawless hair, and her unique, yellow-gold and fancy pink diamond engagement ring (pictured below).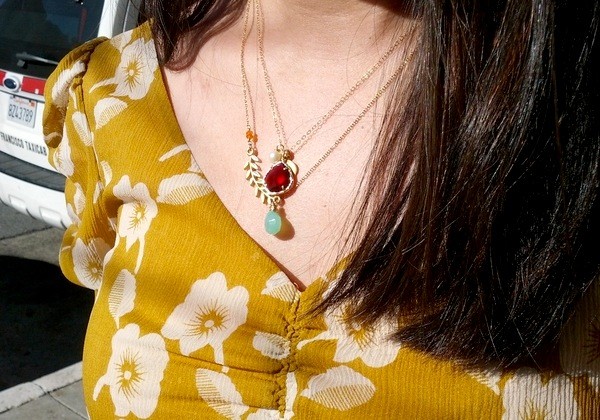 What she wore:  Printed dress by Broadway & Broome, purchased from Madewell; Earrings gift from jewelry shop in Hood River, OR; Handmade necklaces, purchased from Etsy; Madewell brown leather belt; J.Crew tan pebbled leather bag; Cole Haan brown leather, round-toe heels.; Haircut by Nicole and color by Stephanie at Oso & Miggs.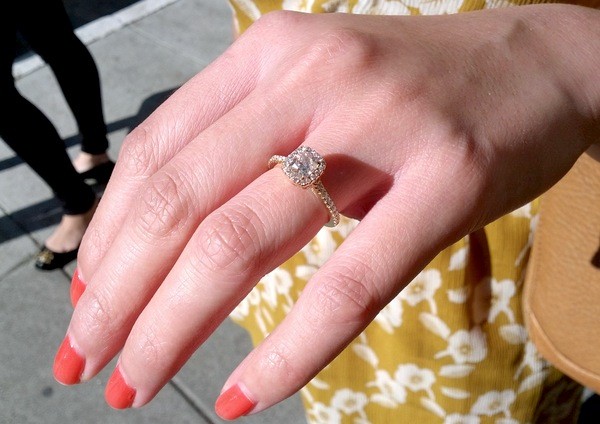 Trinh's beautiful engagement ring is from Deja and Co. in Saratoga. It's a fancy light pink center diamond with a rose gold setting, and a yellow gold band with tiny diamond details on the side.
"Although I didn't pick out the ring myself, it's so perfect for me," said Trinh.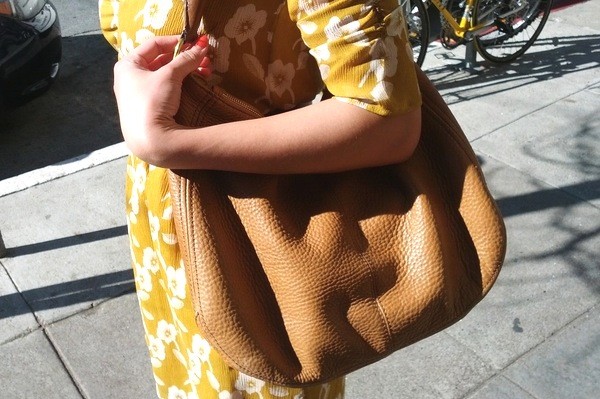 Seven style questions for Trinh:
1. What's in your bag?
Random stuff I always need in SF -- EO lavender hand sanitizer (and spray, and wipes!), floss, wallet, cell phone, clipper card, two roll up Chico bags, sunglasses and some solid perfume. 
2. What products do you swear by?
About once or twice a month when my cuticles are feeling dry, I like to put Lush Lemony Flutter Cuticle Butter on my fingers and toes at night. My fingers and toes are super soft the next morning and stay that way for at least a week. It's especially a must if I'm going to wear open-toe shoes or sandals!
I've also been trying out different "natural" hair shampoos. So far, my absolute favorite is Griffin Remedy (a SF company!) daily shampoo and conditioner. The shampoo gets my hair really clean (without double washing) and the conditioner is makes my hair feel soft without weighing it down. 
3. What's one over-the-top thing you want at your wedding?
I would love an over the top DJ! Friends of ours had one of the announcer/DJs for the Golden State Warriors DJ their wedding and he did a terrific job keeping people on their feet the entire night. It was brilliant.
4. What's your drink of choice? 
I've never liked the taste of alcohol, so when I go out to dinner I like to ask about any special non-alcoholic drinks. Gitane makes an excellent ginger beer in house and Frances always has a special seasonal "juice" they make. 
5. I like a guy in...
Jeans and a t-shirt. I really don't care as long as he smells clean. 
6. What's your greatest style secret?
My hair is naturally wavy, coarse and a little frizzy. I recently learned to use Phyto Curl Cream for the days I want to "wash and wear" my hair. After showering, I use one or two pumps of the curl cream and just twirl my hair in my fingers in sections, then let it air dry. It takes five minutes and I can give my hair a break from heat styling. 
7. What's your SF Top 5?
-The food! SF has a never-ending food scene with new restaurants opening all the time, but the restaurants I frequent most are Pakwan on 16th, Giordano's on 16th, Beretta and Little Star. 
-The Mostest cupcake from Noe Valley Bakery -- seriously, the best cupcake ever! It's an elevated version of the Ding-Dong. 
 - My favorite place to take out-of-towners is the Ferry Building Farmer's Market. The produce is always fresh, food vendors offer excellent breakfast items and it's a great place to pick up souvenirs. It's also a really nice walk on the Embarcadero to AT&T Park and Fisherman's Wharf. 
-My favorite place for quiet and reflection is the Palace of Fine Arts.
-My favorite sunny-day chill spot: Dolores Park.
Lily Ko (lily7x7 @gmail.com) studied fashion design and merchandising at Central Saint Martins and the Academy of Art University. In addition to writing for 7x7, Lily is on the creative team at Pottery Barn, and works as a freelance stylist, writer, and designer.