We spotted Jeremy Stoner, leaving his office in a casual Friday get up, near downtown. Jeremy works the 9-to-5 life as a creative director in SF, but his real job is being a full-time dad of four (and part-time bicycle builder) in San Leandro. 
"My kids (age range: 5-months to 15-years-old) keep me very grounded. Complex, grown-up problems mean nothing to them, which gives me such perspective on what is truly important–to spend time with them," said Jeremy. "Also, Evelien is my first baby and as cliche as it sounds, watching her discover the beauty of the world around her is amazing."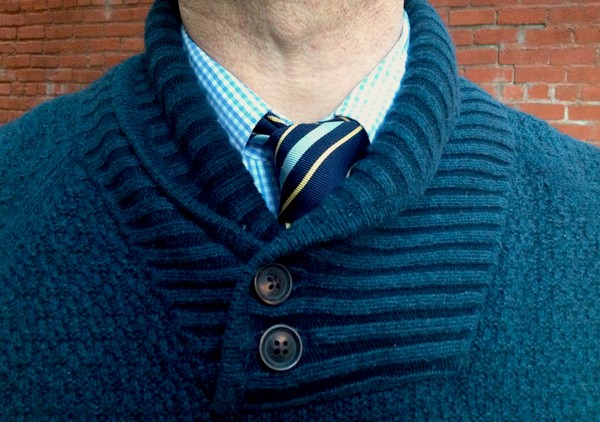 What he wore: Plaid wool cap by Uniqlo, purchased in NYC store; Vintage button-down shirt, purchased from favorite thrift store; Penguin striped tie, purchased from Nordstrom; H&M shawl collar sweater; Pants by AllSaints; Black leather lace-up shoes by Generic Surplus.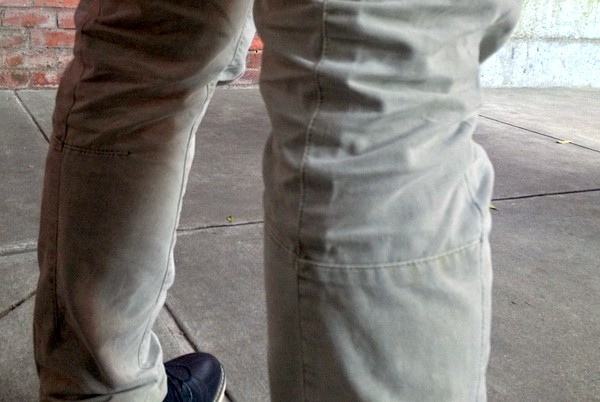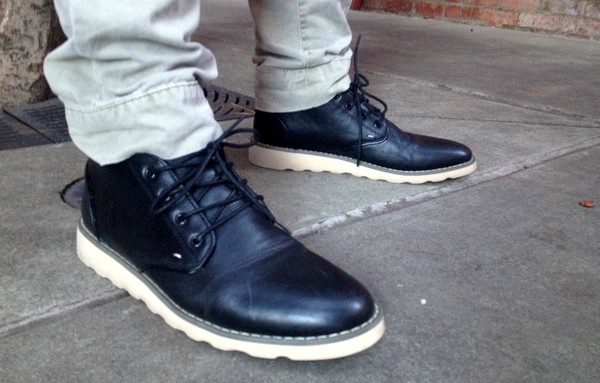 Seven Style Questions for Jeremy:
1. Where do you shop in the Bay?
I have been geeking out over East Bay thrift stores – there are some hidden gems that are not picked over like the SF ones. I've found everything from a vintage three-piece Halston suit for $25, a brand new pair of Cole Haan oxfords for $10, a Fred Perry Polo for $3, and a vintage Givenchy button-down for $5. Aside from that, everything from H&M on up to Barney's.
I almost always know exactly what I'm looking for before I go shopping, so it's more about finding the right piece rather than the specific place to shop. 
2. What are your personal fashion loves and hates?
I love my raw denim Levi's 511's – they fit perfectly and look great in any setting. I would never wear pleated pants or anything that has come within 15 yards of Tommy Bahama.
3. If you could snag anything right now, what would it be?
The entire Rapha + Paul Smith collection – especially the leather town gloves. Form and function. 
4. What's your drink of choice?
Scotch whiskey – Laphroaig or Lagavulin – neat, no ice.
5. What style wisdom do you live by?
Wear what's comfortable for you. It's immediately obvious and not attractive when someone is not comfortable in what they are wearing or trying to be something they are not. 
Also, nothing is too precious. Everything is made to be worn and at some point everything will get ruined or fall apart. Just accept it and it will free you.
For parents – kids will always do the opposite of what you recommend anyway, so let them find their own style. 
6. What's your scent?
I've always gone for fresh fragrances -- Lacoste or Marc Jacobs -- but I was given a bottle of Bleu by Chanel for the holidays and I'm kind of loving it. 
7. What's your Bay Area top 5?
A top secret thrift store that will remain nameless, but I never leave empty handed or unhappy.
Absinthe for both cocktails and dinner. Classic SF.
The entire Union Square area. It has everything you could need at any given time – art, fashion, good, theatre, high-end or low-end – all within a few blocks.
The de Young museum. Great variety. When I used to live nearby, I would go there as often as possible just to get inspired.
The architecture and just San Francisco itself. I think people take it for granted. I could ride my bike around for hours just looking up. (And yes – I realize that is totally unsafe.) 
Lily Ko (lily7x7 @gmail.com) studied fashion design and merchandising at Central Saint Martins and the Academy of Art University. In addition to writing for 7x7, Lily is on the creative team at Pottery Barn, and works as a freelance stylist, writer, and designer.