Last weekend we spotted Derrick Prodigalidad in mixed leather, a feather necklace, and with perfectly parted hair. 
Derrick travels the world as a project manager for Puccini Group, a hip restaurant design and consulting firm, but he says, "There's nothing I love more than being home in San Francisco." 
What he wore: Topman t-shirt, leather jacket and pants; Feather arrow necklace, purchased from a street vendor in NYC; Hoodie by Marc Jacobs; Dr. Martens leather backpack; Vintage leather boots; Haircut by his older brother in San Jose.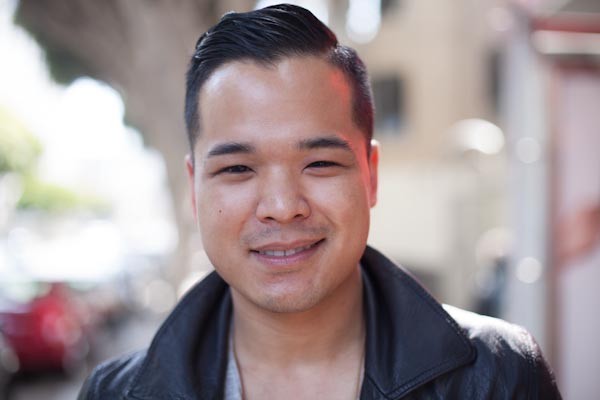 Derrick's style philosophy: "Dress how you feel or how you want to feel."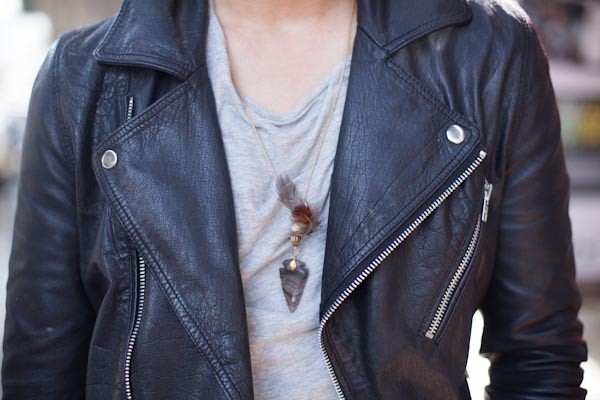 Derrick's style tip: "Don't be afraid to shop in the women's section–and not for typically feminine items, but for accessories like scarves and brooches that tow the line of masculine and feminine."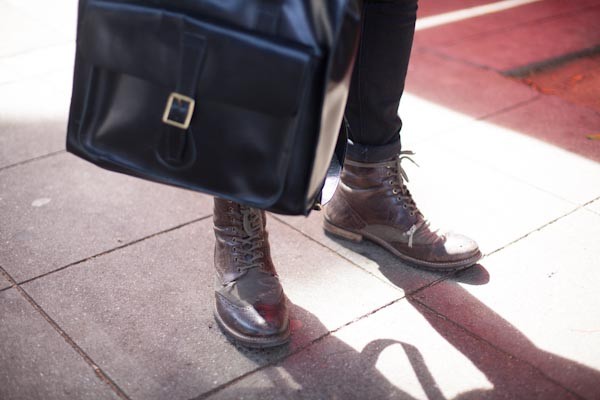 Seven Questions for Derrick:
1. What do you never leave the house without?
Leica D-Lux 6 digital camera.
2. What's your most prized possession?
An antique lapel pin given to me by a special person. Jewelry is such a difficult gift to give someone, because it's so specific. It was more than just a gift or a statement of fashion, but a conveyance of unconditional friendship and love. 
3. What's your drink of choice?
An Old-Fashioned or a Proving Ground IPA.
4. What are your top products? 
Visine, Oribe Anti-Humidity Spray, Yes to Carrots Facial Moisturizer, Kiwi Leather Care Kit, Acqua Di Pama Talcum Powder.
5. What's on your want list?
This Balmain FW11 jacket.
6. I like a man in...
A white v-neck, Levi's and boots.
7. What's your SF Top 5?
Foreign Cinema, the Ferry Building, Golden Gate Park, Blackbird, Unionmade. 
Lily Ko (lily7x7 @gmail.com) studied fashion design and merchandising at Central Saint Martins and the Academy of Art University. In addition to writing for 7x7, Lily is on the creative team at Pottery Barn, and works as a freelance stylist, writer, and designer.