Dana Cray Fernie does a lot of fashion. She's a personal shopper at Ambiance in Noe, a freelance personal stylist, and also works as a fashion events coordinator at various fashion weeks around the world.
We caught up with her between NY Fashion Week and Mercedes Benz Fashion Week Australia, to talk vintage fashion, SF music and spring fur.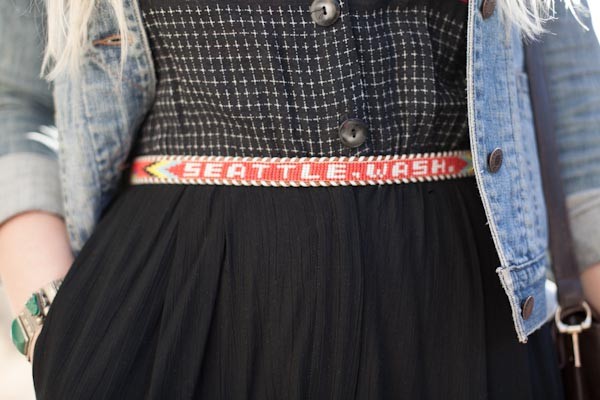 What she wore: Vintage jumpsuit from Buffalo Exchange; Abercrombie & Fitch denim jacket (from middle school); Vintage 1940s cuff, gift from aunt; Vintage Burberry bag; Rings from grandfather and thrifed; Ray-Ban sunglasses; Kelsi Dagger red suede botties, from Amazon; Cover Girl lipstick in "Hot passion"; Naturally grown-out ombre with cut from Great Clips.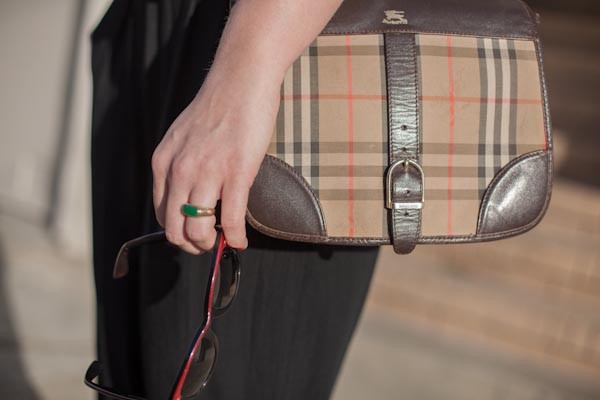 In Dana's bag: A day planner ("Without it I'd lose my mind"), book (currently, "Bicycle Diaries" by David Byrne), sunnies, red lipstick, a notebook and pen, wallet, headphones, phone charger and "a few photo booth strips I can't leave home without."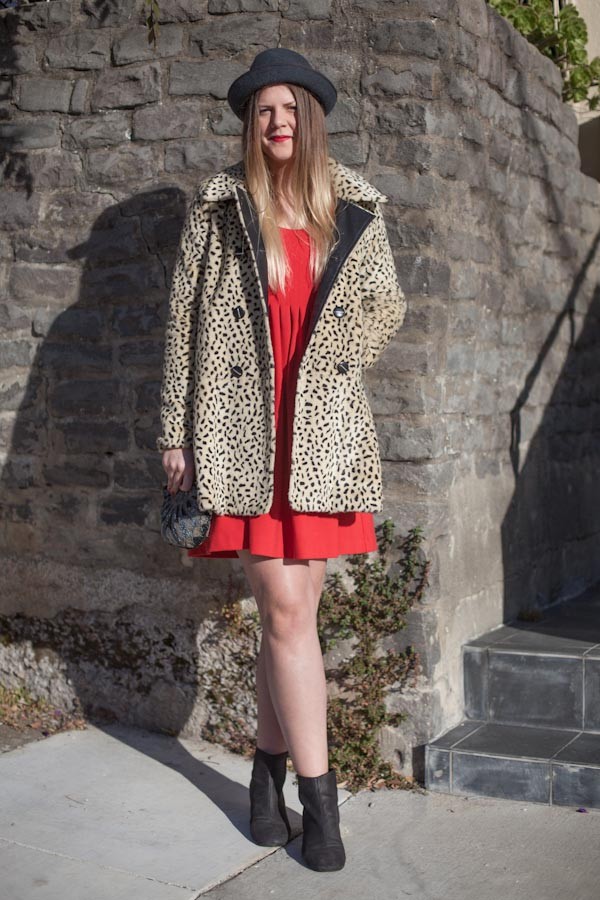 What she wore: Isaac Mizrahi for Target red cotton dress; Free People animal print faux-fur coat and San Diego Hat Co. men's hat, both purchased from Ambiance; ASOS booties; Rings purchased from a market in Sydney and Junkman's Daughter in Atlanta; Beaded purse from Urban Outfitters, OPI nail polish in "Big Apple Red."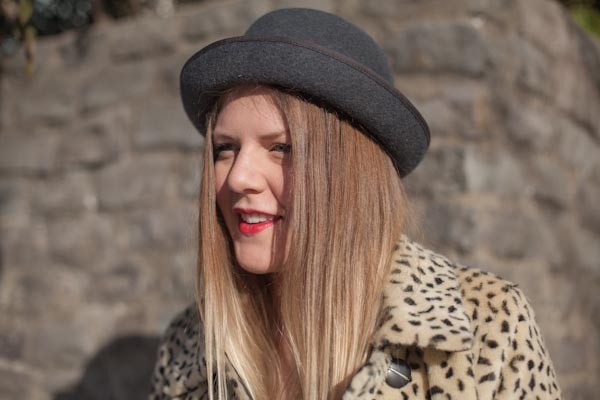 "I love San Francisco because you can wear any season year-round," said Dana. "I still get to wear fur, leather and layers in the spring and summer."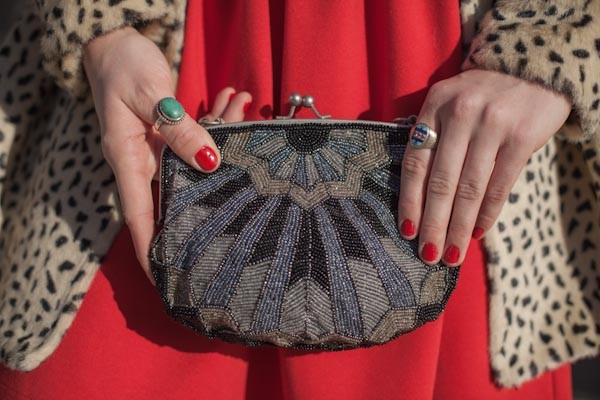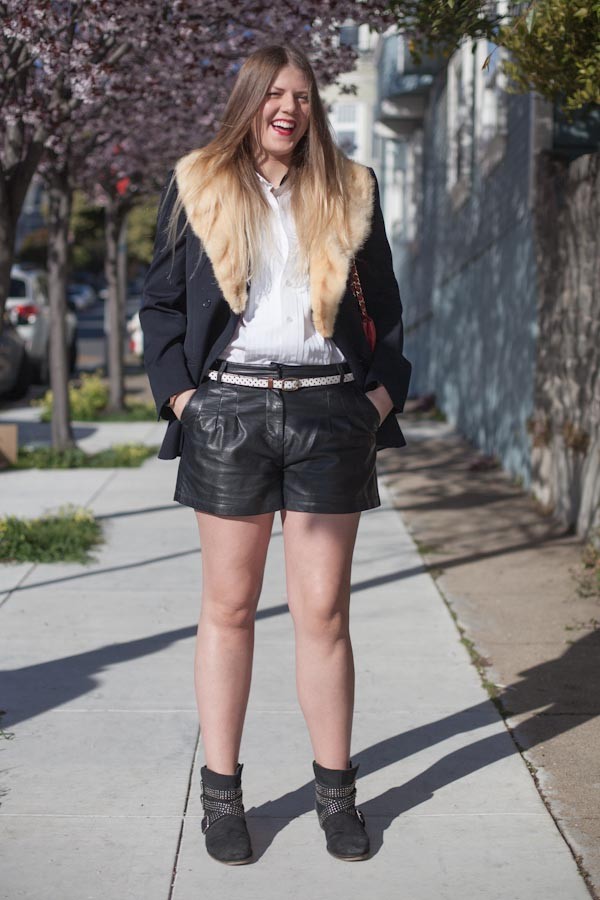 What she wore: Vintage fur lapel jacket, from Wasteland; Men's tuxedo shirt from Mission Thrift; Polka-dot belt from Madewell; Topshop leather shorts; Vintage red quilted leather Chanel bag; Lucien Piccard watch, gift from mother; Ring from Urban Outfitters; "Carpe Diem" tattoo, done in Dewey Beach, DE; Senso suede booties, purchased from Solestruck.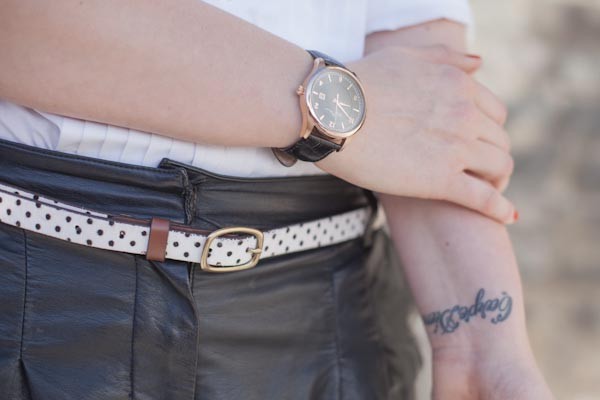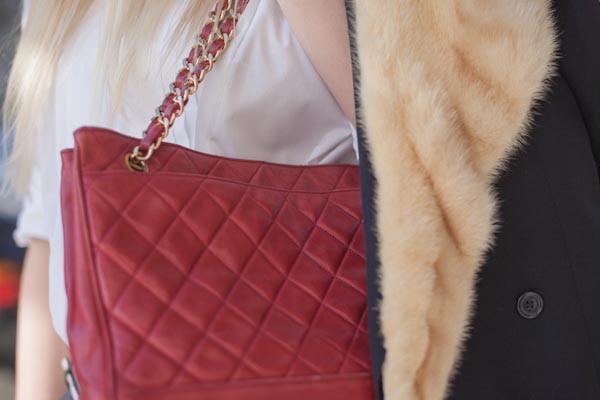 "My most prized possessions are a tie between my grandfather's ring or my vintage Chanel bag from my mum," said Dana.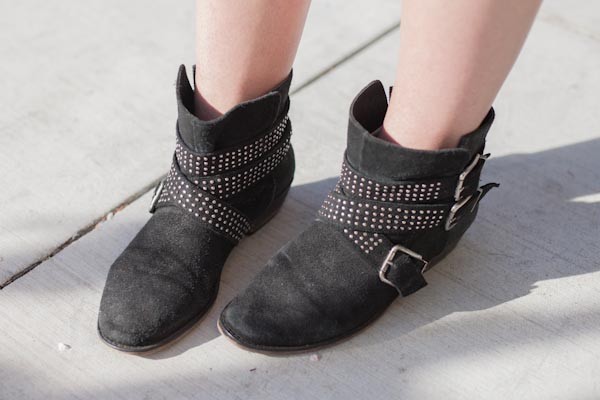 Seven Style Questions for Dana:
1. Describe Fashion Week in 7 words:
Chaotic, sleepless, intense, inspiring, exhilarating, amazing, and just wonderful. 
2. If you could only wear one decade of fashion, which would you choose?
Can I choose three? The 20s for their beading and sequin. The 50s for their encouragement of femininity and womanly figures, and the 60s/70s for the effortless rock and roll style. 
3. What's your greatest style tip?
Nothing beats the basics. Build a foundation with good denim, a collared shirt, a proper leather jacket and ankle boots.
Also, once choosing a style, you don't have to be committed to it. Experiment and impersonate. Be girly one day and wear menswear the next. Speaking of -- there's nothing sexier than menswear on women. 
4. What spring styles are you looking forward to? 
I'm going to make a conscious effort to break out of my menswear-box and wear more dresses. 
5. What's your drink of choice?
Green tea, water, soy vanilla latte or a vodka soda with two limes–depending on the hour. 
6. Leather or lace?
Leather, leather and more leather...with some lace hidden underneath. 
7. What's your SF Top 5?
-Writing, reading and taking advantage of the Mission's perfect weather at Dolores Park.
-Yoga To The People to keep me sane.
-Trolling for records at Ameoba.
-Gluten-free anything at Arizmendi, Mariposa or Radish.
-The music scene: The Independent, The Fillmore, Bottom of the Hill, Amnesia, The Greek Theater, Outside Lands, Treasure Island Music Festival –besides fashion, music is my obsession, so I'm pretty lucky to live in a city where I'm offered a selection of the best all year round. 
Lily Ko (lily7x7 @gmail.com) studied fashion design and merchandising at Central Saint Martins and the Academy of Art University. In addition to writing for 7x7, Lily is on the creative team at Pottery Barn, and works as a freelance stylist, writer, and designer.