As promised, here's Brixton Plock, the super amazing two-year-old son of local artists, Kelly Tunstall and Ferris Plock. When we were shooting Kelly's Street Style photos, this little guy was running around with Hulk hands, watering plants outside, and watching his favorite movie, My Neighbor Totoro. He was too darn cute to not photograph, so we had him dress up for a Street Style shoot of his own. 
What he's wearing:  Plaid shirt from Janie and Jack; Black pants from H&M; Osh Gosh striped socks from Target; Reebok neon sneakers, hand-me-downs from local artist MARS-1 (Mario Martinez) and family; Haircut by Kelly Tunstall; Watering can from Ok in LA.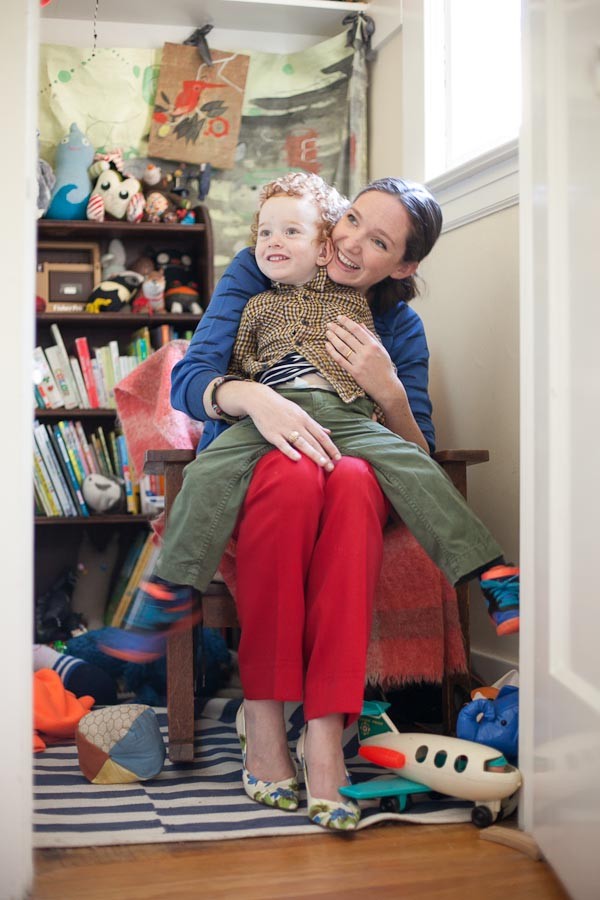 Brixton and his momma, with dad in the background, making them both laugh. We were blown away by his play closet/reading nook -- this kid has stylish duds and mad digs, too.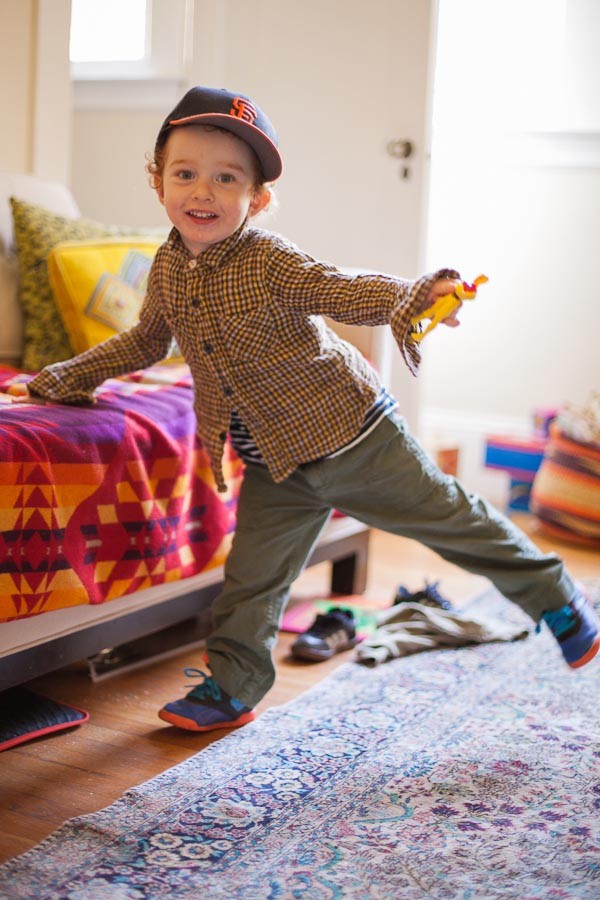 What he's wearing:  Plaid shirt by Fith, purchased from Cotton Sheep on Hayes; Army green Crewcuts pants, purchased from J. Crew; SF Giants hat, purchased from the Giants store.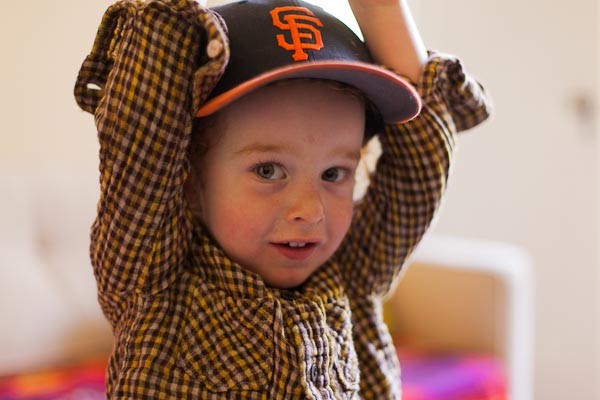 Little Brixton loves the SF Giants and has the hat (and hair) to prove it.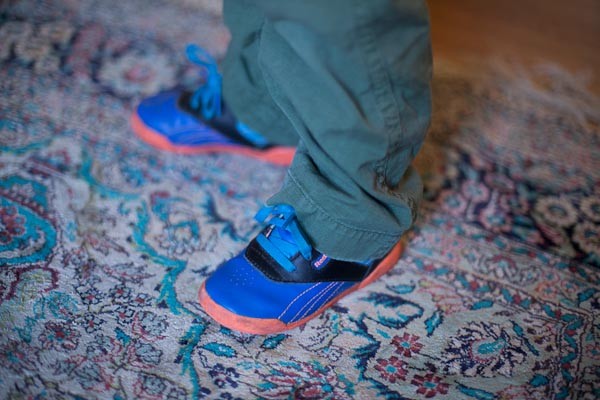 Is there anything cuter than kid's shoes?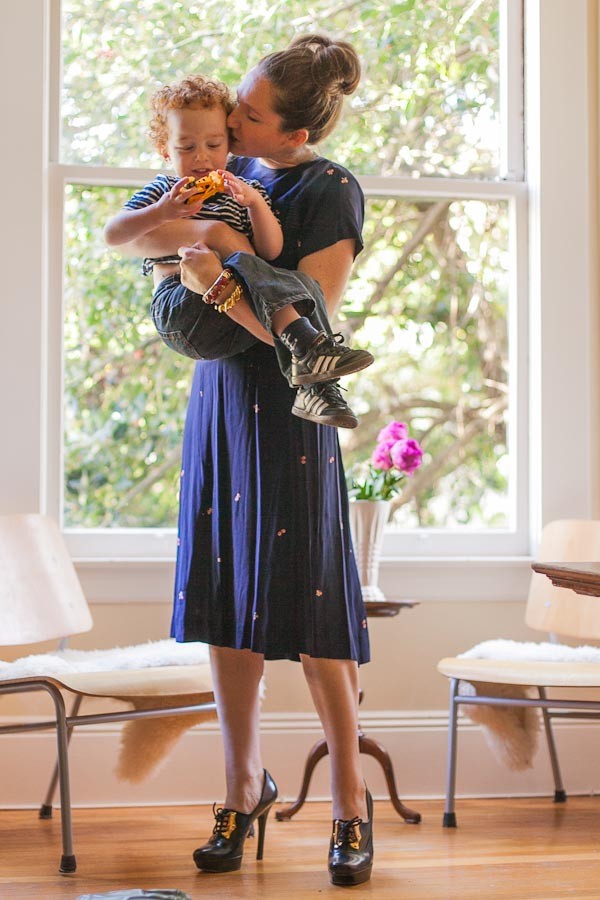 Simply adorable. Brixton is already painting with mom and dad. He has yet to perfect the family craft, but check out Kelly and Ferris latest, Kefe: Edible Complex, currently on display at the Fecal Face Dot Gallery. 
What he's wearing: Janie and Jack jeans; Adidas sneakers, purchased from Brooks Shoes for Kids; Osh Gosh anchor socks, purchased from Target. 
Seven Style Questions for Brixton and Kelly:
1. What are your go-to shops for kids clothing, toys and all the extras?
Park Life, NooWorks, Goodwill, Cotton Sheep, eBay, Target, Gap Kids, H&M,  and Hanna Andersson for clothing.
We love Ark Toys on Sacramento St.; Kinokinuya Bookstore (for books, toys, puzzles!); Green Apple Books; our friend has Diggin Toys (which makes the SKUUT) so some fun things from them; Sports Basement, Goodwill, Gilt, and Target. We also get a lot of gifts and hand-me-downs from relatives and friends, and Ferris and I have made some things, so in our little house we try to cycle and edit constantly, though I am always so happy in a house full of books! I also have some carefully edited apps on an iPad, so in moments of weakness (or just when I'm dead tired), we love Tickle Tap Apps, anything from Toca Boca, and our friend Aleks's Gnomie. 
2. What's Brixton's favorite outfit?
He likes his construction site (yellow and black striped) Hanna Andersson jammies.  
3. Is Brixton shaping up to be a SF foodie? 
I like that Brixton is all over the map -- his tastes change on a daily basis, but the constants are sushi from Japantown (he loves tobiko nigiri -- who knew!?), Burmese food, and really fresh fruits and veggies work all the time. 
4. What are Brixton's favorites things? 
My Neighbor Totoro, Cars, Kung Fu Panda, and Yo Gabba Gabba. He loves the cars in Cars, and we read "I'm a bunny" and "Go Dog Go!" quite a lot, though his list of favorite books could go on forever -- Ferris and I had a huge collection of kids books before we had Brixton. We have curated a selection of old Sesame Street and Disney Channels on YouTube, which we love, too. 
5. What super mom secrets can you share with other Bay Area parents? 
Well, generally I take great comfort in the fact that no parent is ever perfect, and it's really hard. There's this stuff called UMCKA that is great for colds and stuffy noses (you can get it at Rainbow or Whole Foods), and there is almost always parking at Baker Beach. Also, the Cable Car guys at Powell St. will let you climb all over the cable cars if you ask nicely before it's their turn. 
6. Where's a hip mom like yourself to take a two year old in this city?
He's almost three so nowhere is safe! Anywhere there is space to run though -- escalators and elevators at Westfield are a plus, but only now that we know what happens when we push red buttons. The call button for firemen is really tempting too, but we are better with that. Food trucks are great for on-the-go eating, and our friends at Matching Half Cafe are always ready with two cappuccinos, a breakfast sandwich and a smile!  
7. What would you say is Brixton's SF Top 5?
Giants Stadium. Firetrucks, our friendly firemen, and fire stations. Cable Cars. Dancing to street musicians (We always tip!). Golden Gate Bridge. 
Lily Ko (lily.7x7 @ gmail.com) studied fashion design and merchandising at Central Saint Martins and the Academy of Art University. In addition to writing for 7x7, Lily is on the creative team at Pottery Barn, and also works as a freelance stylist and apparel designer.