While shooting around Union Square, we had to stop Vanessa Nguyen and ask about her beautiful leather clutch. It's a one-of-a-kind piece, made by her brother, who hand-burned and -painted the brightly-colored rose onto the tan leather. 
We like how the clutch stands out against her look–a fuss-free outfit with all of the SF staples: Long sleeves, tights, a vest, a scarf and comfy boots.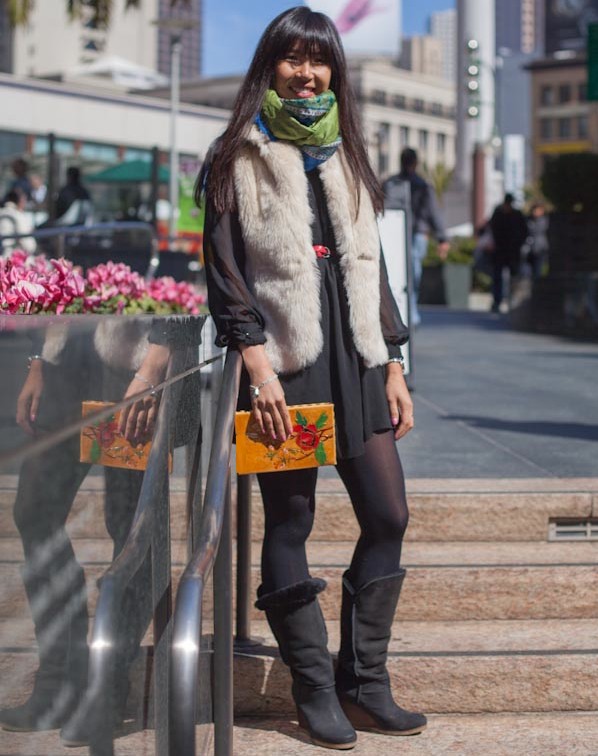 What she wore:  H&M dress; faux fur vest by Poetry; Scarf from Fab India; Steve Madden belt; Bebe tights; UGG shearling wedge boots; Human Connection handmade clutch; Victorinox watch; Bracelet by Folli Follie; Custom designed ring set; OPI nail polish in "Japanese Rose Garden"; Haircut from Cinta Salon. 
Seven Questions for Vanessa:
1. What are you most excited to wear this spring?
Skinny ankle jeans.
2. What's in your bag?
iPhone, gloves, lipsticks, my Human Connection wallet, and a scarf. 
3. What's your style secret?
Walking in Merrell Barefoot flats. SF is such a walkable city and these are super duper comfy–you don't even need to break them in. 
4. What's your fashion peeve?
Tights with holes in them. 
5. Leather or lace?
Leather! Ever girl should have a nice leather jacket.
6. I like a guy in...
A v-neck tee, clean-cut jacket, cute boots, and side-parted hair.
7. What's your SF Top 5?
-Blue Bottle Coffee.
-Museum passes.
-Happy hour (at La Mar, Roy's, E&O Trading, Michael Mina, etc.)
-All things Apple. 
-Dancing at Vessel.
Lily Ko (lily7x7 @gmail.com) studied fashion design and merchandising at Central Saint Martins and the Academy of Art University. In addition to writing for 7x7, Lily is on the creative team at Pottery Barn, and works as a freelance stylist, writer, and designer.