We loved Milton Perry's dressed up spin on traditional workwear.
A simple leather belt, boots, and denim-on-denim are staples of classic workwear. But with the right fit, a neatly tucked in shirt, and a crisp bow-tie, this look is instantly elevated to handsome and hip street wear. Nicely done.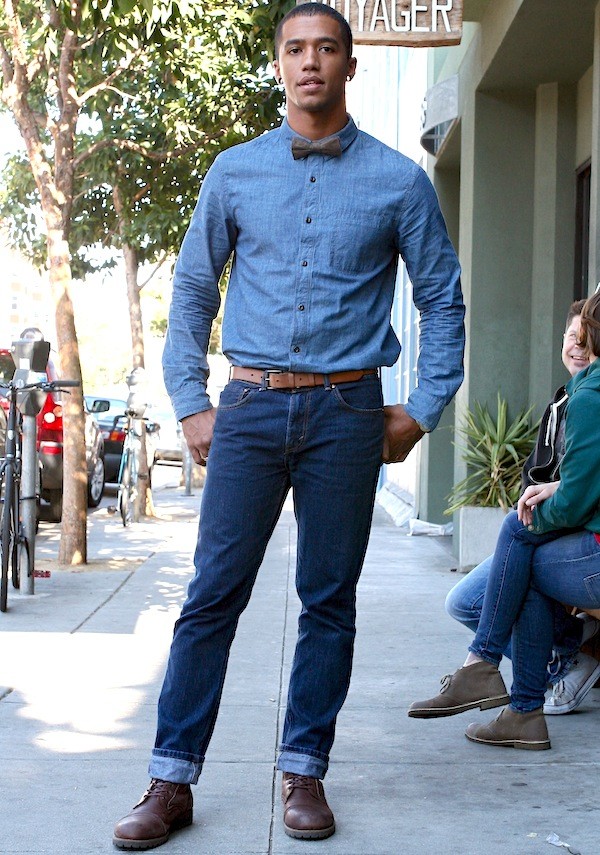 What He Wore: Bull Head shirt and Levi's 511 jeans, purchased from PAC Sun; Wembley bow-tie, purchased from Jack Threads; Thrifted leather belt; Body Rage silicon gauge earrings, purchased from Hot Topic; ring from Hebrew Rings; St. John's Bay boots, purchased from JC Penny.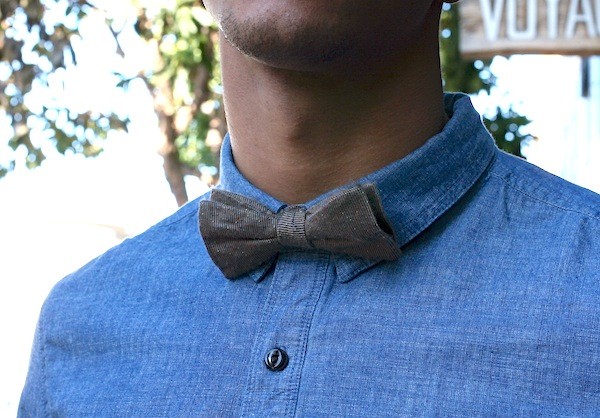 "I think fashion is just the clothes," said Milton. "But style comes when you express what is going on inside of you through what you wear, almost like letting yourself just be a canvas for an artist, sculpting and making something that is your own."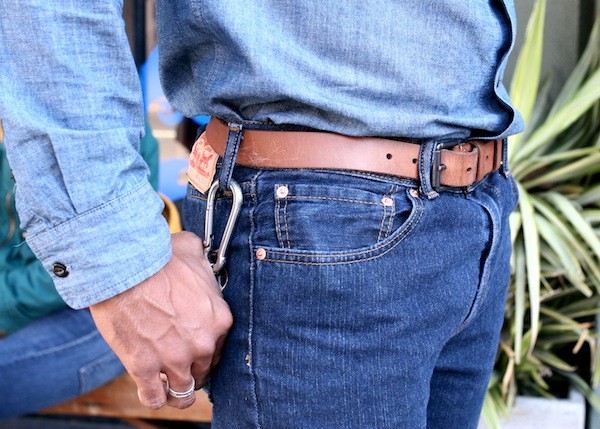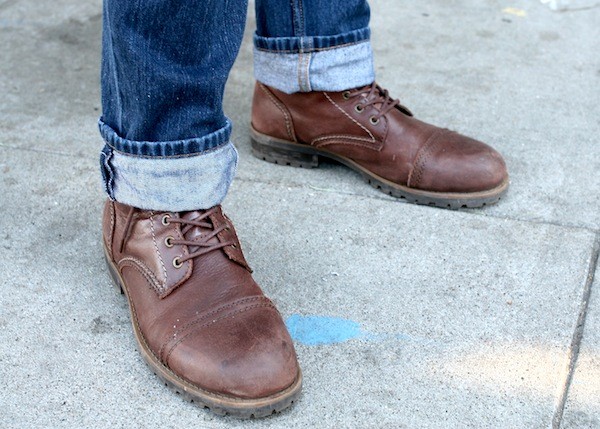 Seven Questions for Milton:
1. What are you always packing?
Gotta have my wallet on me. 
2. What would be your last meal on Earth?
This is potentially one of the most difficult questions for me to answer. I love trying new foods all the time, so I don't know...probably a great steak.
3. What's one thing most people don't know about you?
I am training for a physique contest in Chico, CA, in June. 
4. What would be your ultimate dream job?
I really love sales and marketing, so I guess anything that keeps me in contact with people and provides me with means to help them. Or an astronaut if that can't work out...
5. What's sexy? 
Personally, I think sexiness comes from within. It's not necessarily about your figure -- as cheesy as it sounds, I'm really a sucker for confidence and a great attitude. 
6. What's on your bucket list?
I want to travel the world. 
7. What's your SF Top 5? 
I love the coffee at Four Barrel, the ice cream at Smitten, and food at Tacolicious. I also love art so the Legion of Honor is amazing. Last, but far from least, visiting Haight-Ashbury is always fun. 
Lily Ko (lily7x7 @gmail.com) studied fashion design and merchandising at Central Saint Martins and the Academy of Art University. In addition to writing for 7x7, Lily is on the creative team at Pottery Barn, and works as a freelance stylist, writer, and designer.