Last weekend, I caught up with Jamie Kopmann, outside her digs in Lower Nob Hill. Jamie's the proud momma to Charlie, a 6-year-old Boston Terrier-Mini Schnauzer rescue pup, and the newest lifestyle maven at Bread & Butter PR in Potrero.
What she's wearing:  Faux fur vest by Jack, purchased at Urban Outfitters; White t-shirt and black skinny jeans from the Gap; Purple suede peep-toe heels and watch by Michael Kors, purchased at Nordstrom; Quilted leather Marc Jacobs bag; Necklace and assorted bracelets from Stella & Dot, purchased during a party she hosted; Pink Shellac manicure and pedicure, done at Lilypad Spa; Hair color and style by private stylist/friend.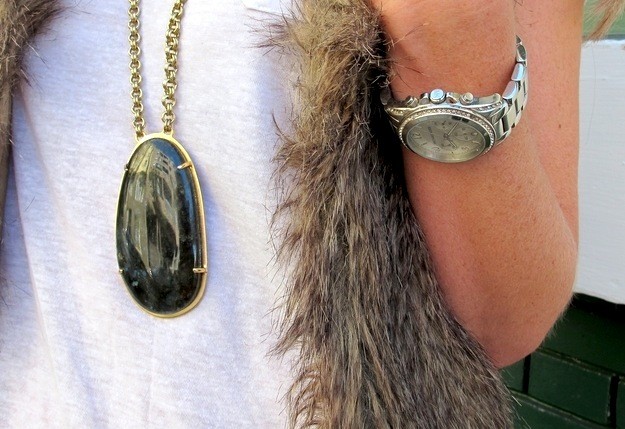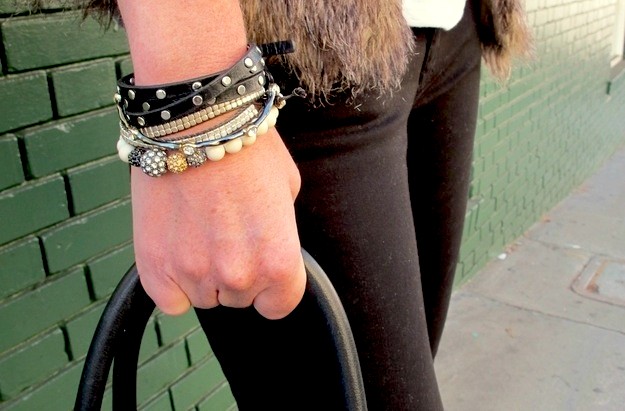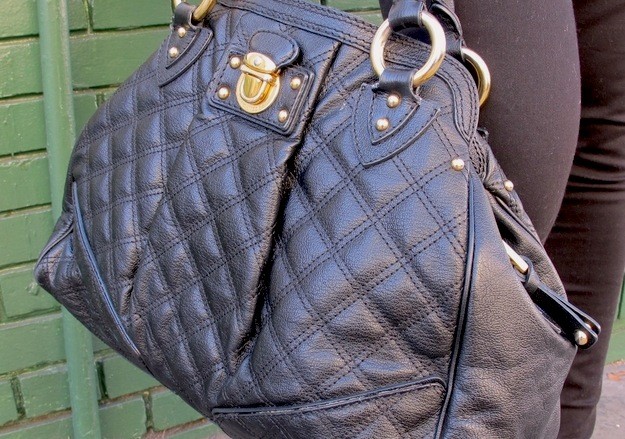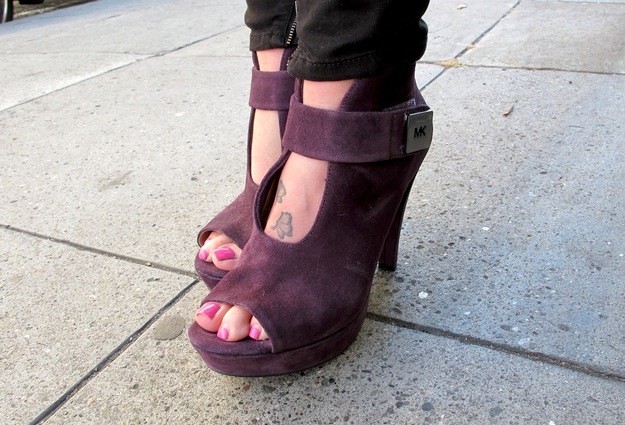 Seven Style Questions for Jamie:
1.  What's in your bag?
My iPhone, cherry Chapstick, Extra Smooth mint gum at all times (I'm addicted!), Michael Kors wallet, business cards, NARS bronzer...oh, and my Gucci aviator sunglasses that I've had for 6 years and still wear everyday! 
2.  What's your drink of choice?
Racer 5.
3.  What's on your wish list?
A ticket to Paris to go shopping!
4.  What products do you love?
L'oreal Voluminous cheap ass mascara, anything NARS, Shellac manicures and pedicures, Bumble & Bumble or Aveda hair products, Cetaphil face wash.
5.  I like a guy in...
Jeans, a t-shirt and a baseball hat.
6.  What are your style peeves?
Juicy Couture sweat pants, Crocs, socks and sandals, and when girls wear heels they can't walk in. 
7.  What's your SF top 5?
-AT&T Park for Giants games.
-Amelie...Amelie is totally my place!
-Huntington Park or Crissy Field with my dog, Charlie. 
-Brunch at Brenda's.
-Comedy shows at Cobb's. 
Lily Ko (lily7x7 @ gmail.com) studied fashion design and merchandising at Central Saint Martins and the Academy of Art University. In addition to writing for 7x7, Lily is on the creative team at Pottery Barn, and works as a freelance stylist, writer,  and designer.