Last weekend, we swung by Fort Mason (along with half the Bay Area!) for the Renegade Craft Fair. The fair started nearly 10 years ago in Chicago, and now hits six cities a year with a caravan of craftsmen, women, and artists of all sorts.
Among the sea of DIYers, we spotted four California class acts – a Santa Cruz dressmaker, two local tea guys, and a jewelry maker from LA – with fabulous threads to match their awesome merch.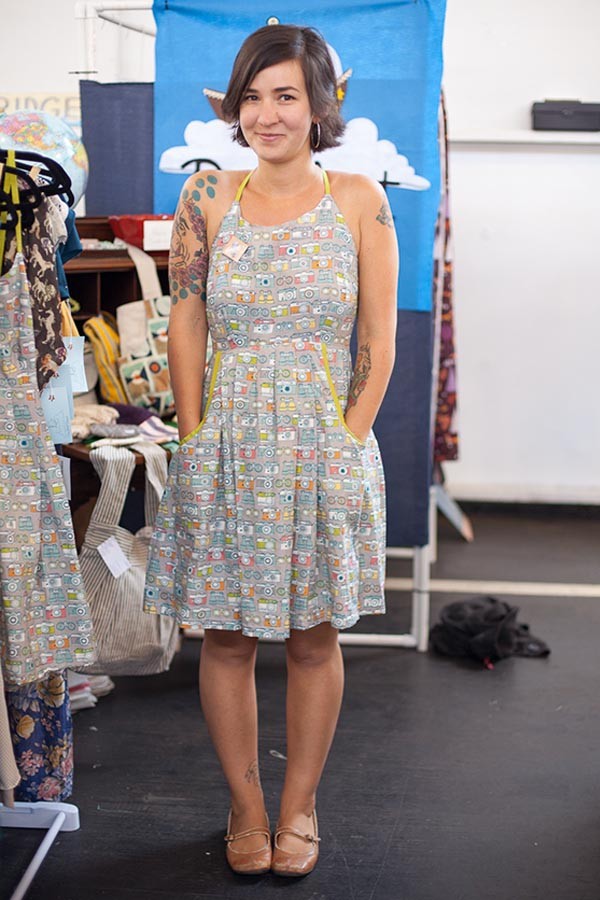 The dressmaker, Chelsea Grunae of Dreamboat Dresses, Santa Cruz.
What she's wearing:  Dreamboat Dresses dress, self-made with 100% organic cotton; Tattoos by Hudge at FU Tattoo in Santa Cruz.
What do you love about San Francisco? 
My favorite thing about San Francisco is the whimsical creative spirit that seems to be shared by all its citizens. THe city is beautiful and fun from every angle. 
Who's your fashion icon?
Rather predictably, Zooey Deschanel. Gotta love a fellow dress enthusiast.
What's your Santa Cruz Top 5 (for the SF tourist)?
1. Roaring Camp Train: You can take a real steam train trough the redwoods and walk amongst some of the most amazing trees in the world.
2. Hart's Fabric: where you can get the most amazing fabric ever! A great place to go for inspiration and fun.
3. Saturn Cafe: An all-vegetarian space-age diner where you can get vegan nacho fries that will rock your socks off!
4. The Live Oak branch of the Santa Cruz public library system: Not only is it a spectacular library, but it also has amazing ocean views, super comfy benches and a great lawn out front for picnicking and feeding ducks.
5. Downtown Farmer's Market: On Wednesday, we have an amazing farmer's market with lots of delicious food trucks, tons of fun people and amazing local produce.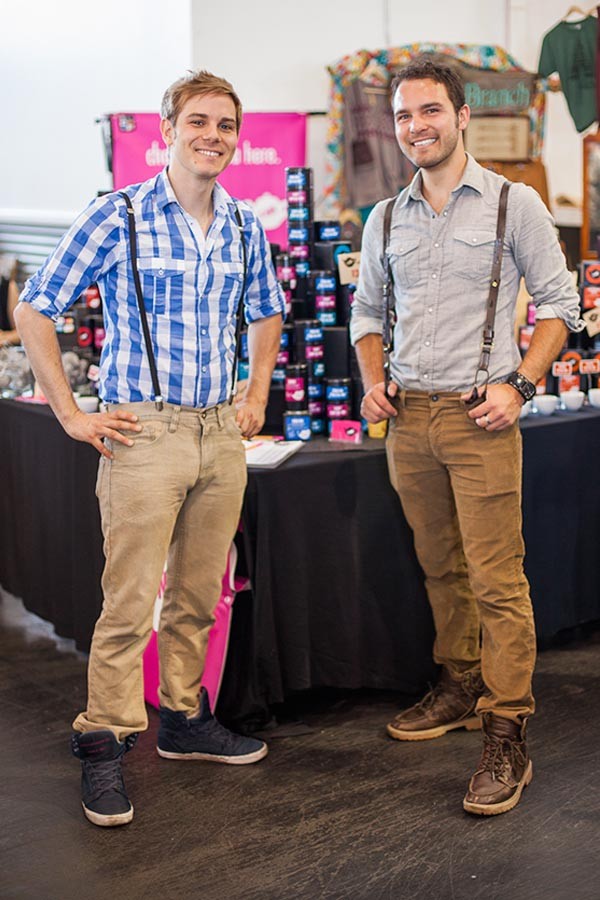 The tea guys, Christopher Coccagna (left) and Keir Lee (right) of T-We Tea, San Francisco.
What Christopher's wearing:  Plaid shirt by Zara; American Apparel suspenders; Halifax pants, purchased from Outfit on 18th St.; Supra shoes, purchased from KarmaLoop.
What Keir's wearing:  American Eagle chambray shirt; Levi's leather suspenders and pants, Supra shoes, borrowed from Christopher.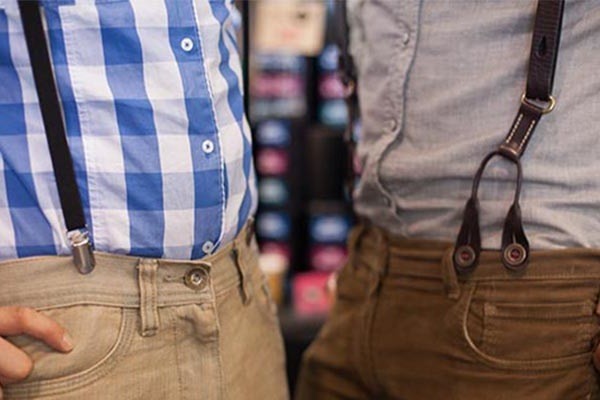 What do you love about the Renegade Craft Fair?
CC:  I love RCF because of the community that it builds. It is amazing to meet so many San Franciscans who support local artists and makers, and it is an honor to work alongside such talented makers. This inspires me to continue creating new and magical tea blends for our community. 
KL:  RCF brings together so many interesting people with beautiful ideas. IT's hard to walk through it without spending your whole paycheck. 
Who's your fashion icon?
CC:  Lee Pace
KL:  The Newsies 
What's your SF Top 5? 
CC:  1. Catching synchronized green lights on Oak or Fell (either direction).
2. The salted chocolate chip cookie by Black Jet Baking Co.
3. Matcha latte from Cinema Cafe in Japantown.
4. Cupping (aka tasting) new exotic teas at the Speedway Meadow in Golden Gate Park.
5. Driving the Bay Bridge into the city, while blasting "San Francisco (Be Sure to Wear Flowers in Your Hair)" - Dance Remix, of course.
KL:  1. Picnics in Alamo Square Park.
2. The cliffs between Marshall and Baker Beach.
3. Pika Pika photobooth in Japantown.
4. Fillmore Karaoke.
5. Hot Cookie in the Castro.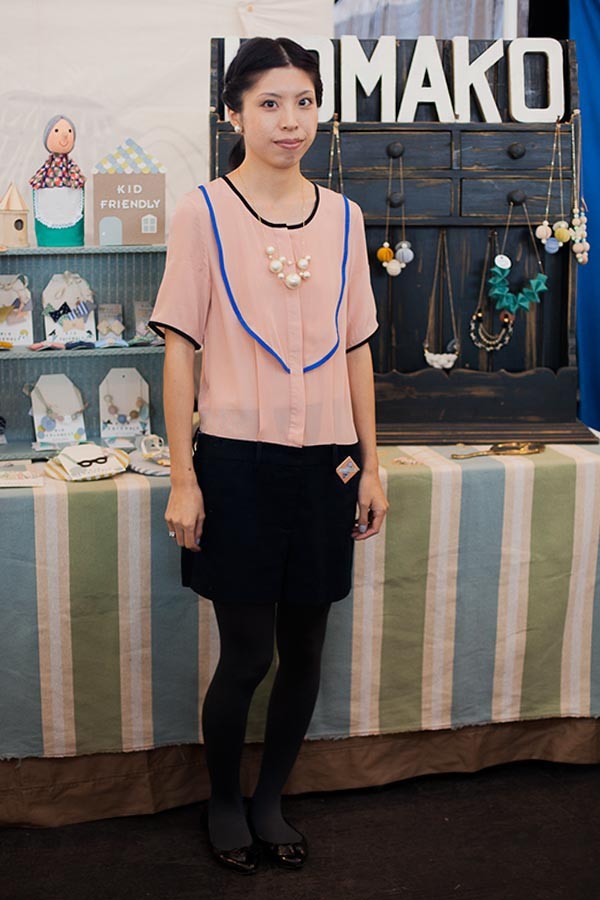 The jewelry designer, Yoko Minemura Vega of Homako, Los Angeles.
What she's wearing:  Self-made necklace by Homako; Szeki romper, purchased from the Szeki boutique in NYC; Uniqlo opaque tights; Topshop flats.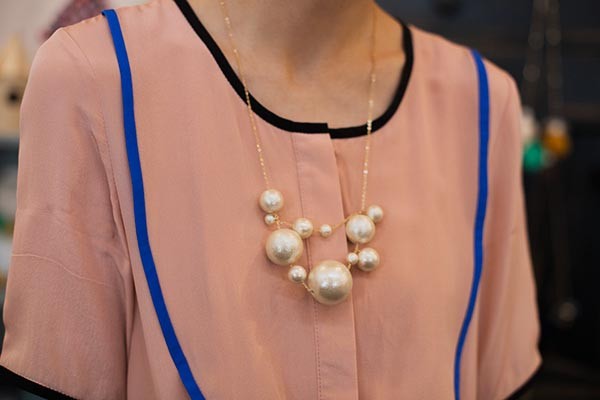 What do you love about San Francisco? 
The cute pastel houses!
Who's your fashion icon?
I don't have a specific icon, but I like the Japanese fashion magazine called SO-EN.
What's your LA Top 5 (for the SF tourist)?
1. Hike at Griffith Park.
2. Eat at Gjelina.
3. Eat at Bar Hayama.
4. Shop at Rolling Greens nursery.
5. Visit the Huntington Library gardens. 
Lily Ko (lily.7x7 @ gmail.com) studied fashion design and merchandising at Central Saint Martins and the Academy of Art University. In addition to writing for 7x7, Lily is on the creative team at Pottery Barn, and also works as a freelance stylist and apparel designer.