Our hats are off to Adriana Villagran's sweet summer style.
By day, Adriana holds down the fort at Goorin Bros. Union Square, and by night, she's tearing up the best dance floors in SF. You can bet she has a hat for every occasion.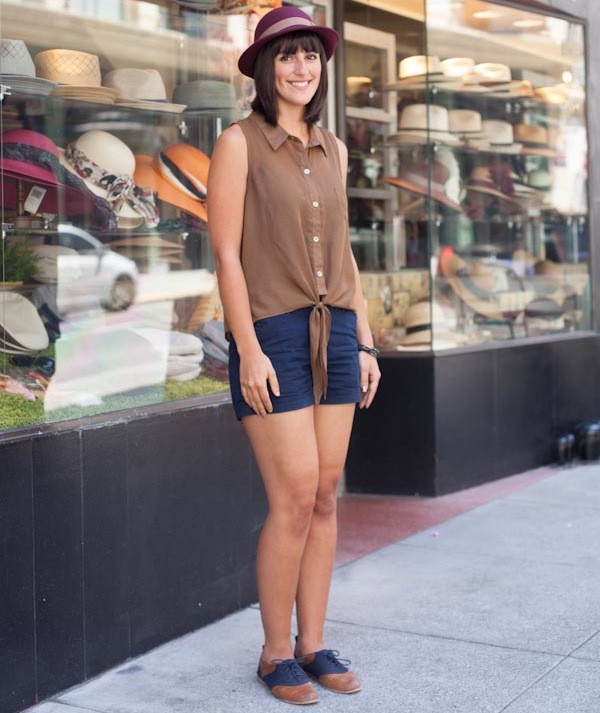 What she wore: Goorin Bros. "Margaret Rosenberg" asymmetrical cloche; Forever 21 earrings, shorts and bracelets; Papaya shirt, purchased from Buffalo Exchange; Restricted "Betsy" oxfords, purchased from DSW; Urban Decay "Toasted" nail laquer, purchased from Sephora; Haircut from Alex at Bed Headz in Temecula.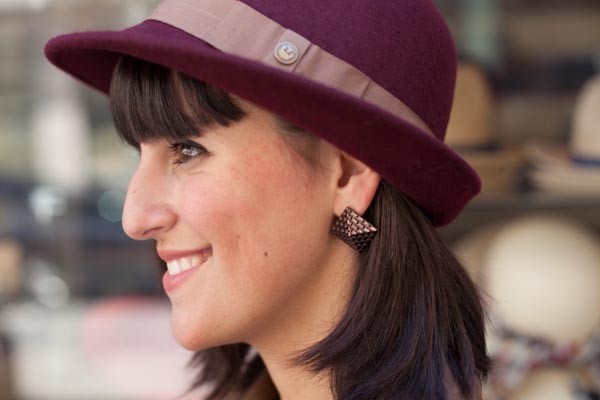 "I love a good cloche," said Adriana. "My favorite hat is the 'Laura Wilder' at Goorin. It's a cloche with a slightly wider brim - very classy and fits perfectly with my face shape and hairstyle. For men, my favorite is Goorin's 'Grizum' in moss green."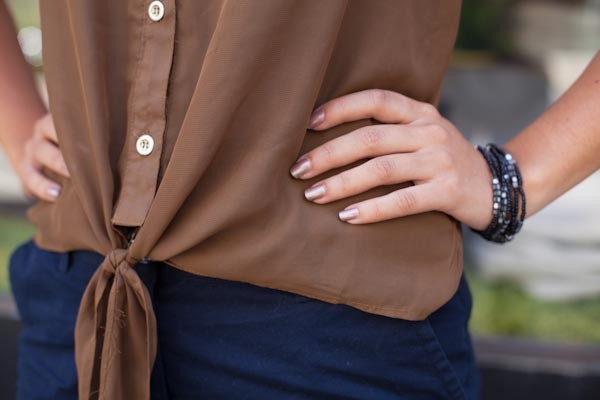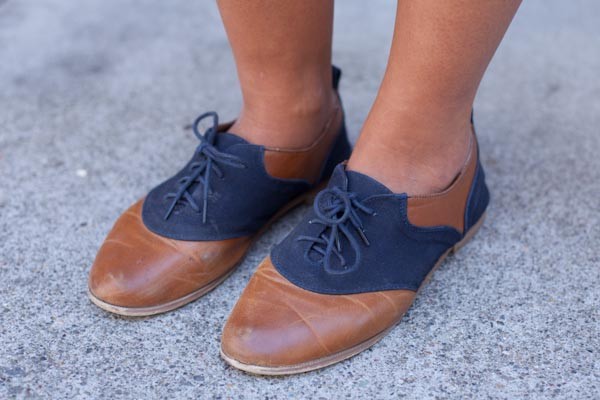 Seven Questions for Adriana:
1. What's sexy?
A man who can really dance. Legit grooves - that's where it's at. I love a good voice, too, and a sense of humor. 
2. What are your best tips for wearing hats?
Be bold! A lot of people come into the store and shy away from some really beautiful hats because they think they can't pull them off. Honestly, you only live once so you should wear what you love -- you just gotta own it! 
3. Exciting summer plans?
I'm actually going on a cruise in the Mediterranean in late July. Can't wait! I've never been to Europe before so it's about time! I'm also waiting for that perfect summer day when I'm not working and I can just go chill in Golden Gate park and have a picnic. 
4. What would be your last meal on Earth?
A ton of sushi. All kinds of rolls. I would just gorge myself on raw fish.
5. What's on your summer wish list?
A red vintage-inspired bikini with a push-up halter and high-waisted bottoms. I've been on the lookout, but haven't found the right one yet.
6. What are you drinking?
Pineapple habanero margaritas! Just tried one in the Mission a few weeks ago and can't stop thinking about it. Gotta teach myself how to mix it! 
7. What's your SF Top 5?
-Zeitgeist - best Bloody Marys I've ever had and there are lots of great people to talk to.
-The Make-Out Room - great music to get your dance on.
-Botanical Gardens in Golden Gate Park - it's a really beautiful place to get away from the city vibe and just take in all the nature.
-The Haight St. Buffalo Exchange - I love shopping there and I can always find something.
-Sodini's - an Italian restaurant in North Beach. I love the food there! Huge portions and super friendly service. 
Lily Ko (lily7x7 @gmail.com) studied fashion design and merchandising at Central Saint Martins and the Academy of Art University. In addition to writing for 7x7, Lily is on the creative team at Pottery Barn, and works as a freelance stylist, writer, and designer.