Last week, on a rainy Halloween, we spotted Kelvin Malone, staying dry in a pair of bright yellow galoshes. His style is perfect mix of dapper and dope.
Kelvin works at Gimme Shoes in Hayes Valley, and moonlights as an image consultant and personal shopper for those in need of some sartorial spice.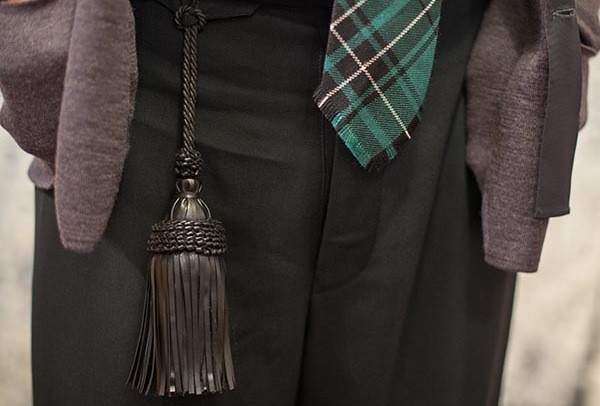 What he wore:  Vintage Madcaps hat, purchased from Marche aux puces de Saint-Ouen;  Lanvin button-down shirt and cardigan, purchased in Paris; John Bartlett plaid tie, purchased in NYC; Leather tassel belt, gift from a shop in Antwerp; Custom made pants from Al's Attire; Ring purchased from The Symphony Boutique; Dries Van Noten white patent leather oxfords, purchased at Gimme Shoes; Yellow John Lobb galoshes, purchased in Paris.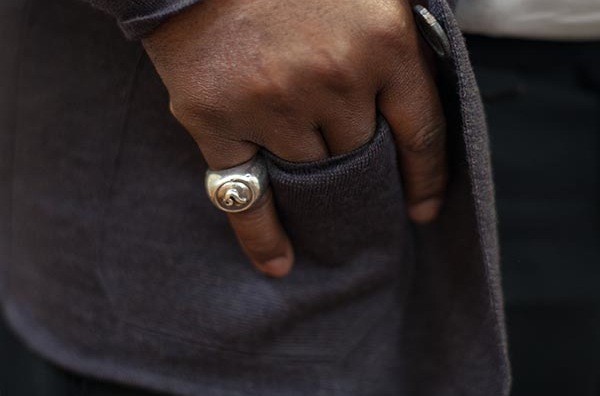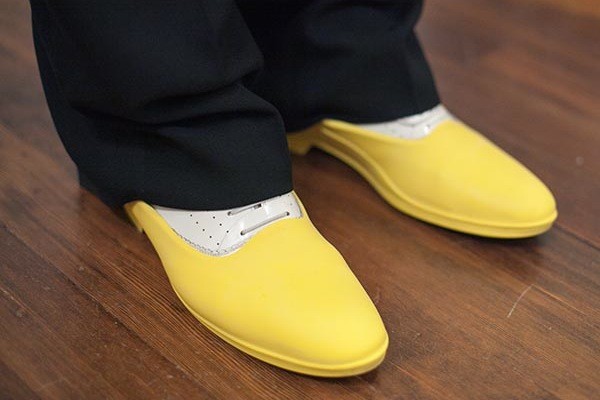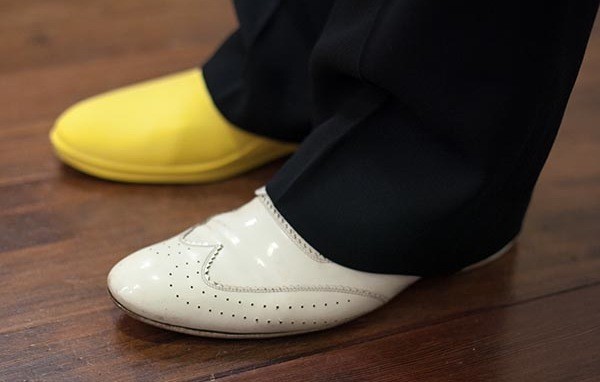 Seven Style Questions for Kelvin:
1.  What's your drink of choice?
Mojito. (But I have a 1 drink max!) 
2.  Where do you shop in SF?
Gimme Shoes, Ver Unica in Hayes Valley, Barneys NY (with my friend Billy Bragman -- a retail legend in this city!), Saks Fifth Avenue (with my other friend Scott Chaffin -- always dapper and has great knowledge of menswear). 
3.  What would you not be caught dead in?
Flip flops, UGGs, etc.
4.  How do you de-stress?
I put on "Kind of Blue" by Miles (Davis).
5.  What are you always packing?
I always wear my trademark chapeau (hat). As for what's in my bag? That's a personal secret...
6.  What are your top picks at Gimme Shoes this season?
I think the NDC made-by-hand Fiorentini and Baker collections are great this season. Also, the Martin Margiela line.
7.  What's your SF Top 5?
-Greens -- great vegetarian with a fab view.
-The vintage shopping experience -- lots of hidden, small boutiques off the beaten path.
-Golden Gate Park -- although my better half is the true nature boy!
-de Young & Legion of Honor
-Home (sweet home!)
Lily Ko (lily7x7 @gmail.com) studied fashion design and merchandising at Central Saint Martins and the Academy of Art University. In addition to writing for 7x7, Lily is on the creative team at Pottery Barn, and works as a freelance stylist, writer, and designer.