Whether it's a special order at Prada or limited edition Nike sneakers, registered nurse Edric Chew keeps his wardrobe tip-top and bursting with personality.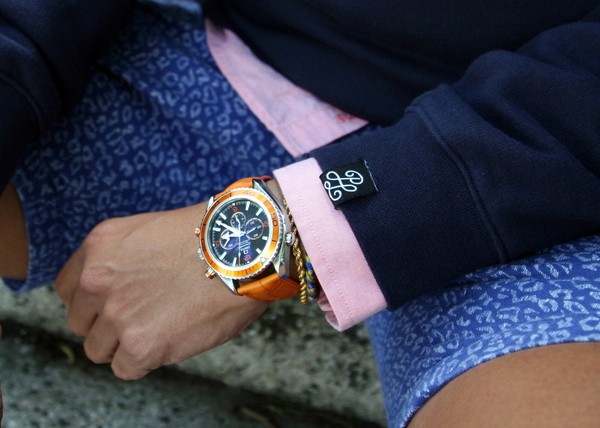 What he wore: Glasses, purchased in Kuala Lumpur; Ben Sherman pink button-down shirt; PL Clothing "Perfect" sweatshirt, purchased from Colette Paris; ASOS animal print shorts; Omega Seamaster Planet Ocean Chronograph watch, purchased from Bailey Banks & Biddle; Prada leather loafers, purchased from Jeremy's; Haircut from Nathan at Supercuts on Fremont St.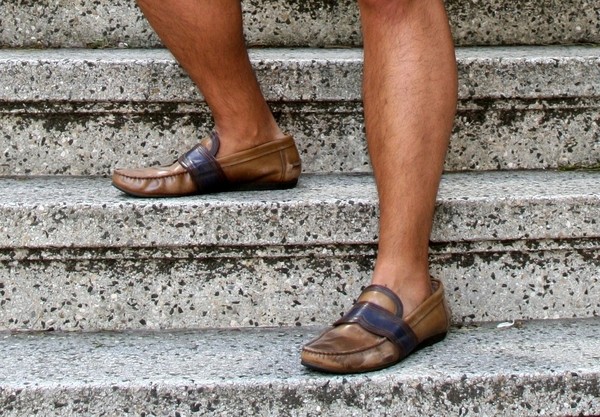 "I own over 300 pairs. I'm anti square-toed though," said Edric. "Being addicted to shoes, I'm dying to get ahold of the all-red pair of Nike Air Yeezy 2 sneakers when they're released–must have!"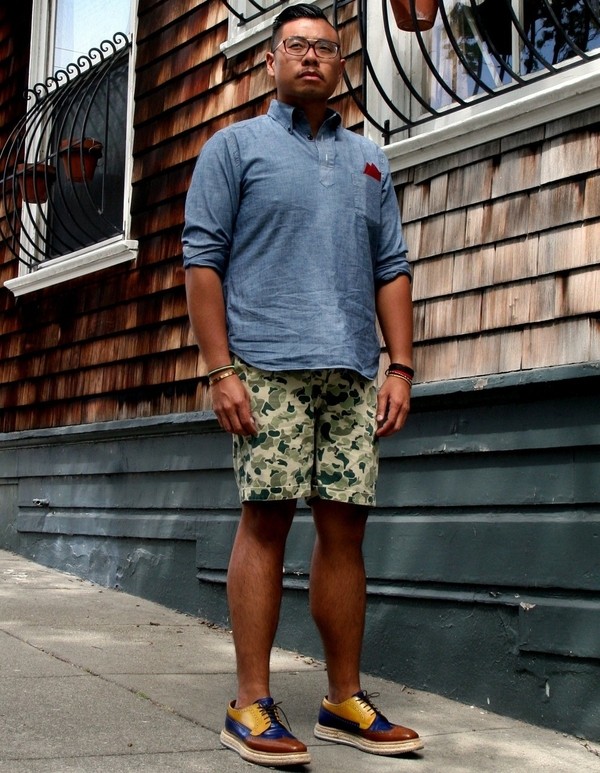 What he wore: Glasses, purchased in Kuala Lumpur; Gant by Michael Bastian chambray shirt, purchased from Barneys; Maison Martin Margiela leather card case pocket square, purchased from Oki-Ni; ASOS shorts; Prada wingtip espadrilles, special order from Prada San Francisco; Yellow gold Cartier "Love" bracelet; assorted bracelets purchased from street vendors in Puerto Rico and Cambodia.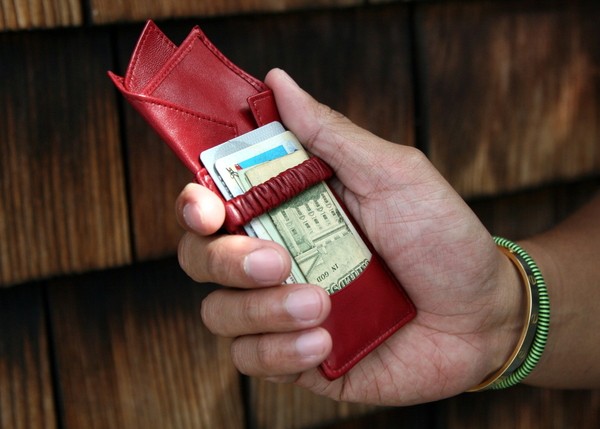 Edric's style philosophy: "Tacky, but classy. I don't care what other people think about me."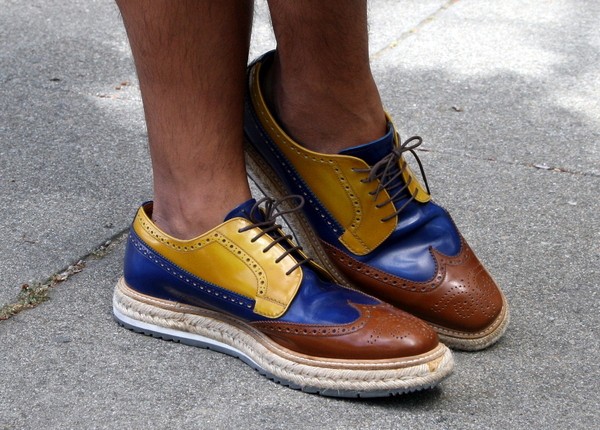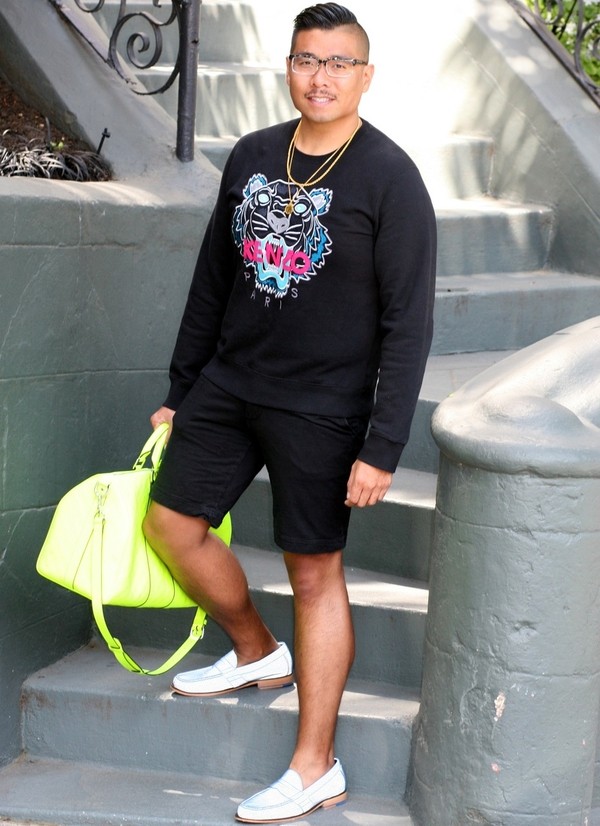 What he wore: Glasses, purchased in Cambodia; 22k gold necklaces, both purchased from family jewelry store in Myanmar; Kenzo Paris embroidered sweatshirt, purchased from Opening Ceremony; Red Clay shorts, purchased at the SF Design Center Sample Sale; Louis Vuitton neon yellow Damier Infini Keepall; Cole Haan 3M Reflective Loafer (see pics above and below!).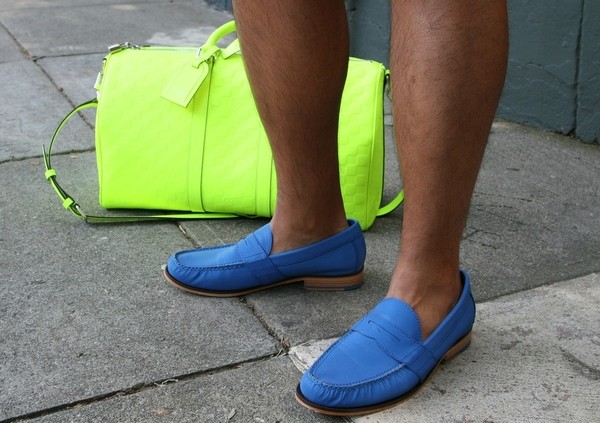 In Edric's bag: "I don't carry a bag everyday, but when I do, you'll find my Canon S110 camera, Moleskine daily planner/notebook and a pen, gum, sunglasses, a wallet, and my packable Monclear down jacket (on chillier days)."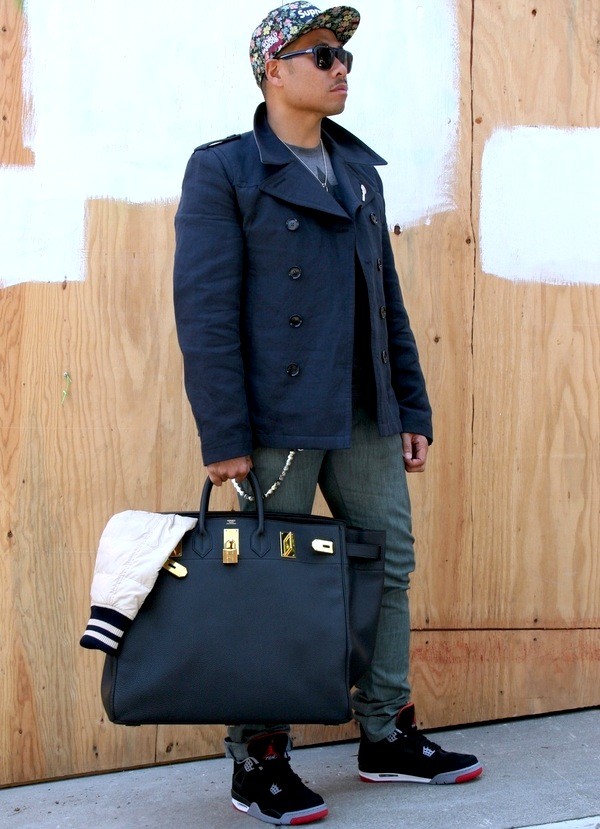 What he wore: Supreme printed baseball cap; Marc by Marc Jacobs lock and key necklace, gift from brother; Givenchy graphic tee-shirt; Maison Martin Margiela silver key pin, purchased from Oki-Ni; Balmain bike chain wallet, purchased from Mr. Porter; Burberry Brit peacoat, purchased from Bloomingdale's; Mosley Tribes sunglasses and Naked and Famous glow in the dark denim jeans, both purchased from Barneys; Nike Air Jordan Retro IV sneakers; Maison Martin Margiela x Casio G-Shock 30th Anniversary watch, purchased from Opening Ceremony; Hermes Haut-A-Courroies 50cm travel bag; Junya Watanabe MAN x Duvetica varsity jacket (inside bag), purchased from End Clothing.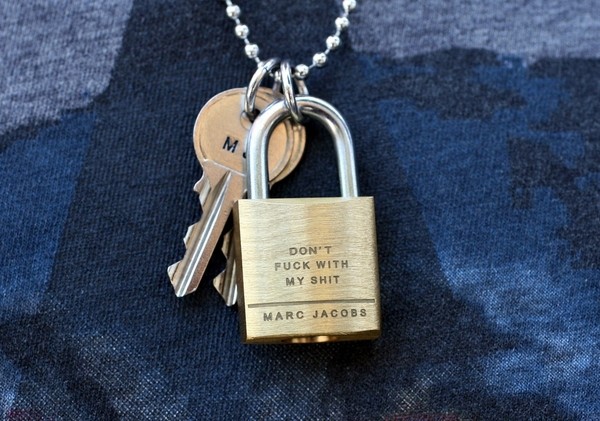 Edric's style tip: "All hail a proper fit!"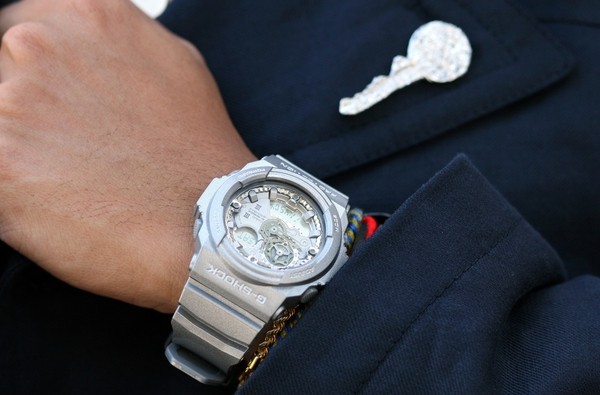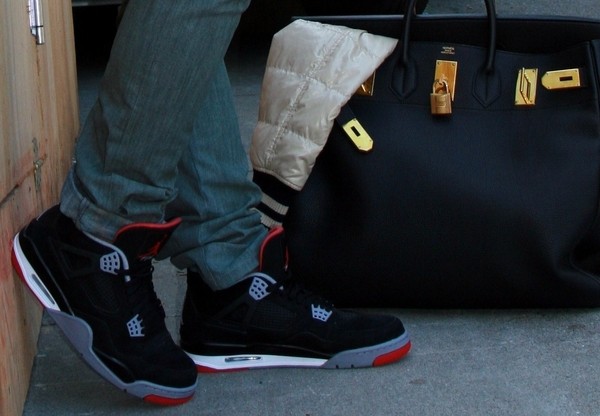 Seven Questions for Edric:
1. How do you style up your scrubs?
Since I'm required to wear navy blue scrubs at UCSF, I wear crazy patterned socks to liven things up. 
2. What's your summer anthem? 
Right now, I have "Safe and Sound" by Capital Cities on repeat.
3. What's your most prized possession? 
The gift of education my parents gave me, because I would not be where I am today without it. 
4. What would be your last meal on Earth?
The chef's tasting menu at Brooklyn Fare in New York. It's to die for!
5. What's on your bucket list?
Being one of the 20 lucky people chosen for the day to hike The Wave at Coyote Buttes North in Kanab, Utah. 
6. Any exciting summer travel plans? 
This summer for me is filled with music festivals. Over Labor Day weekend, my friends and I will visit Philly for the Made in America Music Festival, with a stop over in New York. At the end of September, my girlfriend and I are attending the TomorrowWorld Festival in Chattahoochee Hills, Georgia. I'm all about EDM at the moment!
7. What's your SF Top 5?
-The bread pudding with white chocolate and raspberry sauce at the Nordstrom Cafe downtown.
-The breakfast potatoes at Plow in Potrero Hill.
-The risotto with lobster, gulf shrimp, shimeji mushrooms and peas at Gary Danko.
-Picnicking on a sunny day at Dolores Park with a San Pellegrino Aranciata Rossa and a Korean steak sandwich from Rhea's Deli. 
-Enjoying a Kensington Zinger on the rooftop of 620 Jones. 
As you can tell, I love food!
Lily Ko (lily7x7 @gmail.com) studied fashion design and merchandising at Central Saint Martins and the Academy of Art University. In addition to writing for 7x7, Lily is on the creative team at Pottery Barn, and works as a freelance stylist, writer, and designer.