Vito Trevino shows us how he does vintage clothing -- with long, layered sleeves and just a peek of striped socks.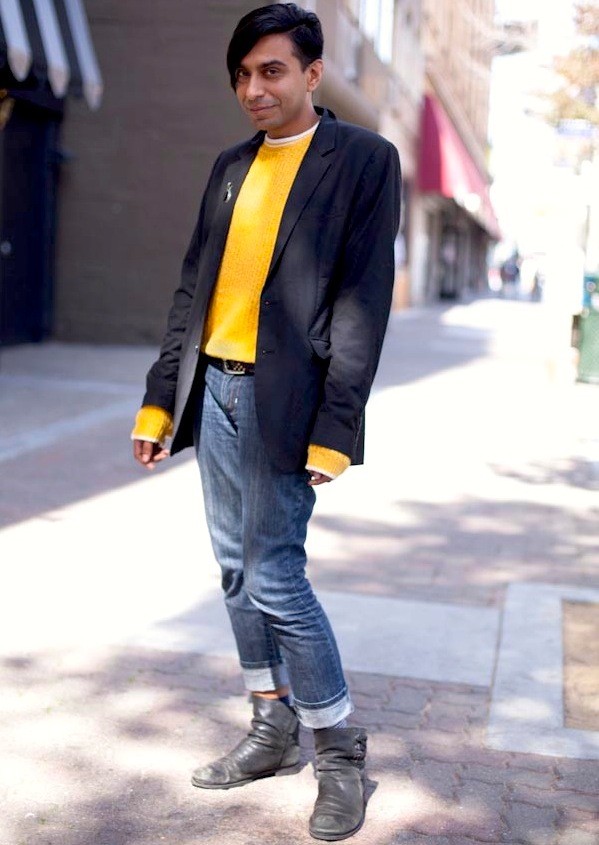 What he wore:  Vintage yellow sweater, purchased from Schauplatz; Vintage blazer and Levi's jeans; Vintage pin, gifted from friend; Tiger's Eye rings, purchased from The Get Up in Michigan; H&M striped socks; Leather boots, purchased from Wasteland; Haircut by Robert at The Viking.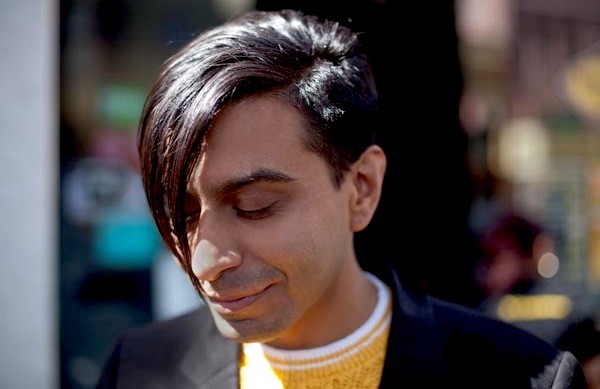 Vito works at SEE Eyewear, and at Schauplatz in the Mission. In his spare time, Vito volunteers for the Root Division, teaching ceramics to first graders.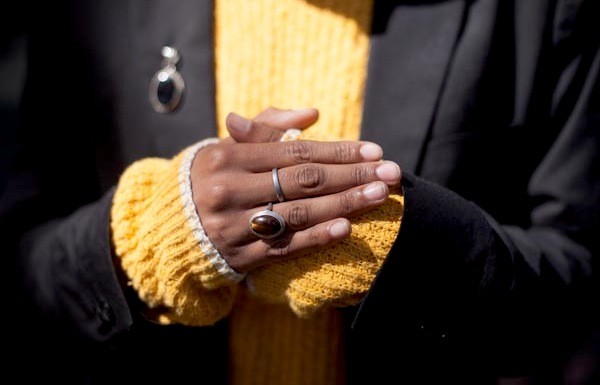 Vito's seven-word style philosophy: "Old is the new new and repeat."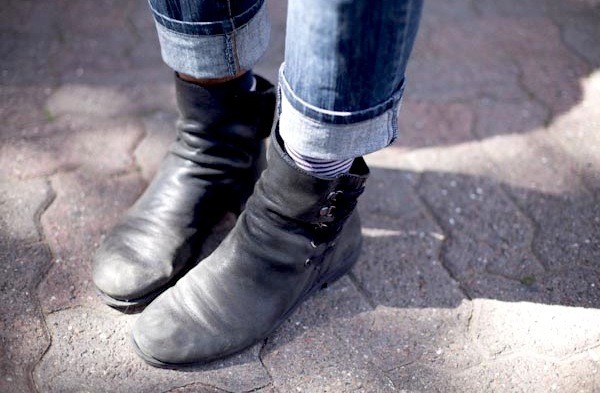 Seven Questions for Vito:
1. What's your obsession? 
I'm addicted to anything Stevie Nicks. Some would say borderline obsessive...
2. What's on your ultimate wish list?
A real life Gypsy trailer–to use as a closet. I'm also on the hunt for as much floral and sheer fabrics as possible. I want to be a gypsy Olsen twin (MK, of course). 
3. What's your drink of choice? 
I would say if it's free I'll drink it, but I float somewhere between tequila and Jameson on the rocks. 
4. I like a man in...
I like the Fleetwood Mac lyric, "You like a man with a future. You like a woman with a past." Give me someone with a sense of their own personal style and a little bit of rock 'n roll!
5. What are you always packing?
I never leave my house without my journal. It's the poet in my heart. 
6. What's your biggest style peeve?
This is going to surprise a lot of people, but I really hate it when people wear their "workout gear" as street clothes. I mean, c'mon, honey, you are not breaking a sweat in your LuLu Lemon pants while sippin' your mimosa! 
7. What's your SF Top 5? 
I thought this was about fashion! I don't go dancing enough. I love the outdoor parties at El Rio, Hard French, and Daytime Realness. I also love vintage/thrift shopping–Schauplatz, Painted Bird, Stone Pony, Held Over, and Wasteland are some of my favorites. 
Lily Ko (lily7x7 @gmail.com) studied fashion design and merchandising at Central Saint Martins and the Academy of Art University. In addition to writing for 7x7, Lily is on the creative team at Pottery Barn, and works as a freelance stylist, writer, and designer.