Last week, we caught Matthew Waldbillig, stepping in from the rain, at Freemans Sporting Goods in the Mission.
Matthew is a local artist, and he also holds down the fort at FSC Barber (see amazing grooming below). His sharp eye for design keeps his look always polished -- even in the rain. 
What he wore:  No label hat; RVCA button-down shirt and skinny pants; Levi's denim vest; Freemans Sporting Club raincoat; ML Brown leather belt, purchased from Taylor Stitch; Stacy Adams leather oxfords; Leighton umbrella, purchased from Amazon; Tattoos by Angelique Sanders at Flesh Company in Maryland; Hair by Audra Cutler at FSC Barber; Beard grooming by Dan Diemidio at FSC Barber.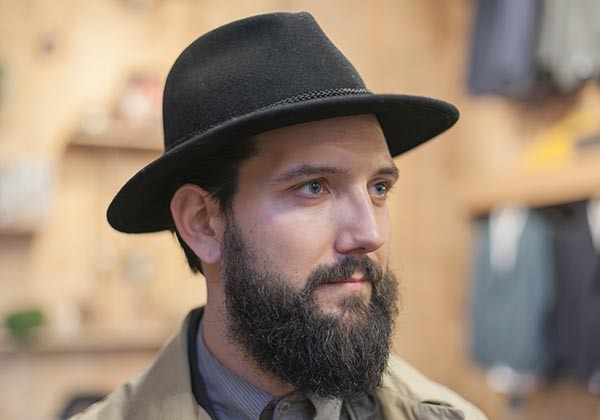 "I'm a very picky shopper," said Matthew.  "I like clothes that have a clean and simple style. RVCA on Haight St. has some classic styles mingled into their surf/skate lines that always fit me perfectly. Freemans Sporting Club is great for more tailored pieces that will last me for the rest of my life."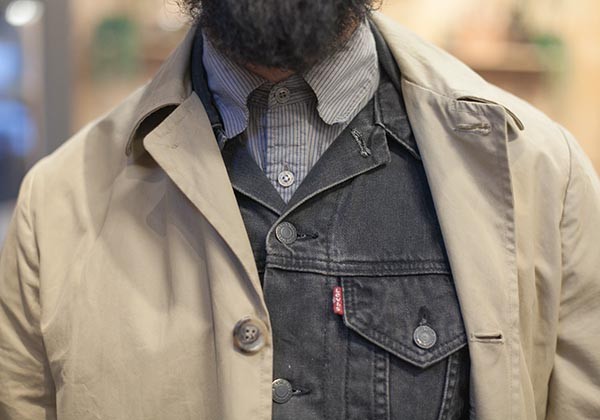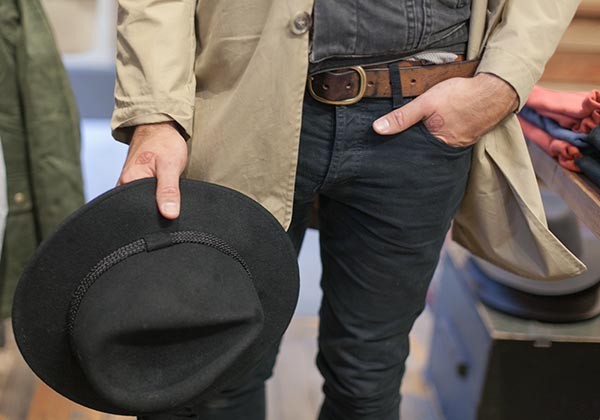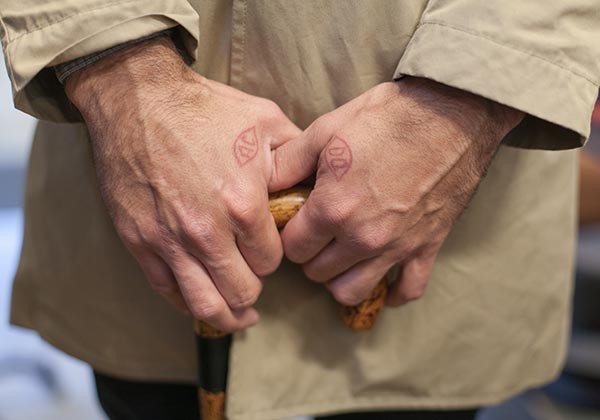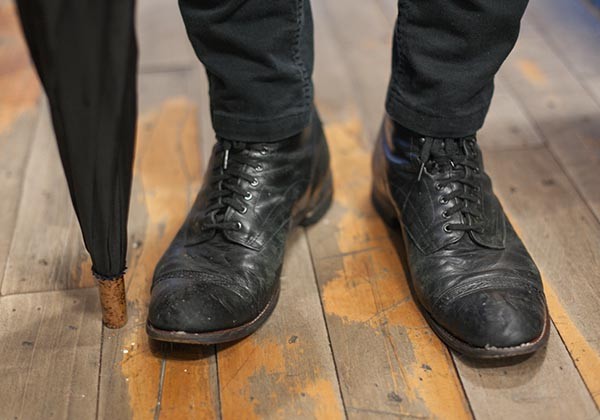 Seven Style Questios Things: 
1.  What do you never leave the house without? 
A hat. I really enjoy the look and functionality of a classic gentleman's hat. 
2.  I like a girl in...
tighter pants than me. 
3.  What are your style peeves?
Sweat pants and fringe. And guys, don't dress like a farmer. 
4.  What products do you swear by?
For my hair I use a few different pomades -- Layrite and Grants are my favorites. For my beard I just got a sample of beard oil from Juiper Ridge that smells like motor oil and desert clay that I've been using every day. My other favorite is Burning Barbershop cologne from D.S. and Durga -- the scene is smoky and sweet. 
5.  What's on your holiday wish list?
New shoes, power tools, and a trip to Palm Springs. 
6.  What's your drink of choice?
My go-to is Racer5, but on a cold rainy day I love a Black Russian. 
7.  What's your SF Top 5?
-Bike rides exploring the alleyways of San Francisco.
-Wednesday pizza night. (Most of the time it is at Serrano's, but I like Pizza Hut and Delfina, too.)
-Rosamunde's brunch -- no lines and the food comes out fast.
-Early morning bike rides for coffee at Sightglass.
-Digging around in the treasures at Building Resources. 
Lily Ko (lily7x7 @gmail.com) studied fashion design and merchandising at Central Saint Martins and the Academy of Art University. In addition to writing for 7x7, Lily is on the creative team at Pottery Barn, and works as a freelance stylist, writer, and designer.