We spotted island-hip shop girl, Kanoe Irvine, rocking lace shorts and western denim on a sunny day in the Marina. Kanoe, who's originally from Kailua, Hawaii, studies graphic design at the Academy of Art University, and works as a sales associate at LF Stores.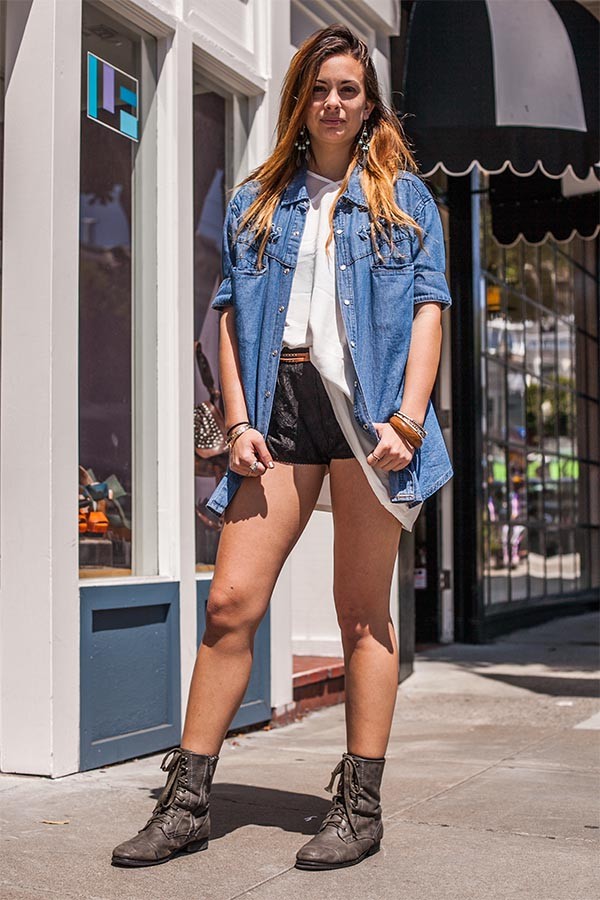 What she's wearing:  Earrings from a flea market in Hawaii; Milau white top, denim Western shirt, black lace shorts, and belt all from LF Stores; Wanted boots, purchased from Loehmann's; Mixed rings self designed and made, gifted, and from Brandy Melville; Gold bracelet engraved with Kanoe's Hawaiian name, given to her by her grandparents.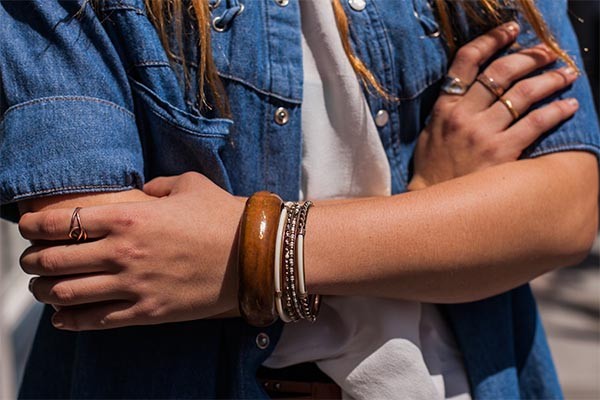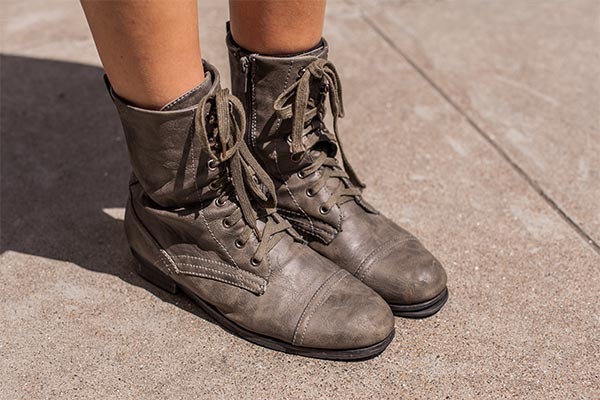 Seven Style Questions for Kanoe:
1. Who's the best dress band? 
The Weeknd! I love their music, love their album art, and love their style. 
2. Jewelry or shoes?
Hard one. I'm obsessed with both, but probably jewelry. 
3. What's your most prized possession?
The Hawaiian bracelet I'm wearing in the photos. My grandmother and grandfather had it made when I was born and my grandmother wore it until I graduated from high school, then gave it to me. My grandfather was like my second father, so when he passed it held a lot of meaning for me. 
4. What's on your wish list?
This to-die-for purse at LF -- it's all black with fringe and gold beads. It's on my want list!
5. What products do you swear by?
Kiehl's Youth Regenerating Cream -- so good! It makes my face feel amazingly smooth, especially in San Francisco's dry air! Also, Moroccan oil. I use Moroccan oil shampoo and conditioner, and the oil treatment after I straighten my hair. It's amazing for anti-frizz, especially on my thick Portuguese hair!
6. What's in your bag?
I always have my Burt's Bees! It's a life saver! I also have my daily planner, Marc Jacobs wallet, and my favorite, Hubba Bubba bubble gum. 
7. What's your SF Top 5?
-Running down the Golden Gate Bridge. I do a 5 mile run down there on this beach along the shoreline and it's so breath taking!
-Twin Peaks! The view is amazing and you can see the whole city!
-The Exploratorium -- it's so much fun, too. Plus, I'm a sucker for architecture so I love the outside view of the lake and the Palace of Fine Arts.
-Tacolicious! It's such good Americanized Mexican food. It's my number one place to eat for sure!
-Bay To Breakers (it's this Sunday!)! If I were to only to go one event this whole year in SF, it would be B2B! Definitely a must go! 
Lily Ko (lily.7x7 @ gmail.com) studied fashion design and merchandising at Central Saint Martins and the Academy of Art University. In addition to writing for 7x7, Lily is an editor at SF Station, and works as a freelance stylist and apparel designer.