Fashion's elite from around the world gathered last week at the Academy of Art Univeristy spring 2013 graduate fashion show. From a BCBG Max Azria designer to a local Project Runway finalist, we found seven off-runway looks you have to see.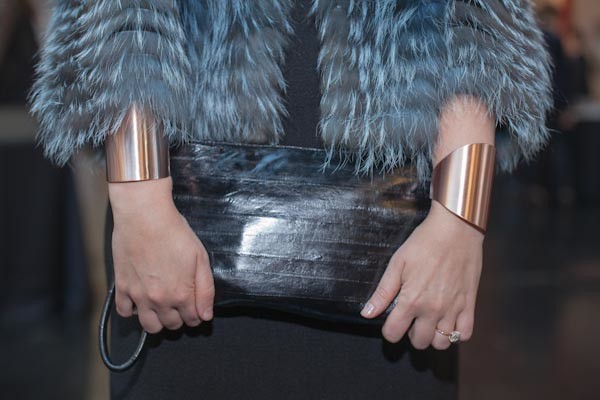 Monica M. Miller, the director of design development for BCBG Max Azria Group, and a 2002 graduate of Academy of Art University BFA fashion program. 
What she wore: BCBGMAXAZRIA bra and dress (sold together), and fur jacket; Cuffs purchased from a boutique in Hong Kong; Custom made pink gold with antique rose cut diamond ring, gift from husband; Herve Leger by Max Azria clutch; Burberry Prorsum chambray wedges, purchased from Saks Fifth Avenue.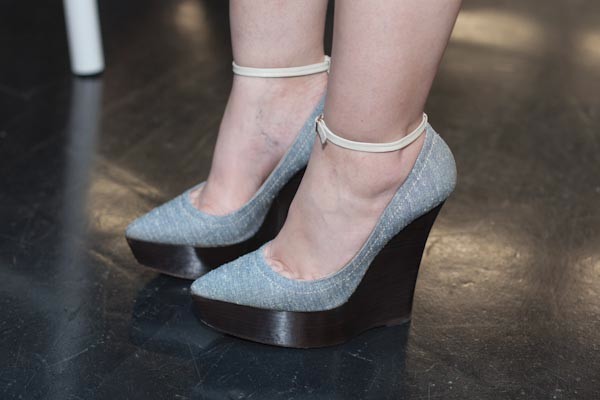 What are you most proud of? 
MM: I've never thought of this, to be honest. Last Thursday was quite amazing. I am an alumni of Academy of Art University, so to go back after a decade and see how amazing the school has evolved, to reconnect with my professors and to see my current mentor, Lubov Azria, honored -- it was a very unique moment. I was really proud of my school and of my current company which is like a family to me. 
What's one thing you can't live without?
MM: I love dark chocolate! It's my biggest sin. I keep a stash in my desk and at home. I don't drink coffee and I don't smoke so chocolate is my reward throughout the day.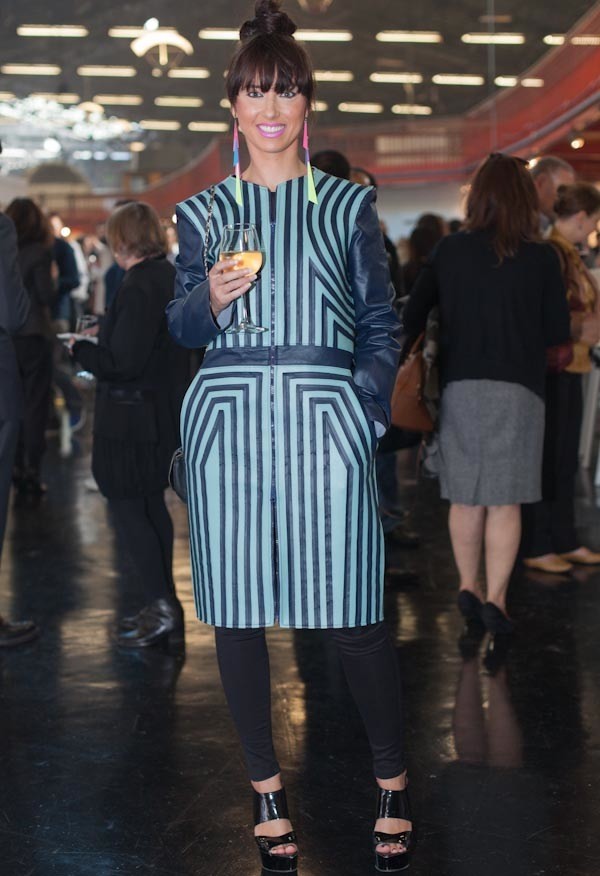 Elena Slivnyak, Project Runway Season 10 star, and SF-based designer/owner of iimuahii. 
What she wore: Custom made iimuahii leather jacket; Bourjois #11 lipstick, purchased in Paris; Lucky Brand jeans; Marni wedges.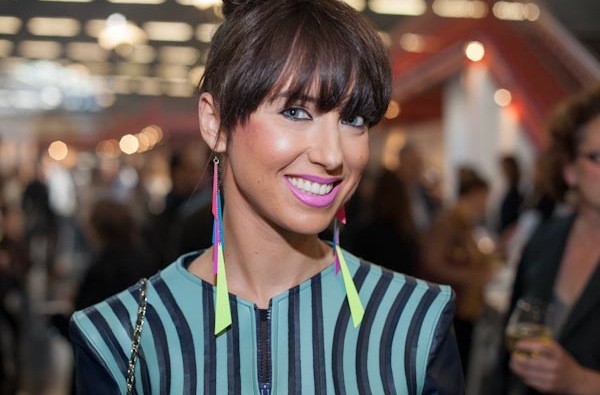 What's one thing most people don't know about you? 
ES: I'm a huge animal rights activist. I have an animal-friendly brand and try to support as many animal rights causes as I can. 
What's your SF Top 5?
ES: Sip Bar and Lounge for drinks and their crazy colonial interior design; second hand shopping on Valencia, Haight and Fillmore; The Ferry Building Farmers Markets and walking on the Embarcadero; theater shows all around the city; visiting art galleries and exhibitions.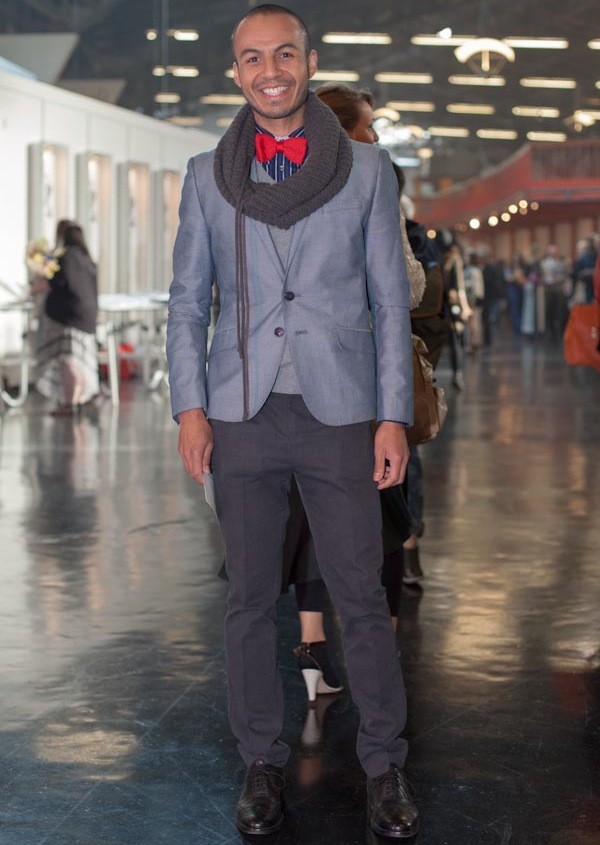 Angel Reynaga, of The Mytsic Hotel by Charlie Palmer, attended the show in support of his roommate and featured designer, Esther Kim. 
What he wore: Banana Republic shirt and pants; H&M bow-tie and sweater; Forever 21 Man scarf; Zara jacket; Cole Haan shoes.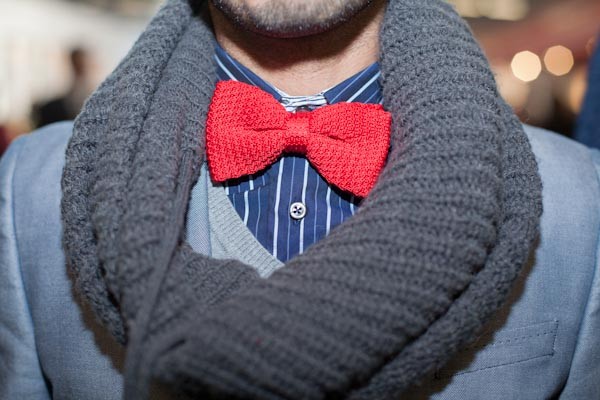 What influences your style? 
AR: I'm always aware of what I'm wearing, planning ahead and thinking of what colors to combine and which accessories will go with my outfit. Sometimes when I feel that I need some inspiration I go to Pinterest and look for new fun ideas to play around with. 
What's your drink of choice?
AR: I don't drink much, but during special occasions I certainly enjoy a glass of red wine.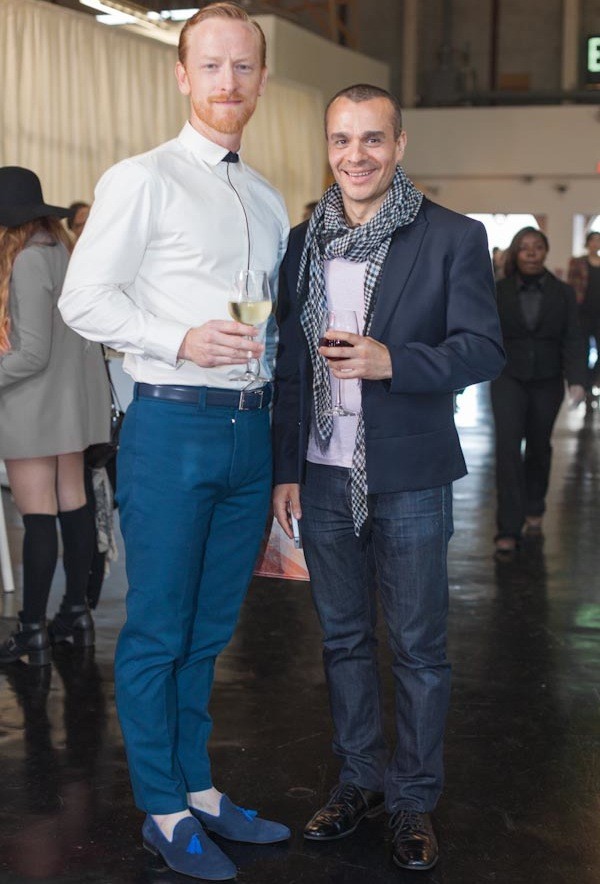 Partners, Christopher Waldapfel (left) and Antonio Luna (right). Waldapfel works as a pharmaceutical scientist and vintage luxury furniture dealer for Clair Obscur Atelier. Luna is a menswear designer and 2012 graduate of Academy of Art University.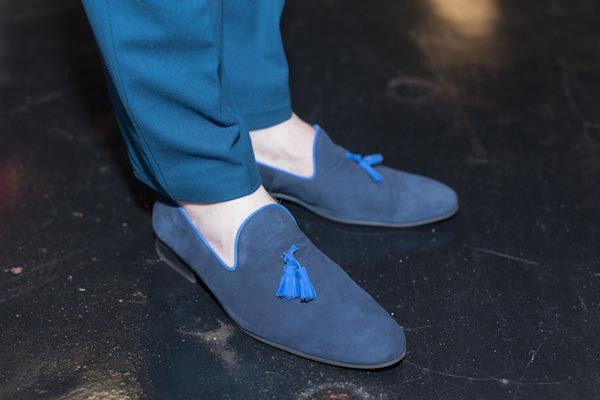 What Christopher wore: Shirt and pants by Antonio Luna; Calvin Klein leather belt, purchased from Macy's; Zara shoes. 
What are your style tips for Bay Area men?
CW: Going sockless only works if you rotate your loafers. North Face is not opera attire. Also, your pants can be crazy colors and still be masculine if paired with a tailored navy blazer -- buy a tailored navy blazer...now!
What do you never leave the house without?
CW: My vintage Hartmann briefcase (old stock from eBay), 7x7's home decor issue with that fantastic chandelier on the front cover, Bose headphones (BART splurge), the New England Journal of Medicine; Burt's Bees chapstick, and a black G2-07 roller ball pen.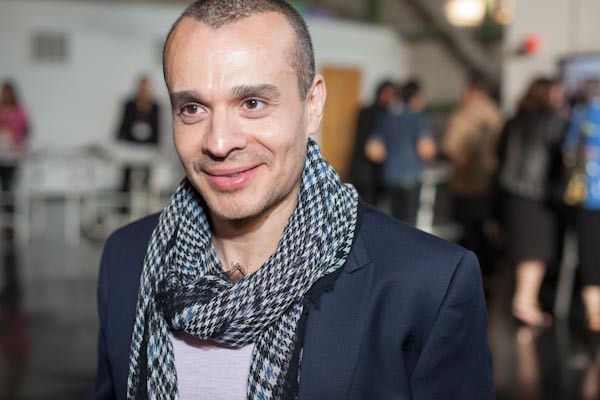 What Antonio wore: Custom tailored Banana Republic shirt, Gap jeans and blazer from Out of the Closet; Gucci scarf.
What are your style tips for Bay Area men?
AL: Fit is everything. Look for quality and craftsmanship in new or vintage pieces. 
What do you never leave the house without?
AL: My vintage Pan Am bag with my laptop, iPhone, headphones, stinky gym clothes and the latest copy of 7x7.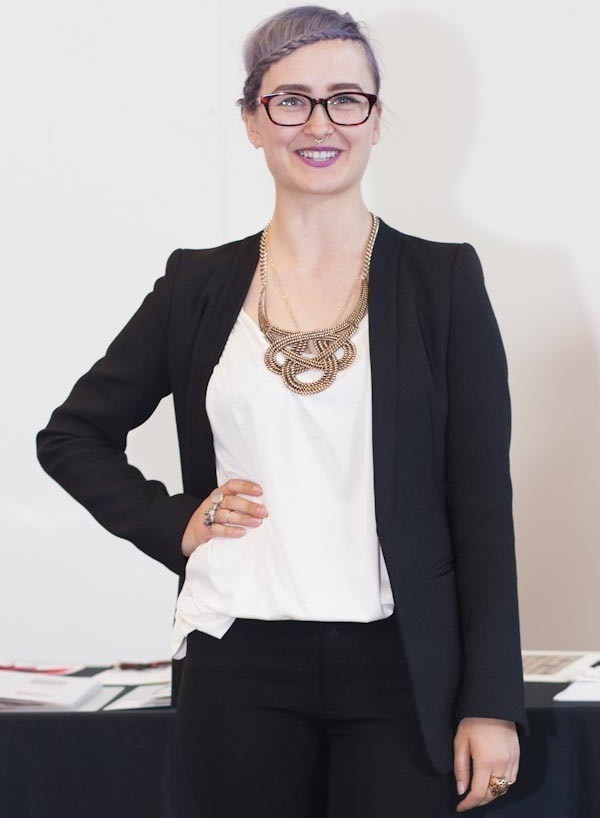 Arijana Kajdic, a current Academy of Art University graduate student, showed her illustrations during the pre-fashion show event. 
What she wore: Uniqlo t-shirt; Necklaces from Aldo and from her grandmother; Kala glasses, Zara jacket; Gap pants; Assorted rings from Claire's, Urban Outfitters and gifts; Hair color by Deniz at Bryan Roberts Salon & Color Bar.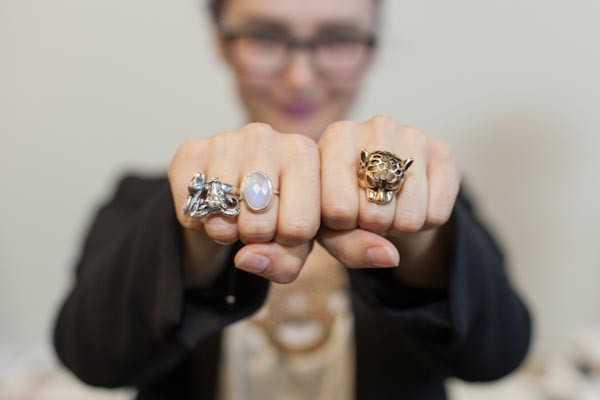 What's the biggest inspiration for your designs? 
AK: The older I get the more I see my grandma in my work (and personal wardrobe). What compels me to do creative work is my heritage and a strange desire for expressive storytelling. If I had to narrow down a muse of some sort, it would be the love child of Marchesa Casati and Grimes. Dramatic women who believe in performance and intellect are magnetic and in my methaphorical gang. 
What's your SF Top 5?
AK: There are definite personal sacrifices that come along with a graduate program, but here are my go-to's...
-I really love the Asian Art Museum. The ambiance is almost spiritual and my favorite is when the puppets and swords are displayed.
-I've never had an unpleasant visit to Martuni's -- $6 dirty martinis and a whole lot of karaoke jazz, accompanied with a very enthusiastic pianist! 
-The view of the city at Samovar in the Yerba Buena Gardens is kind of phenomenal and I love their iced matcha tea.
-When I need a quiet friend, I go to Books Inc. in Opera Plaza and search for short quotes of advice.
-Always a hungry appetite for pho at Mangosteen in the TL, and the vegan thrice cooked bacon at Mission Chinese.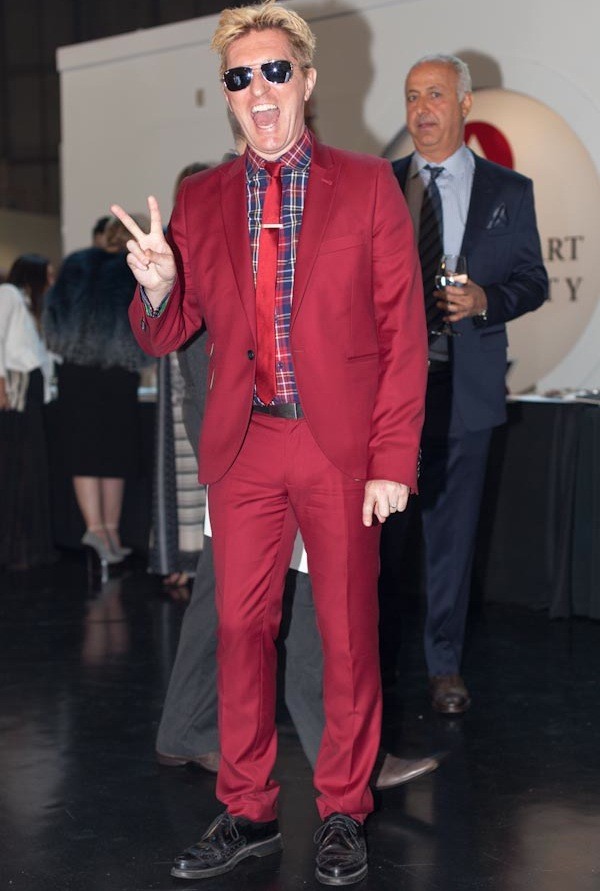 British Fashion Designer Keanan Duffty, in his own design. 
Lily Ko (lily7x7 @gmail.com) studied fashion design and merchandising at Central Saint Martins and the Academy of Art University. In addition to writing for 7x7, Lily is on the creative team at Pottery Barn, and works as a freelance stylist, writer, and designer.