We spotted friends, Afton Love (left) and Anna Lee Kerlin (right), with adorable smiles, lovely layers and eye-catching prints.  Afton (wicked cool name!), lives in the hip Temescal district of Oakland, and works in SF, as the manager of the luxe Fillmore Street boutique, Erica Tanov. Anna Lee lives in Daly City and uses fashion as a means of self expression. "I change my clothes sometimes 20 times a day," said Anna Lee. "I don't even explain it to people anymore."  
What Afton Wore:  Sunglasses purchased at a gas station; Mizuiro-ind sweater, swiped from sister; Min Young Lee scarf and Doretea boots, both purchased at Erica Tanov; J Brand jeans, purchased from favorite consignment store in Oakland, Maribelle; Hand-made leather bag, purchased from an artisan in Guatemala.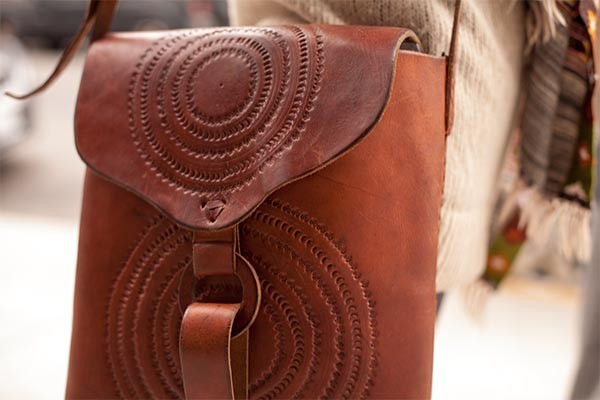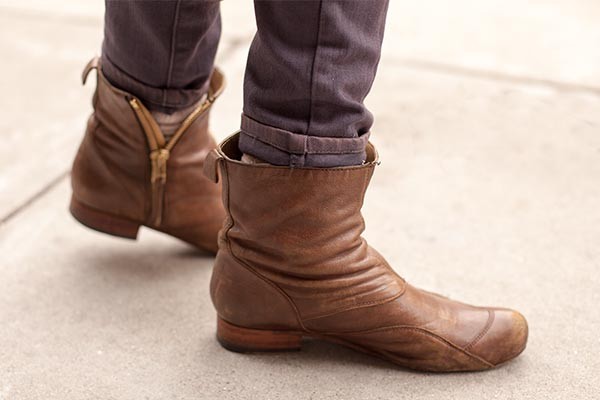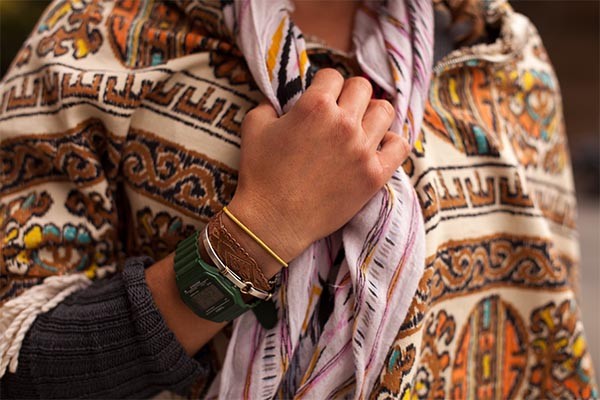 What Anna Lee's Wearing:  Vintage printed poncho, gift from mom; Vintage scarf, purchased at Buffalo Exchange; Cardigan from Erica Tanov; Dress purchased at Gravel & Gold; Soludos espadrilles, purchased from Nest; Canvas bag, heirloom from grand dad; TImex 80 watch; Colombian friendship bracelet, purchased from Erica Tanov; Tiffany & Co. bracelet, from boyfriend; Copper bracelet, gift from Mother, purchased at the Grand Canyon.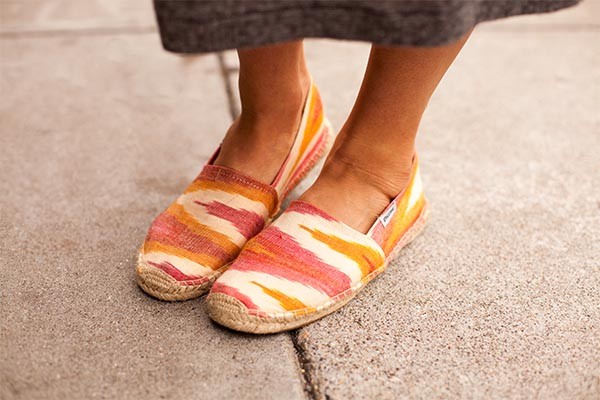 Seven Style Questions for Afton and Anna Lee: 
1. Clothing or accessories?
AL:  In the Bay Area, all a girl needs is a huge collection of scarves! 
ALK:  Attitude and spirit. 
2. I like a man in...?
AL:  I like it when a person exudes comfort and style simultaneously. 
ALK:  I like a man wearing nothing.
3. What's your most prized possession? 
AL:  The tiny locket that I wear everyday. My grandmother teethed on it and every little mark and dent is perfect.
ALK:  My wonder woman jeans -- one of two custom-made pairs for my mom and her best friends when they were 16. 
4. What's on your wishlist?
AL:  Not sure...but I'll know it when I see it!
ALK:  A Porsche or a horse. 
5. What's your greatest style tip?
AL:  Wear what you love. 
ALK:  Wear what makes you feel the most fun. 
6. What products do you swear by?
AL:  Smith's Rosebud Salve is all I need for lips, face and finger tips. I'm never without it.
ALK:  Pellegrino, coconut oil, prenatal vitamins. 
7. What's your Bay Area Top 5?
AL:  Tilden Park, Tu Lan Vietnamese Restaurant, Reliquary, Temescal Alley, Four Barrel Coffee. 
ALK:  Running up Bernal Hill, my secret beach, Surprise Party Beads, Club Deluxe, Trouble Coffee. 
Lily Ko (lily7x7 @gmail.com) studied fashion design and merchandising at Central Saint Martins and the Academy of Art University. In addition to writing fro 7x7, Lily is on the creative team at Pottery Barn, and works as a freelance stylist, writer,  and designer.