Some would say the epitome of SF street style would be great bike fashion, found at a hip, local company in the Mission. Timbuk2's Jared Fickel (left) and Lizzy Fallows (right) certainly fit the SF style profile. We caught up with the savvy city cyclists at Timbuk2's swanky Mission HQ, for a little tour and to talk bikes and fashion.
Jared holds the reigns at the Hayes Valley store, while Lizzy runs online marketing and brand experience. Both are strong advocates of biking in style -- which includes wearing helmets, and always being really, really, ridiculously good looking.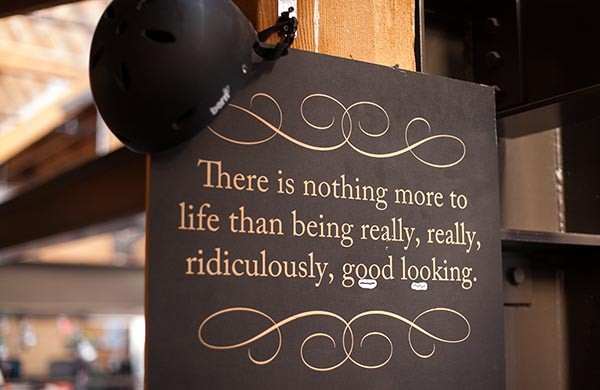 Spotted at Lizzy's desk, this is the kind of inspiration that stirs things up at Timbuk2. We dig.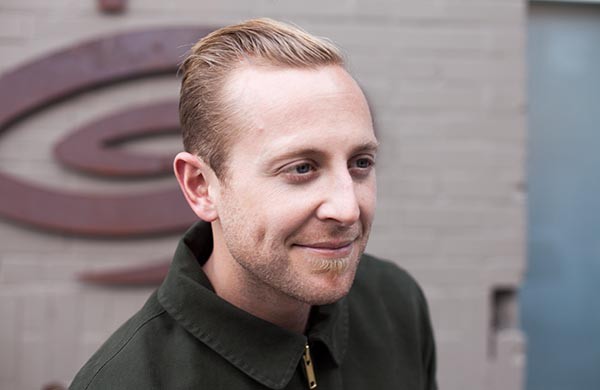 What Jared's Wearing:  Adam Kimmel for Carhart army green jacket, from Welcome Stranger; Nudie jeans, from Azalea; Wolverine leather boots, purchased from Villians; Level bike, purchased online; Toshi's pedal straps, from Pedal Revolution; Haircut by Rebecca at Revamp.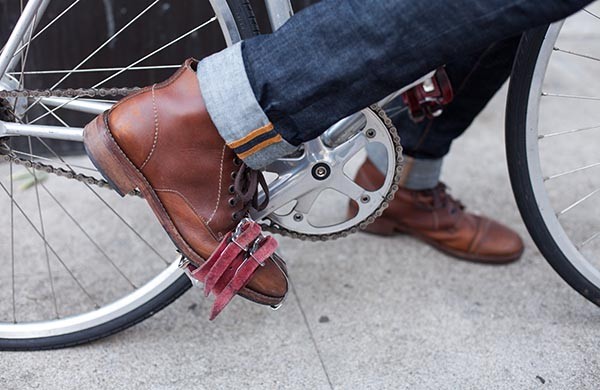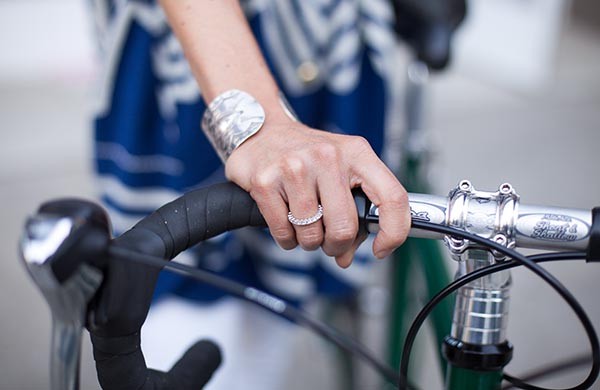 What Lizzy Wearing:  White Levi's skinny jeans; Ivana Helsinki blue and white knit sweater poncho, purchased from The Moon & Mars, UK;  Custom diamond infinity band by Bella Fine Jewelry, purchased from the SF Jewelry Mart; Native American sterling silver cuff, family heirloom from grandma; Minnetoka moccasins, from Zappos; 2011 Surly Pacer bicycle with Honjo aluminum fenders, purchased from Box Dog Bikes.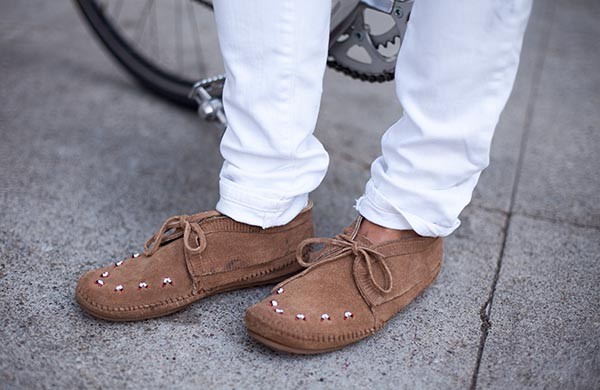 A few scenes from Timbuk2 HQ.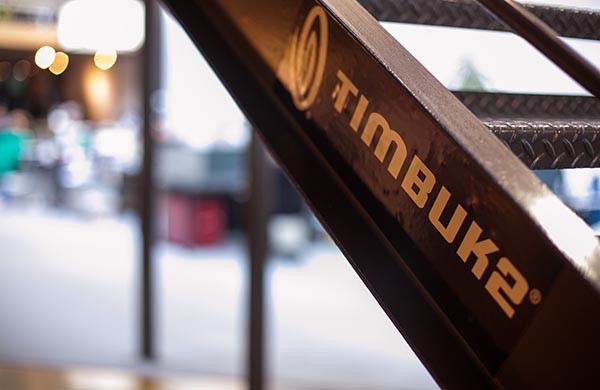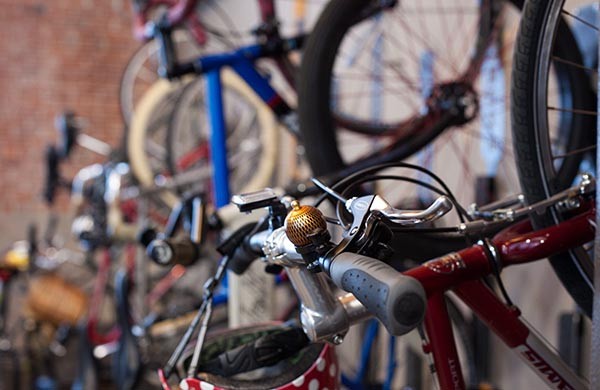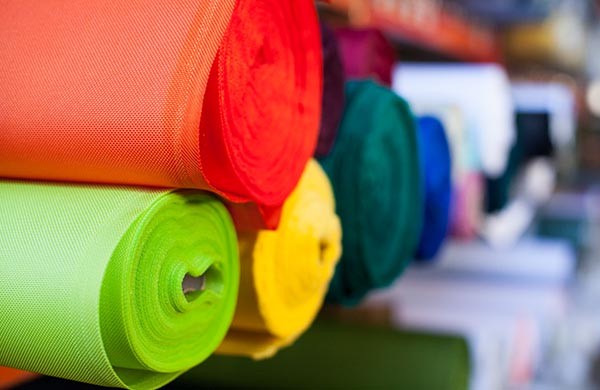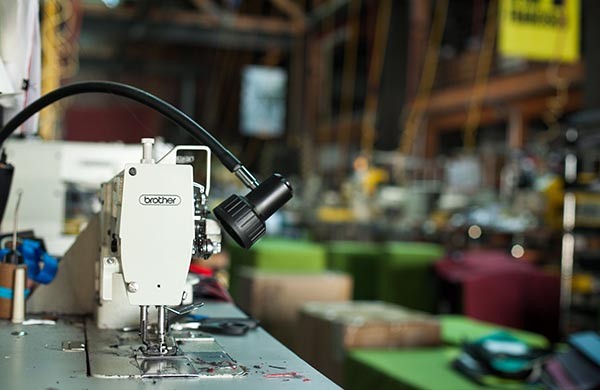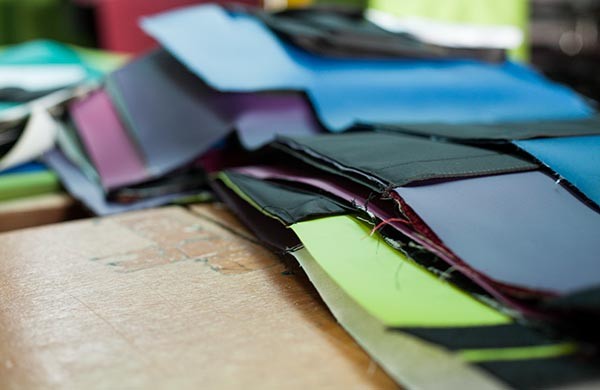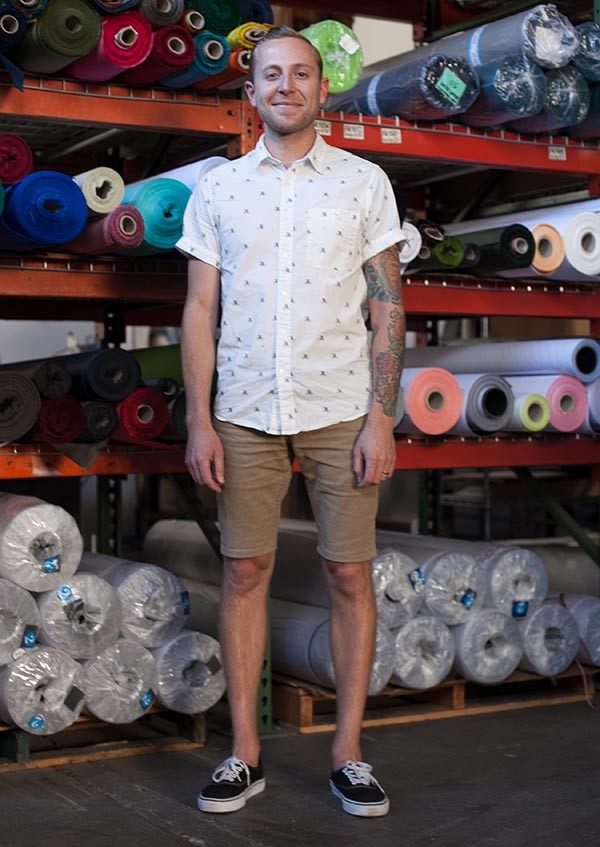 What Jared's Wearing:  Bicycle print button-down short-sleeve shirt by Topman, purchased from Azalea; Levi's shorts; Black classic Van's sneakers, from Azalea; Tattoos by Guf at Ace Tattoo in San Diego.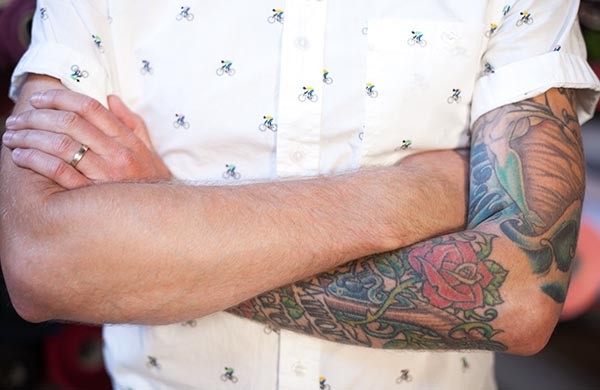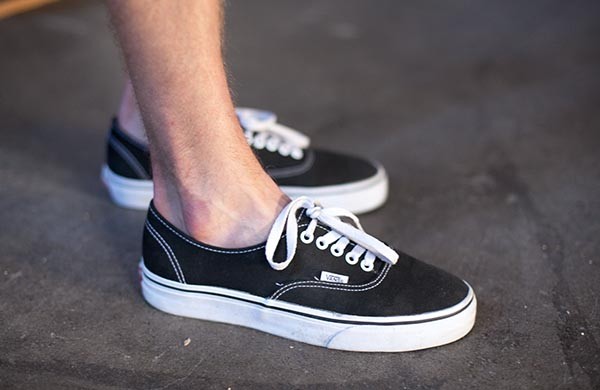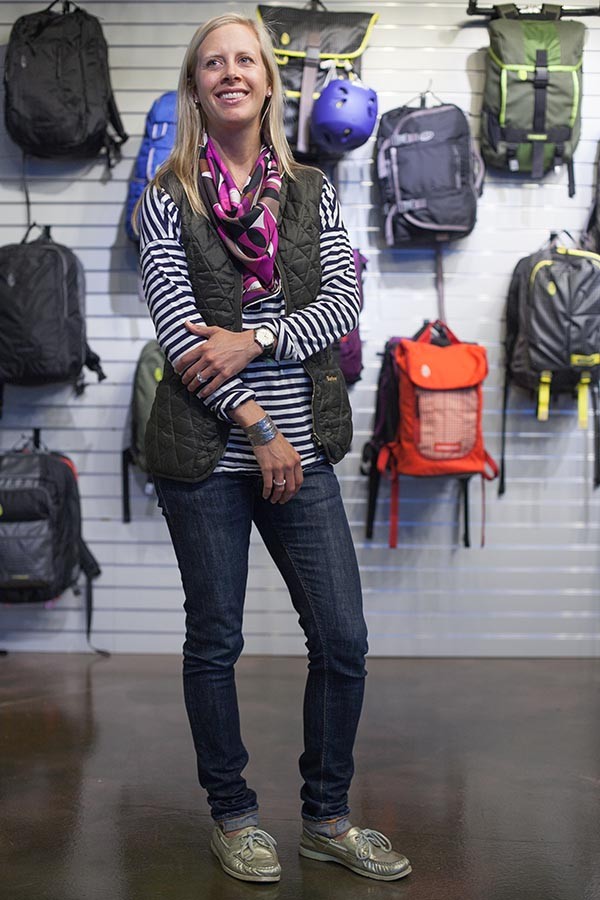 What Lizzy's Wearing:  EVER striped top, purchased from EVER in Santa Barbara; Barbour quilted vest, purchased from Orvis; Nudie jeans, purchased from the Barneys NY Sample Sale; Pucci silk scarf, from her mom; Custom designed platinum and diamond engagement ring by Bella Fine Jewelry, purchased from the SF Jewelry Mart; Tissot Seastar vintage WWII watch, family heirloom from her grandpa; Native American sterling silver cuff from Arizona, family heirloom from her grandma; Sperry Topsider metallic leather boat shoes; Earrings, purchased from Blue Nile, birthday gift from her Husband; Haircut by Paul Laxton at Bijoux.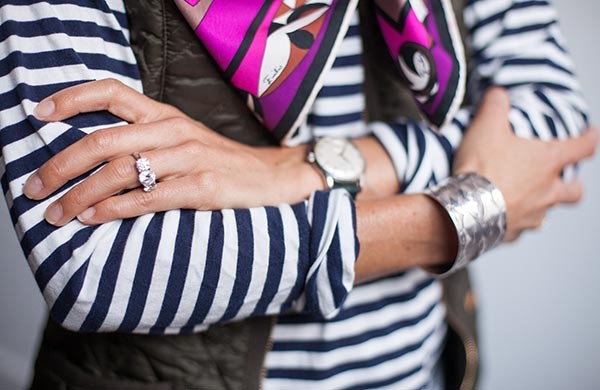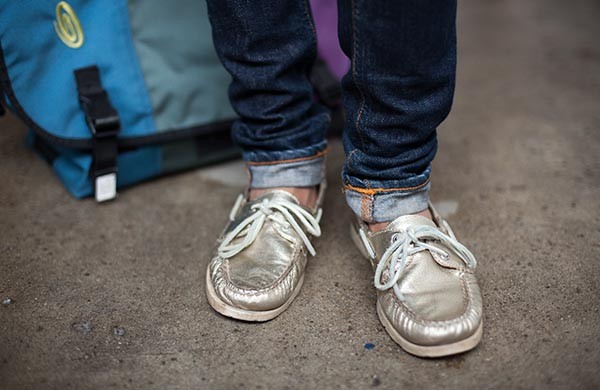 Seven Style Questions for Jared and Lizzy:
1.  What's in your Timbuk2?
J:  Right now I'm carrying a custom medium messenger bag made at our SF factory. Generally, I carry your standard bike commute gear: Gore tex jacket, bike tools, extra tube, lights, etc.
L:  I carry an all denim custom Swig backpack. I never leave home without my phone, fruit, Aquaphor, a scarf, cycling gloves, and a Patagonia down layer. 
2.  I like a girl/guy in...
J:  I like a girl in a good pair of jeans and a white t-shirt. 
L:  I like a guy in dark denim, a short sleeve Henley, and boots.
3.  What's your favorite piece of merch currently available at Timbuk2?
J:  I REALLY like the Mission Cycling wallet. It keeps my phone dry on long rides and holds my credit card for emergency espresso stops. 
L:  Copilot rolling suitcase. It's super light, incredibly durable, and holds an insane amount of stuff. I never carried a roller until the Copilot, but now I'll never go back.
4.  What products do you swear by?
J:  I use Bumble & Bumble Sumo wax in my hair and face stuff with SFP in it.
L:  Aquaphor, Benetint, Rose Hip Oil, Kai perfume roller.
5.  What's your favorite bike ride in the Bay?
J:  Muir Woods loop is probably my favorite if I have time, but riding to the top of Twin Peaks gives you an awesome view of our beautiful city. 
L:  I love riding up Fillmore. It's an unexpectedly easy climb and rewards you with stunning views of the Bay and a giant zoom down to the water.
6.  What are your best bike style secrets and tips?
J:  Cycling caps keep your hair from getting messed up, and smartwool socks are pretty much the best thing ever.
L:  I'm passionate about this subject because I think more women would ride if they knew they can ride in exactly what they want to wear. I guest blogged from Lizzie on Tomboystyle this year about cycling in style, and my top tips are these:
-Dry your hair before putting on a helmet! Then wear a loose elastic while you ride and carry a great brush for grooming on arrival.
-Wear bike shorts under dresses -- they're easy to slip off, and no one has to know but you.
-Ride in the shoes you want to wear. Don't lug an extra pair of heels or sandals, just wear 'em while you ride!
-Rock arm warmers -- they keep you warm, but not hot, and they take up zero space in your bag.
-Always bring a scarf -- it will keep you warm on your bike and add a fun flourish at your destination.
7.  What's your SF Top 5?
J: -I love waking up on Sunday mornings and riding out to Trouble Coffee for their coconuts and toast.
-The Hemlock was pretty much the first bar I went to when I moved here and I keep going back. I love the bartenders and the bag of warm peanuts.
-We have so many world class bike rides in our back yard! The Golden Gate Bridge can be frustrating to get over sometimes, but I encourage everyone to ride a bicycle across her at least once. Ride to the top of the Marin Headlands to get a beautiful view of the city, then get buff and pedal to the top of Mt. Tam.
-Giants Games! Pro tip: the SF Bike Coalition has a free bike valet at all of the games.
-Eating at Bar Jules with my wife is always a treat. It's easily my favorite restaurant in the city. 
L:  -Sunrise yoga and outdoor sleeping on my roof deck.
-Friday night movies upstairs at the Kabuki and dinner in Japantown.
-Montanara and moscato at the bar at Farina Pizza.
-An afternoon picnic and beers at the German Tourist Club.
-People watching on my rides through the city. 
Lily Ko (lily7x7 @gmail.com) studied fashion design and merchandising at Central Saint Martins and the Academy of Art University. In addition to writing for 7x7, Lily is on the creative team at Pottery Barn, and works as a freelance stylist, writer,  and designer.