We appreciate a good light, summery drink that can be enjoyed at all hours of the day. Mimosas, margaritas, and mint juleps are just a few quintessential daytime beverages. But sangria–fruity, light, yet deceptively strong–is the perfect drink to sip all summer long. And because there's so much room for variation, you'll never get sick of a cool glass of sangria. We've rounded up our favorite sangrias around the city to get you through those long summer days:
CHA CHA CHA: 1802 Haight St., 2327 Mission St. (pictured above)
When you ask about tapas in San Francisco, Cha Cha Cha will inevitably top the list. It may not have the most unique dishes, but its vibrant atmosphere, carafes of red sangria, and cheap eats are enough to keep it packed night after night. 
B RESTAURANT & BAR: 720 Howard St. 
For those rare sunny San Francisco days, head to B Bar's rooftop above Yerba Buena. From 4:30 to 7 pm, their happy hour serves $5 glasses of sangria, dollar oysters, truffle fries, and cheese plates. 
COQUETA: The Embarcadero, Pier 5 

photo from Foodspotting user Wuggal
This new Embarcadero Spanish tapas spot opened to rave reviews. And they take sangria to a new level, repurposing the drink in cocktail form, desserts, or salsa. Try their Sangria Poprocksicle (essentially a Sangria ice pop), asparagus served with sangria Hollandaise, or frozen Sangria (lime-spiked house-made sangria that's frozen to order over liquid nitrogen, and topped with blueberries, apple gelee, and crunchy raspberry fizzy).
DON PISTO'S: 510 Union St.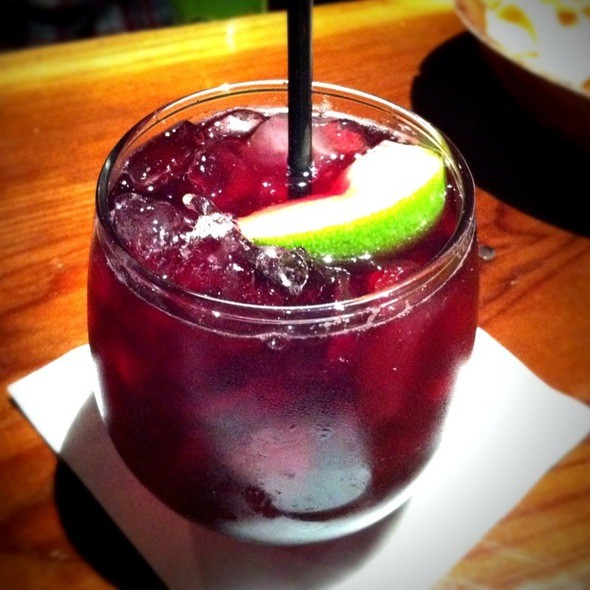 photo from Foodspotting user Noms the Word
Who doesn't love bottomless? Mimosas are the norm, but Don Pisto's offers bottomless sangria to go with your meal of tacos, ceviche, and guacamole.  For $15, enjoy all-you-can-drink red sangria for Sunday brunch.
RICH TABLE: 199 Gough St. 
This new favorite amongst foodies serves up some of the most unique local dishes in San Francisco. Their cocktail list includes aperitifs and twists on classic cocktails, such as the Paloma. It's no wonder, then, that they have a delicious take on sangria—light, sparkling, and more refined than your traditional sweet carafe.
PICARO: 3120 16th St. 
For a great deal on sangria and tapas, Picaro has it all. Ten-dollar sangria pitchers and a happy hour that lasts from noon to 7 pm means you can eat and drink to your hearts content without breaking the bank.