At a time when so much attention is focused on the Bay Area's future, Emma Donoghue's new novel Frog Music, set in San Francisco at the tail end of the Gold Rush, looks far back into the city's early history. The book, Donoghue's first since her bestselling novel Room, is based on a true and curious crime that took place in the Oceanview district on September 14, 1857: the murder of Jeanne Bonnet, a woman who preferred dressing as a man and was repeatedly jailed for her sartorial transgressions.
Bonnet made her living catching frogs in the ponds near Lake Merced and selling them to French and Chinese restaurants downtown. She was shot through the window of a room she was sharing with a burlesque dancer and prostitute named Blanche Beunon at a boarding house near San Miguel Station, which, in the San Francisco of today, is just about where San Jose Avenue intersects with Alemany Boulevard under the 280 freeway.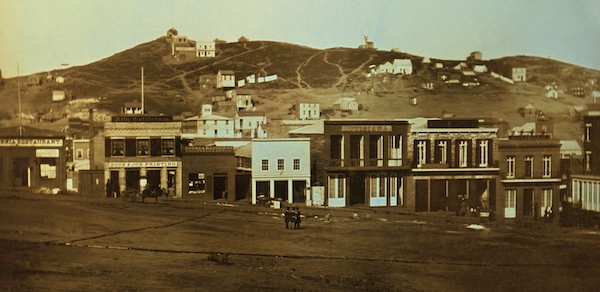 Portsmouth Square in Chinatown, San Francisco, 1851, via Wikipedia
Whether the crime is stranger than fiction or simply more colorful than anything a writer would dare to invent, the true story of Jeanne Bonnet is a scandalous delight, and Donoghue is not the first to be sucked into this mystery. Paul Drexler, an expert in the history of Bay Area crime, has also written about Bonnet, whom he dubbed "the little frog-catcher." Drexler is the proprietor of San Francisco's Crooks Tours, a venture he started ten years ago with Kevin Mullen, the former deputy police chief of San Francisco. The pair began sharing their vast knowledge of local criminal history through walking tours of the notorious streets of the Barbary Coast. Drexler consulted with Donoghue when she was researching Frog Music, and he offered some details about the case that Mullen culled from police files and news reports.
"It's still technically an unsolved crime," Drexler says. "There were so many mysteries, so many potential suspects." Even in her youth, Bonnet had frequent brushes with authority and spent time at the San Francisco Industrial School, a reform school that was where City College is now. ("It has always been a city-owned something," Drexler notes.) She snuck into the boys' dormitory and beat them up just to prove that she could, and reports after her death noted that she often tried to help prostitutes escape from their pimps. She had more than a few enemies.
Bonnet was the child of a family of wayward French theater performers, which Drexler says is characteristic of the era. There was a large influx of French immigrants to the city during the Gold Rush, he explains, due in part to a national lottery organized by the French government in 1850. Known as the "Lottery of the Golden Ingots," the grand prize was an actual hunk of gold worth 400,000 francs, a fortune at the time. Tickets cost just one franc, so were affordable even to the poorest families. The government's scheme was to use the profits from ticket sales to give 5,000 French citizens a one-way passage to California. Ostensibly this was to give the deserving poor a chance to start a new life in an American boomtown, but Drexler points out that it was also a convenient way to rid the country of the undesirable elements of its population. The lottery brought 4,016 French citizens to California, 3,293 of whom disembarked in San Francisco, and among them were a great number political dissidents, petty criminals, and prostitutes. Hence Jeanne Bonnet and Blanche Beunon, who, in Frog Music, live in a French-speaking, frog leg-eating San Francisco that appears to be a tattered version of Paris.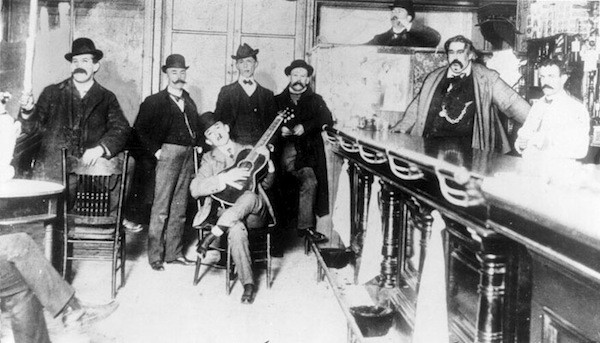 Photo courtesy of Paul Drexler 
One of the most enjoyable parts of learning Barbary Coast history from Drexler is understanding how much of the city's character was formed by that debaucherous era. "Certainly, the acceptance of eccentricity was there and is still there," Drexler says. "We celebrate that part of our character a lot more than most cities." The Barbary Coast was dangerous, dirty, lawless, and lewd, but it was fabulous, and the wealthy and famous came from around the world to visit. The culture of the period is the origin of what Drexler calls the "glamorous depravity we're so fond of here."
On Drexler's Crooks Tours, he projects images of the city as it looked in the 1850s onto the buildings of today, so the tours give a real sense of the city that was. He leads explorations of Chinatown and the Barbary Coast that are rich with intrigue, bad behavior, and profound cultural insight into the Bay Area. To join a 90-minute walking tour that will change the way you see this town, click here.