Vacationing in Australia is often a once in a lifetime opportunity. There's never enough time to see it all. So before you lock in flights to glimpse the world's most famous opera house, consider a change of scenery in Queensland. Home to the Great Barrier Reef and oldest rainforest on the planet, what's waiting for you will be music to your eyes and ears.

Direct flights to Brisbane leave daily from Los Angeles. The 14-hour flight is long, but for most it's the time change that's the biggest challenge. Use the jetlag to your advantage to enjoy some amazing sunrises. In Brisbane, catch a quick flight (less than two hours) to Cairns and you'll land where Australia shines.

The scenic hour-long drive from the airport to Port Douglas will go quickly. It's the closest mainland port to the Great Barrier Reef. It doesn't matter whether you dive or snorkel, give yourself at least two days in the water. One day should be spent in deeper water on a ribbon reef on the outer edge of the Great Barrier Reef.  Quicksilver has a permanently moored activity platform at Agincourt Reef which provides more room to move, a plus for traveling families.

Spend another day snorkeling from the beach at Low Isles. Diving isn't an option here, the water is to shallow. Seriously consider using the noodle provided by Sailaway to keep you floating high in the water and unintentionally kicking and damaging the soft coral. The colors of the coral will amaze you, the sea turtles will wow you.

Port Douglas is also a great launching point for exploring the Daintree Rainforest and Cape Tribulation. In case you've never heard of the Daintree Rainforest, it's the oldest intact lowland tropical rainforest in the world. For some perspective, consider the Amazon is about 7 million years old. Daintree is thought to be between 110-200 million years old. The family-friendly Daintree Discovery Centre offers the best way to get a grasp on one of the most amazing and complex ecosystems on earth. And the views from the Canopy Tower are hard to beat.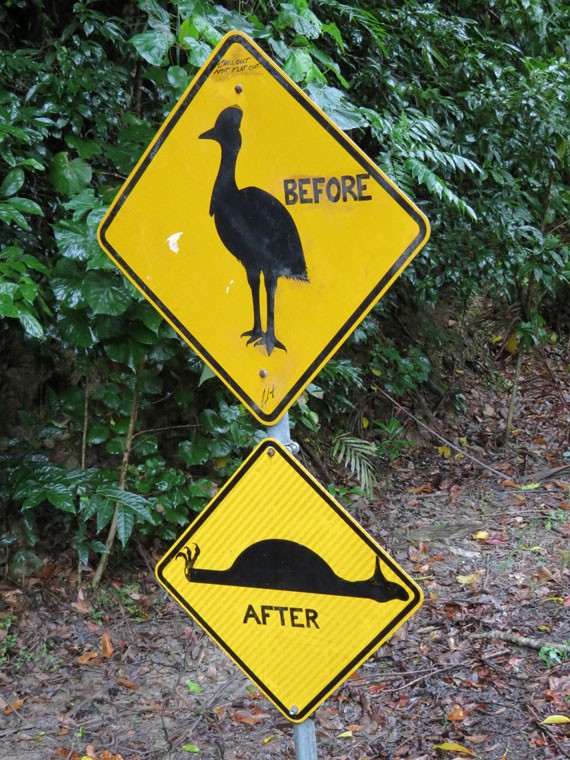 The cassowary is arguably the most famous resident of the Daintree Rainforest. The large flightless bird is endangered and does an excellent job of hiding from visitors. Bright yellow road signs remind you to keep looking and take it slow on the roads.

If you've got a rental car, the drive to Daintree is a fairly straight forward for a family adventure, but if you're not nuts about driving on the wrong side of the road, or just don't want to be concerned with getting lost, Down Under Tours offers daytrips out of Port Douglas and Cairns. Either way you'll cross the Daintree River using a cable ferry. Keep your eyes open, this is crocodile territory and safety precautions should be followed. If you've got your heart set on spying a crocodile, rivers tours run numerous times a day.

While visiting the Daintree, include a stop at Cape Tribulation. This is where the rainforest meets the reef. Walk along the beach and on the trail through the rainforest to the Kulki Lookout. If you're quiet, you've got a good chance of meeting a brush turkey.

Vacation apartments, not hotel rooms, are more the norm in Port Douglas. Steps from Four Mile Beach, you can't beat the location of Mandalay Luxury Beachfront Apartments. Resident pup Milo is another perk for kids. Coconut Grove apartments are located on bustling Macrossan Street, the downtown main drag.

If you didn't get your fill of crocodiles, on your way to Cairns, stop off at Hartley's Crocodile Adventures. It's a working crocodile farm that offers boat rides and crocodile feedings. The sound of a crocodile's jaws snapping closed on its lunch is something you will never forget. If you opt for a private guided tour, you can add cuddling with a koala to your list of vacation highlights.

Large in comparison to Port Douglas, Cairns is a compact harbor city that's easy to get around on foot. The Esplanade is the perfect place for a morning jog or evening stroll. The Esplanade Lagoon, a year round saltwater swimming lagoon, is popular with locals and tourists. In addition to the Lagoon, there's a skate park, volleyballs courts and Muddy's, a fun playground and mini-water park for kids.

Along with the Great Barrier Reef, Cairns is a launching point for a number of other tours and daytrips. The Skyrail Rainforest Cableway, the world's longest rainforest cableway, travels 4.7 miles over World Heritage Rainforest with a couple stops, including one with fabulous views of Barron Falls, before ending in the small shopping village Kuranda.

Pick up some souvenirs and see candy made at the Kuranda Candy Kitchen before boarding the Kuranda Scenic Railway for your ride back to Cairns.

Kids are welcome throughout Queensland and most major attractions and tour operators provide family rates. With so much to do everyone should be tired, they'll sleep most of the flight home.